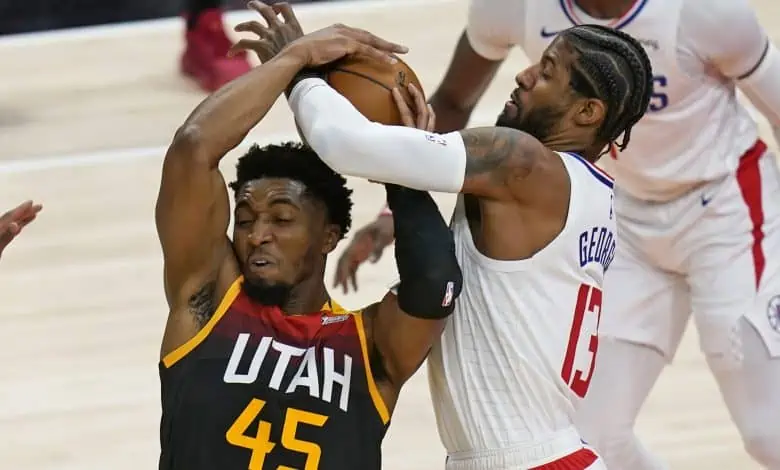 Something has to give in the March 29th Jazz at Clippers betting preview, as these two teams have combined to lose their last 9 straight games. That's a four game skid for Utah, and the Clippers dropping their last five straight contests. Not ideal at a time when LAC is looking for positioning for the play-in tournament, and the Jazz are trying to get into the #4 seed to have home court in a first round postseason series.
The main theme for Tuesday night's game is uncertainty, as L.A's Paul George has been upgraded to questionable following a long absence for his elbow injury. At the same time, Utah could be very thin on the interior with Rudy Gobert (leg) and Hassan Whiteside (foot) both in danger of missing this game.
Utah Trying to Get to #4
The four game losing streak for the Jazz has dropped them down into the #5 seed in the West behind the Mavericks with just 7 games to play. Tuesday night's contest wraps up a 6-game road swing for Utah, one they are just 1-4 on so far. Four of the last six games for the Jazz after the Clippers meeting will be in Salt Lake City.
While the #4 seed and home court advantage in the first round of the playoffs would be nice, Jazz coach Quin Snyder's main focus over the last part of the season is getting healthy. For that reason we may not see Gobert, Whiteside, or Bojan Bogdanovic (calf) until they are 100%. That continues to put pressure on Donovan Mitchell, who had four straight 30+ point games but was held to just 12 in Sunday's loss to Dallas.
Clippers Looking Towards Play-In
Los Angeles also  has 7 games left in the regular season, time they hope will let them work at least Paul George and Norman Powell – but maybe even Kawhi Leonard back for the playoffs. In that regard Clippers coach Tyronn Lue should at least get some consideration for Coach of the Year considering he's guided this team to a 36-39 record despite missing key players for a majority of the season.
The Clippers could get a vulnerable Jazz team on Tuesday night as Utah wraps up a long road swing that started on March 20th in New York. The only problem with that of course is that LAC is in a little rut of their own on a five game skid, but they are also well rested having not played since Friday's 25-point home loss to the 76ers.
March 29th Jazz at Clippers Betting Info
Oddsmakers have the Jazz as a slight -1 point favorite in Tuesday night's contest, but Utah has covered in just one of their last 8 as a road favorite and is 0-4 ATS their last four. The Clippers are also 0-5 ATS in their current five game skid – a stretch that includes a 121-92 loss in Utah on March 18th when LAC was just a +5 point underdog. Utah also won 124-103 back in December also in Salt Lake City, a likely reason that 72% of the betting public likes the Jazz in this spot.
March 29th Jazz at Clippers Betting Pick
Utah could be in some real trouble here if they are missing both their 7-footers, giving Ivica Zubac and the Clippers a clear edge in the paint. Overall the Jazz are also in a tough spot as their long road trip wraps up – and even though LAC is just 20-16 at home this season they are extremely well rested having been off since Friday.
Free Pick: Clippers +1