In our 2016


Monday Night Football free pick Cincinnati plays New York. The Cincinnati Bengals (3-4-1), who are in third place in the AFC North, are coming off their bye-week. The New York Giants (5-3), who are second in the NFC East, are in the midst of a three-game winning streak. Despite that fact, they are 2.5 games behind the first place Dallas Cowboys. They need a win tonight to stay within two of the Cowboys and to keep focused on the hunt for a wild card spot.
In their last five games, the Bengals are 2-2-1. Just prior to their bye-week they played the Redskins in London and tied them 27-all. Before that game, Cincinnati sandwiched two away losses between two home wins. Those victories were 22-7 versus Miami on September 29 and 31-17 against Cleveland on October 23. The losses were both on the road with the first one to the Cowboys 28-14 and the second to the Pats 35-17.
Before winning their last three games, the Giants lost three. Those three losses were to the Redskins 29-27, Vikings 24-10, and Packers 23-16. Since then the Giants have beaten the Ravens 27-23, Rams 17-10, and Eagles 28-23.
Cincinnati Offense vs. Giants Defense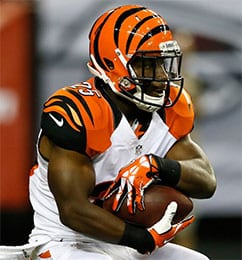 The Bengals have the fourth ranked air offense in the league. QB Andy Dalton (68 COMP%, 9 TDs, 3 INTs, 25 Sacks) is having a solid season, as he has accumulated a total of 2,349 yards in the air, averaging 275.1 in passing per game. Dalton may be helped tonight by the fact that TE Tyler Eifert (10 REC, 110 YDs, 11.1 AVG, 1 TD) is totally healthy. He could have a big game. Also WRs A,J. Green (59 REC, 896 YDs, 15.2 AVG, 3 TDs) and Brandon LaFell (28 REC, 378 YDs, 13.5 AVG, 4 TDs) are both ready to go.
RB Jeremy Hill (104 ATT, 515 YDs, 5.0 AVG, 5 TDs) offers solid running chops. If he can establish the ground attack, that will help Dalton in the pocket. Although Dalton's big problem is mobility, he's been sacked a lot, there's not much to worry about in this game because the Giants have such a poor ground defense.
The Bengals are scoring 20.9 PPG, while NY is limiting teams to 20.5. But that does not mean that New York will be able to suppress the Bengal air game. The Giants offer the 23rd -ranked defense in the league. Overall, they are allowing 371.2 yards. Their pass D is rated 25th in the NFL. New York is tied for lowest number of sacks at 11. They're not getting much pressure on QBs and that should help Dalton.
Giant D Notes
Still, the Giants do have eight INTs and 51 PD. And NY does have the top rated red zone defense in the NFL. It's at 39.29%. Although the D has forced seven fumbles, they have only recovered one of those lost balls. Safety Landon Collins (69 TCKL, 3 Sacks, 2 TFL, 3 INTs, 6 PD) and corner Janoris Jenkins (30 TCKL, 2 TFL, 2 INTs, 10 PD) are the team's top performers. Some extra pass defense would be helpful in this game.
New York Offense vs. Bengals D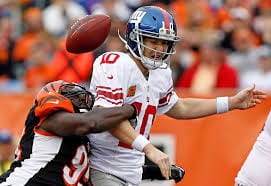 QB Eli Manning (64.4 COMP%, 12 TDs, 8 INTs, 11 Sacks) has been playing decently as of late. Still, he seems destined to either toss a TD plus two picks, or to throw no TDs and, also, zero interceptions. In five of six games this year where he has at least one TD, Manning has also tossed at least one pick. In those games, he's thrown a dozen TD passes and seven INTs. This season, Manning has played in three games where he has not thrown for a score.
His top pass receivers are Odell Beckham (44 REC, 676 YDs, 15.4 AVG, 5 TDs) and Sterling Shepard (34 REC, 384 YDs, 11.3 AVG, 3 TDs). The Giants' running game is averaging less than 70 YPG. RBs. Rashad Jennings (64 ATT, 168 YDs, 2.6 AVG, 1 TD) and Shane Vereen (31 ATT, 147 YDs, 4.7 AVG, 1 TD) are the primary rushers. Jennings is struggling mightily, and Vereen is under utilized.
Bengals D Notes
The Bengals D has a red zone raking of 24th, as they're allowing teams to score 60% of the time. They do have seven picks and 34 PD. Their pass rush and ground D is all right but not great, as they have 16 sacks and 24 TFL. They'll be in good stead if DE Carlos Dunlap (5 Sacks, 7 PD, 2 FF) and CB Adam Jones (1 INT, 4 PD, 1 FF) can bring their games up a notch. The Bengals are holding teams to 23.6 PPD.
Monday Night Football Week 10 Free Pick: Cincinnati Plays New York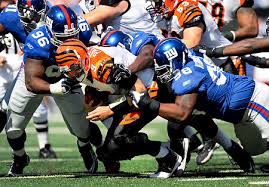 In our Monday Night Football week 10 free pick Cincinnati plays New York in a game that many expect to be close. How close? It's so close that there is no spread. It is at even odds. This is not an easy call. Might this game come down to placekicking? Yes it may. The Giants have Josh Brown, who is near perfect, and the Bengals offer Mike Nugent who has been far from perfect from 40-plus yards. Let's go with the Giants for this one.
Monday Night Football Week 10 Free Pick Cincinnati Plays New York: NY Giants