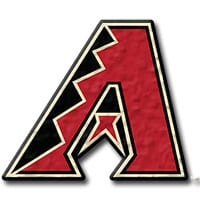 Overview
The San Diego Padres head into Chase Field for a three series versus division rivals the Arizona Diamondbacks. The Padres have played the Diamondbacks fairly well of late winning 7 of the last 12 meetings overall but they have won just 3 of the last 9 games played in Arizona.
Head to head Trends
Over is 9-2 in the last 11 meetings in Arizona.
Padres are 3-6 in their last 9 games played in Arizona.
Arizona Diamondbacks (-105)
The Arizona Diamondbacks are 3rd in the National League West 14.5 games out of 1st place and they are also 14.5 games out of a wild card spot so maybe just getting back to .500 will be their only goal for the rest of the season. If that is their goal they aren't doing a very good job they have won just 6 of their last 20 games.
On the hill for the Diamondbacks in this one is Jeremy Hellickson who is 9-8 with a 4.60 ERA on the season. Hellickson isn't having the best season but he has pitched well at home where he is 6-3 with a 3.55 ERA.
Arizona Diamondbacks Trends
Diamondbacks are 6-1 in Hellicksons last 7 home starts.
Diamondbacks are 17-8 in their last 25 vs. a team with a losing record.
San Diego Padres (-105)
The San Diego Padres are 4th in the National League West 16 games back of the 1st place LA Dodgers. The Padres are also fading right now losing 15 of their last 21 games so it looks like they're just going through the motions and waiting for the season to be over.
Starting for the Padres today is James Shields who is 11-6 with a 3.90 ERA on the season. Shields has been solid at home this season where he is 6-2 with a 3.13 ERA but he hasn't been all that good on the road where he is just 5-4 with a 4.68 ERA.
San Diego Padres Trends
Padres are 1-6 in their last 7 road games.
Padres are 5-13 in Shields' last 18 starts.
Conclusion
I'm going with the Arizona Diamondbacks over the Padres in this one. This is basically two teams with noting left to play for so with the Diamondbacks playing slightly better right now and they're in front their home fans I think they get it done tonight.
Free Pick: Arizona Diamondbacks