NFL Picks
NFL Pick: New York Giants at Miami Dolphins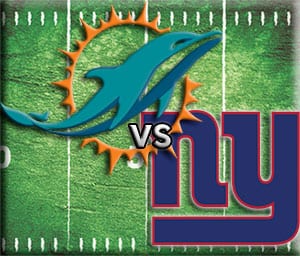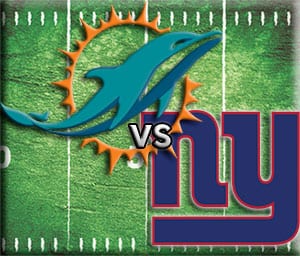 The New York Giants and Miami Dolphins face off on Monday Night Football in week 14, in what is undeniably one of the toughest games to call in pro football this week. New York had the NFC East in hand two weeks ago, but coughed up a game against the Redskins and lost again last week. With three straight losses, they appear to be in full collapse mode as they head into South Beach. The Fins haven't fared much better, but got a win in week 13 and could be building positive momentum toward 2016.
Matchup History
New York and Miami do not have a lengthy history, as the two sides have come head to head just seven times. The G-Men have dominated with a 5-2 series lead and have taken the past two meetings. The sparse showdowns and recent results shouldn't mean much going into Monday night's contest, however, as the last meeting was in 2011. A lot has changed in the past four years, as all of Miami's key offensive players are fresh faces. In fact, the only big name from either offense that will be featured in this week's contest is Giants quarterback, Eli Manning.
Giants Preview (pick'em)
It's easy to make jokes about New York's "giant" collapse, as they've almost become prone to these late-season free falls despite putting themselves in position to make the playoffs or even win their division. The ugly truth is they're on a bad slide but can still take the disgusting NFC East, as the G-Men are currently in a three-way tie for first place with the Eagles and Redskins (all 5-7). New York doesn't really deserve to be in this spot, but it's more about not being able to put games away late than not having the ability to get the job done. It's possible the Giants will be right back in a similar situation this week, but they have hope to snap their skid due to Miami being somewhat inferior across the board.
Dolphins Preview (pick'em)
Miami is tough to figure out, as they fired Joe Philbin earlier in the year and immediately got behind interim coach Dan Campbell and won big in two straight blowouts. Then they got creamed a couple times before resurfacing last week with one of the ugliest wins known to man. It's tough to say whether or not Ryan Tannehill is the real deal yet, but he's at least flashed that he is numerous times in 2015. So has running back Lamar Miller, and when the two are on top of their game, this Miami offense can be tough to handle. That's not the best news for a Giants defense that has struggled in all facets for much of the year, especially when you consider they have to keep the Fins under wraps on the road in front of the nation.

The Pick
There is definitely some fun data to pour through for this matchup, as the Giants are just 1-4 straight up in their last five contests, while the Dolphins are 1-5 straight up in their last six games. Nothing really breaking there, and it's not much different against the spread. Miami is an ugly 1-7 in their last 8 home contests ATS, while the G-Men are a respectable 6-5-1 ATS as a whole on the year. Specific to MNF, Miami is a staggering 0-6 ATS in their last six prime time Monday games.
None of the data is very helpful, so the end result when trying to pick this game is basically actually trusting one of these teams. Neither is trustworthy, but if I have to roll with one it has to be the Giants. New York simply has the most explosive weapon in this game in Odell Beckham Jr. and in a battle of little defense, I have to think he dominates this one under the lights. He and the Giants could definitely disappoint, but they're facing a team that has disappointed just as much as they have.
With the NFC East still very much within reach, look for New York to resemble a good team for at least this week and get the win.