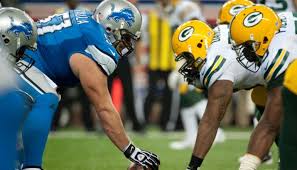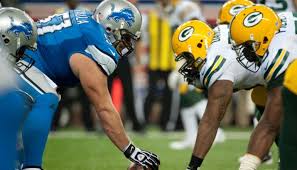 Our final NFL regular season pick is for the Sunday Night Football game where there may certainly be a lot at stake. Certainly the division title is up for grabs, and, possibly a wild card spot. It's time for our Green Bay Packers play Detroit Lions free pick.
The Green Bay Packers and Detroit Lions come to this game with identical 9-5 records. They're in a virtual tie for first in the NFC North. Whoever wins this game wins the division. The Pack comes to this game with a five-game winning streak. The Lions have lost their last two games and are 3-2 over five. When these teams first met in week three the Lions won 17-14.
Green Bay Offense vs. Lions Defense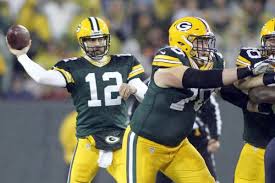 The Packer offense, which is averaging 26.7 PPG, has played well for much of the season. QB Aaron Rodgers (65.5 COMP%, 36 TDs, 7 INTs, 34 Sacks) has played well this year. Rodgers is vulnerable to the sack and is prone to injury, but he's played through one successfully this year and looks healthy. Two wideouts are tops on Rodgers' list of pass catchers, Jordy Nelson (91 REC, 1,191 YDs, 13.1 AVG, 14 TDs) and Davante Adams (69 REC, 966 YDs, 14.0 AVG, 10 TDs). With RB Eddie Lacey out, receiver Ty Montgomery (69 ATT, 410 YDs, 6.0 AVG, 3 TDs) has managed to establish a decent ground game for the Packers.
Although the Detroit D has played well, their numbers are average to below average. They have 25 sacks, 38 TFL, and 10 INTs. Plus, they've defended 58 passes and caused nine fumbles. They've allowed on average 21.8 PPG. Their red zone defense is ranked 30th. Green Bays' is at 27th. LB Tahir Whitehead leads the team in tackles with 125; he also has five passes defended. LB Darious Slay, who is dealing with a bad hamstring, has 23 PD and two picks. On the line, Kerry Hyder leads the team in sacks with eight.
Detroit Offense vs. Packers Defense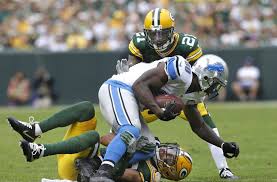 Lion QB Matthew Stafford (62.5 COMP%, 22 TDs, 9 INTs, 35 Sacks) has lead a rash of come-from-behind fourth quarter wins. Under Stafford, the Lions are scoring on average 21.5 PPG. WRs Golden Tate (85 REC, 1,000 YDs, 11.8 AVG, 3 TDs) and Marvin Jones (50 REC, 854 YDs, 17.1 AVG, 4 TDs) are his number one and two receivers. RB and receiver Theo Reddick is out. Zach Zenner (68 ATT, 265 YDs, 3.9 AVG, 3 TDs) has served well as a replacement. Along with his rushing stats, Zenner has 14 catches for 155 yards and two touchdowns. He's averaging 11.1 YPC.
The big question is which Packer D will show up for this game? In mid-season, Green Bays' defense was giving up leads like crazy. Then they started to shut teams down. Still, in their win against the Bears, they gave up 27 points and almost lost the game. Teams are scoring on average 24.3 PPG against the Pack. The Green Bay defense does have good numbers. These include 38 sacks, 52 TFL and 16 picks, Plus, they've broken up 78 passes and forced 10 fumbles, recovering eight. Three guys need to perform especially well in this game, safety Morgan Burnett (90 TCKLs, 3 Sacks, 8 PD, 2 INTs), safety Ha Ha Clinton-Dix (7 PD, 5 INTs, 1 FF), and LB Nick Perry (10 Sacks, 5 TFL, 4 PD, 1 INT). Corner Damarious Randall, with 9 PD and 3 INTs, is questionable.
Green Bay Packers Play Detroit Lions Free Pick
Our Green Bay Packers play Detroit Lions free pick is going with the Pack at -3.5 We do think Green Bay will be on their game and do well against the Lions.
Green Bay Packers Play Detroit Lions Free Pick: Packers at -3.5