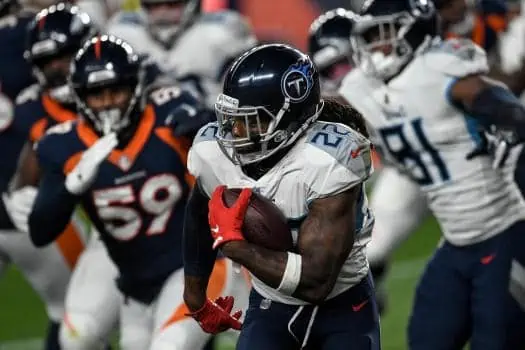 We might not get a shootout in the Week 10 Broncos at Titans betting matchup considering the O/U is just 39.5 points, one of the lowest on the slate. That doesn't mean Denver at Tennessee can't be a good game though, as the Titans are -2.5 home favorites but the Broncos are also well rested coming off their bye following a win in London over the Jaguars.
The big question for Tennessee here is QB health, as Ryan Tannehill is upgraded to probable after missing two games with an ankle injury. The Titans aren't going to score a lot of points regardless of who is under center (18.6 ppg) but their defense should be able to pile up some numbers against an even worse Denver offense (15.1 ppg).
The Rest Should Help Denver
The Broncos probably needed a week off to recover from the trip to London as Russell Wilson was probably doing jumping jacks in the aisles the whole way home and nobody got a chance to sleep. Regardless it was a solid trip across the pond for Denver who picked up a 21-17 win over Jacksonville in a PK game to snap a 4-game losing streak.
The win two weeks ago brought the Broncos' record to 3-5 on the season, but their biggest loss of the season was 32-29 against the Raiders in week four. Denver has consecutive OT defeats to Indianapolis (12-9) and the Chargers (19-16) while also losing 16-9 at home to the Jets with Brett Rypien in at QB for Wilson.
Denver has stayed close with teams, but that's mostly because of their defense that ranks #2 in the NFL in total yards, #1 vs. the pass, and #2 in scoring giving up just 16.5 ppg. That defense gets a bit depleted this week though with the trade of Bradley Chubb to the Dolphins.
Titans Get the Threat of the Pass Back
It's not that Tannehill had been tearing things up at QB this season, he's thrown for more than 200 yards just twice in six games. At least with Tannehill under center there's the threat of the pass though, something that wasn't there when rookie Malik Willis started last week going 5/16 for 80 yards.
The fact that the Titans only lost 20-17 at Kansas City on Sunday night as +14 point underdogs is a real testament to their bend-but-don't-break defense. Chiefs QB Patrick Mahomes threw the ball 68 times and had 446 yards through the air and the Titans still had chances to win.
The Denver offense and the K.C. offense are worlds apart so it should be another stellar day for a Titans defense that held opponents to 17 points or less in 4 of 5 on their recent winning streak. Derrick Henry has also run for 100+ yards in five straight so the Titans look like the deeper team here.
Free Broncos at Titans Betting Pick
It's somewhat strange that the Titans are only -2.5 favorites at home, but a lot of that could be due to Denver coming off their bye. Either way it still doesn't look like the Broncos have the horses to stay in this contest.
The Titans only gave up 20 points to KC despite allowing nearly 450 yards passing, and it looks like Denver would be lucky to score 13 here. The Broncos defense is great too, but they lose a bit with Chubb getting traded.
Free Pick: Titans -2.5