NFL Picks
NFL Pick: Atlanta Falcons at Indianapolis Colts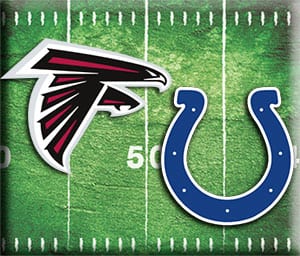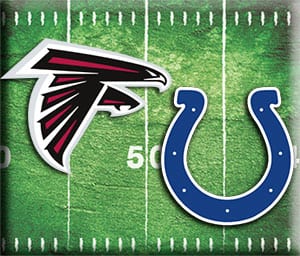 Matt Hasselbeck takes over on offense for the third time in 2015, as the Indianapolis Colts head to Atlanta to take on the Falcons as they try to stay atop the AFC South. Doing so could prove to be difficult, as the duo of Matt Ryan and Julio Jones threaten to push Indy past their offensive brink in week 11.
Matchup History
This hasn't been a fun matchup at all for the Falcons, who have battled against the Colts 15 times in history and came away victorious just two times. Unfortunately the data isn't very relevant, as the Falcons did win the most recent meeting (31-7) in 2011, but that was the year Peyton Manning went down and Curtis Painter was a thing. Atlanta won in a blowout but were obviously an ugly 1-13 against Indy before that game. The current rendition of these teams haven't faced yet, but the Colts will be without Andrew Luck, so Atlanta figures to hold the early edge.
Falcons Preview (-6.5)
It's been a weird season for the Falcons, who got off to a blistering 5-0 start but are just 1-3 in their last four games. Atlanta tends to run the ball well thanks to Devonta Freeman's rise from the ashes, but they've gotten inconsistent production out of their passing game and have really struggled to put up points. In their last five games, they have failed to top 25 points and have seen shaky play out of Matt Ryan. They even dropped a winnable road game against the 49ers before last week's bye. The Falcons do get to return home this week and Indy hasn't looked very good either, but they'll need a well-rounded performance from their offense to make sure they can avoid an ugly three-game losing streak.
Colts Preview (+6.5)
Colts CB Vontae Davis gave up zero TDs in 16 games last year. Has already been beat for five TDs in nine games this year (per PFF).

— Adam Levitan (@adamlevitan) November 21, 2015
Indianapolis is in a very odd spot, as they're just 4-5 and will head into a tough road environment this week without star quarterback Andrew Luck. Luck had struggled for most of 2015 and even missed some time with injury, but he did seem to be putting everything together a couple of weeks ago in a huge home win over the Broncos. He's on the shelf with a lacerated kidney, though, and no one knows for sure how long he'll be out. Despite that, Indy is still very much a playoff contender as they sit in first place in their division. They'll turn to the seasoned Matt Hasselbeck to get them another win, as he's somehow 2-0 in his only two starts on the year.
The Pick
The NFL Moneyline odds at 5Dimes has the Atlanta Falcons at -210 and with the point spread the Indianapolis Colts are getting +4 points.
Logic suggests Matt Hasselbeck is going to have a really tough time staying undefeated this week. Indy's defense has been suspect all year – especially against the run – so the writing on the wall suggests a big rushing day for Devonta Freeman and Matt Ryan and Julio Jones could also deliver the goods in the passing game. Atlanta's defense hasn't even been a problem area lately, either, as the Falcons have held their opponents to 23 or fewer points in four of their last five games. They've also been pretty clutch at home, where they're a solid 3-1 in 2015.
The Falcons are the rightful favorite and the easy call for a straight up win, but the big question is whether or not the Colts have enough fire power to beat the spread. The good news for the Falcons is they're 4-1 ATS following a week off, but that's where the against the spread optimism ends. Unfortunately they're just 0-4 ATS this year against teams with a losing record, while Indy specifically is 5-2 ATS versus teams with winning records and a solid 4-1 ATS over their last five contests.
Atlanta seems to be the better team and they're at home, so I like them straight up. However, they've been letting inferior teams stick around and Indy does have some fight,

so I'll take the Colts to beat the spread

.