NFL Picks
MNF Pick: Baltimore Ravens at Arizona Cardinals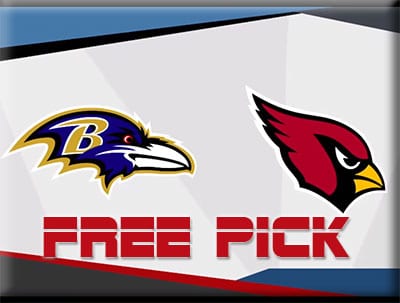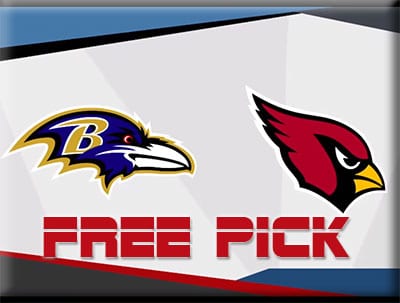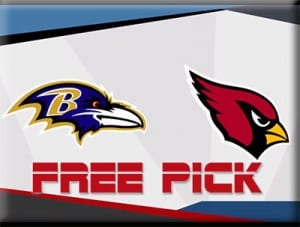 The Baltimore Ravens and Arizona Cardinals are two very different teams that were supposed to be very similar in 2015. Both were preseason Super Bowl contenders, but heading into week seven, only one has a realistic shot of making that dream a reality. The Ravens enter the desert at a ghastly 1-5 and could still right the ship with a massive road win this week, but could easily be one more crushing loss from a lost season. Arizona, on the other hand, got off to a hot 3-0 start and comes into the week at a comfortable 4-2 and ready to distance themselves further from a sinking NFC West.
This is a very interesting matchup on paper, largely because Baltimore cannot be nearly as bad as their record shows. Their defense has really let them down in 2015, as they looked as dominant as ever after allowing just 19 points to the Broncos on the road in week one and since then have been one of the most abused defenses in football. Whether or not that unit can finally sport some self respect and find a way to stifle the Cardinals could be the key in this week seven battle.
Matchup History
The history between the Cardinals and Ravens is brief and fairly useless. These two have faced off just four times, with Baltimore dominating with a 4-1 series lead. The trouble is they haven't played since 2011 and almost all of the data we could pull out of these matchups simply doesn't apply. It's worth noting that Bruce Arians and Carson Palmer are both familiar with Baltimore to a certain degree from their days in the AFC North, and it's also worth pointing out that none of their five meetings were decided by more than eight points. None of this helps us inch closer to a confident pick, but "the more you know" and all that…
OUT for #MNF: Ravens – Terrence Brooks, Breshad Perriman, Maxx Williams Cardinals – Darren Fells, Alex Okafor pic.twitter.com/PSQIWmeVJy

— ESPN Monday Night (@ESPNMondayNight) October 24, 2015
Ravens Preview (+8)
Baltimore's running game took a while to come to life. Steve Smith is their only viable passing weapon. And the offensive line has been inconsistent at best. Those are three issues the Ravens have definitely dealt with in 2015 on offense, but as bad as those things have been in specific moments, none of it compares to a once stout defense that currently ranks 26th in the league in overall defense. The loss of pass rusher Terrell Suggs apparently took more bite out of their defense than we thought it would, as Baltimore has specifically turned into total mush against the pass. The offense has slowly come together, and it's actually been plenty fine in several games – specifically shootouts with the Bengals and Raiders. Unfortunately, the defense has been too awful to overcome and the only game Baltimore could manage to win was a game against the Steelers where Pittsburgh played it too safe with Michael Vick under center. Now they go into a hostile environment in week seven and try to figure it all out with their season on the line.
Cardinals Preview (-8)
Not much needs to be said about the Arizona Cardinals. Carson Palmer is enjoying a career year at 36 years old, Chris Johnson is randomly a brilliant free agent signing and their nasty defense is, for the most part, just as good as they were a year ago. The Cardinals choked a bit last week and also coughed up a home win to the Rams three weeks ago, but you can't fault them for a loss at Heinz Field (one of the most difficult places to play, period), or having a tough time with a division rival that boasts a stud rookie rusher (Todd Gurley) and an elite defense. Aside from those two slip-ups, Arizona has flat-out dominated the teams they should, whipping the Saints, Bears, 49ers and Lions. Of course, the troubling part is every win they've had thus far has been mostly by blowout and in their only two close contests, they couldn't find a way to emerge victorious.
The Pick
Neither of these teams have ever beaten the other by more than eight points. That's not a prophecy for week 7, but it's a fact. The big thing I can't wrap my head around is Arizona's lack of success in close contests (0-2). That's troubling in the vain that if Baltimore comes out spirited and actually gives this thing a go, there is reason to believe Arizona will have serious difficulty dispatching them. Baltimore's entire season supports that logic, too, since the Ravens have been in every single game this year. More specifically, the Ravens are 1-5, but have not lost a single game by more than six points. In fact, even their win was only by a field goal and three of their losses have been by five points or less.
The point? Baltimore doesn't roll over. Joe Flacco is a Super Bowl-winning quarterback, John Harbaugh is one of the top coaches in the league and Steve Smith is one of the toughest receivers, pound for pound, to ever play the game. The Ravens even have a competent running game with Justin Forsett leading the way, and though their defense has been gashed through the air, their front line can still give the opposition some problems.
Looking at ATS numbers, Arizona is a solid 4-2 against the spread this year and Baltimore has struggled (1-3-1) in their last five road games. I don't think those numbers guarantee anything, but they're there to see.
I think it's hard not to like the Cardinals at home. They've proven to be the better team and they're at home on Monday Night Football. That's not a good or likely spot for a quality team to lay an egg against a 1-5 team that is very close to caving. But they haven't caved yet. The Ravens are still fighting and come Monday, I think they'll continue to fight. That gives them a real shot in this one.
I still think Arizona gets the win to get to 5-2, but -8 is a hefty line. I like the Ravens to keep their season-long trend of staying in games going and beat the spread.