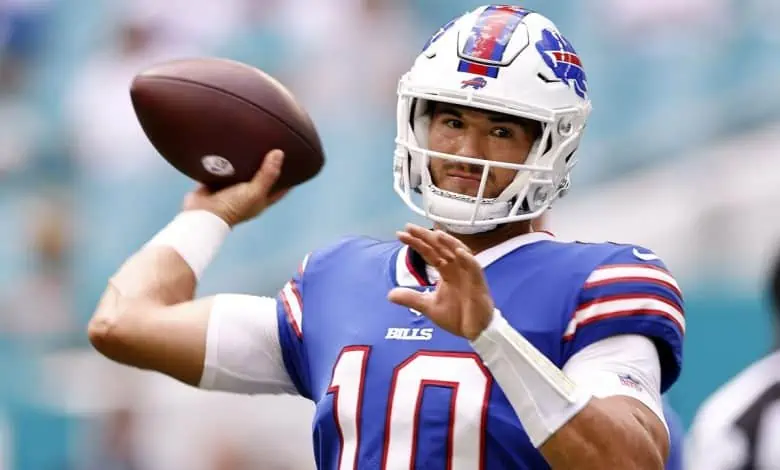 A battle of historically AFC heavyweights take the field in Week 5 of the NFL slate when the Buffalo Bills (3-1, 1-0 home) hosts the Pittsburgh Steelers (1-3, 1-1 away). Two teams off to separate starts this season, the Steelers will try and steal a victory from the Bills as road underdogs.
Sunday's kickoff is at 1 p.m. EST inside Highmark Stadium in Buffalo, New York. The Bills are 14-point favorites, and the over/under total is 45.5 points.
What to Know – Pittsburgh Steelers
Pittsburgh dropped the Cincinnati Bengals in OT in the season-opener but have lost their last three contests, two of those by a total of seven points. In 15 seasons has head coach of the Steelers, Mike Tomlin, has never finished a season with a losing record.
Mitch Trubisky took a seat in last week's loss to the Jets, handing the quarterbacking duties over to rookie Kenny Pickett. Pickett completed 10-of-13 passes in his debut, but all three incompletions turned into interceptions. The former Pitt Panther was the 20th overall pick in this year's NFL Draft.
Second-year running back Najee Harris hasn't been able to get things going on the ground after an All-Pro rookie season. Harris is averaging just 3.5 yards per carry and has been a non-factor in the passing game.
The wide receiving core got a boost when Dionte Johnson's name was no longer on the injury report on Friday. Johnson has been the favorite target of Pitt quarterbacks, targeted 37 times, and catching 23 passes for 207 yards. Tight end Pat Freiermuth is the team's safety blanket, with 18 receptions for 223 yards and one touchdown.
What to Know – Buffalo Bills
The Bills bounced back last week after a surprising defeat to the Indianapolis Colts in Week 3. Buffalo took care of business against the Baltimore Ravens, handing them a 23-20 loss after outscoring them 13-0 in the second half.
Josh Allen has done it all for Buffalo through the first month, passing for ten touchdowns while also leading the team in rushing with 183 yards on the ground. Allen has thrown for 1,227, turning the ball over three times.
If Allen isn't keeping the ball, he's deploying the rushing attack through Devin Singletary and Zack Moss. Singletary leads Buffalo with 34 touches, rushing for 129 yards. Moss comes in to spare Singletary, adding 16 attempts for 84 yards.
Stefon Diggs remains the focal point of the passing game, seeing 41 targets and catching 31 passes for 406 yards and four touchdowns. Slot receiver Isaiah McKenzie has benefited when Diggs is double covered, catching 15 passes for 153 yards and scoring three times.
The Pick is In
Baptism by fire for Pickett if he is to make his first start on the road against a Super Bowl favorite. The rookie quarterback is going to have to protect the ball if he wants to give his team a chance.
Buffalo's offense should carve up a Steelers' defense that allowed 53 points over the last two games to a pair of pedestrian offenses. The spread is big for an NFL contest, but the Bills will cover.
The Pick: Buffalo Bills -14