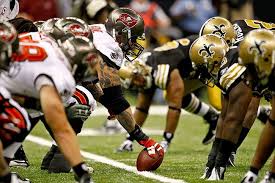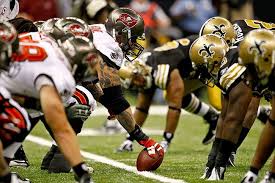 The major question concerning our Tampa Bay Buccaneers play New Orleans Saints free pick is can the Bucs do it again? When they met the Saints earlier this season in Tampa Bay, they shut down Drew Brees and the Saints offense. The result was a 16-11 win for the Bucs. Tampa Bay now has to play Brees on his home turf, which is the Mercedes-Benz Superdome. This is a venue where Brees excels.
This game has playoff implications for the Bucs. If they win this one and their final contest against the Panthers, they are going to the post season. Although the Saints have not been mathematically eliminated from the playoffs, at 6-8 they have very little chance of making it.
The Tampa Bay Buccaneers (8-6) have wone four of their last five. They suffered their first loss since Nov 3 last week. That was to Dallas where they lost 26-20. Recent wins include the Saints (16-11), Chargers (28-21), Seahawks (14-5), and Chiefs (19-17). In those wins, they've held opponents to 13.5 PPG.
For their past five games, the New Orleans Saints (6-8) are 2-5. They beat the Cardinals last week on the road 48-41. Prior to that, they suffered two losses. One was to the Bucs on the road and the other to Detroit 28-13 at home. They won at home 49-21 when Los Angeles visited. Their other loss was away to the Panthers 23-20.
Tampa Bay Offense vs. Saints Defense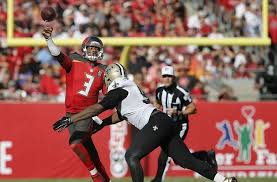 Tampa Bay does not bring a powerful offense to the field, Averaging 22.4 PPG, they often get just enough points to win and let the defense do the rest. QB Jameis Winston (60.8 COMP%, 25 TDs, 15 INTs, 30 Sacks) likes to get the ball to two guys. The first is WR Mike Evans (84 REC, 1,159 YDs, 13.8 AVG, 10 TDs) and the second is Cameron Brate (56 REC, 648 YDs, 11.6 AVG, 7 TDs). Evans has not caught a TD pass in three games. They need to open up that connection in this game. The Bucs don't mount much more than a minimal rush attack.
The Saints defense is allowing teams 28.0 PPG. They have an average pass rush and a secondary that often likely to give up a big play or two each game. They've posted 27 sacks and 41 TFL. They have managed just seven picks and have 11 FF. DE Cameron Jordan (6.5 Sacks, 12 TFL, 5 PD, 1 FF) and CB Sterling Moore (12 PD, 2 INTs) have both posted solid numbers.
New Orleans Offense vs. Buccaneers Defense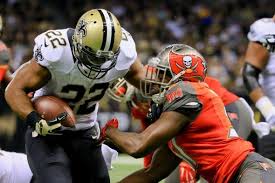 Drew Brees (71.4 COMP%, 34 TDs, 14 INTs, 23 Sacks) is having another fine season. Under his leadership, the Saints are scoring on average 29.0 PPG. He has three wideouts who have 67 to 76 receptions each. Brandin Cooks and Michael Thomas have caught eight touchdown passes each. RB Mike Ingram (167 ATT, 850 YDs, 5.1 AVG, 3 TDs) anchors what is a fairly solid rush attack.
Although for the season the Buccaneers are allowing opponents 23.0 PPG, over their last four wins, as noted, they've reduced that figure to 13.5 PPG. Tampa Bay has accumulated 33 sacks, 14 picks, and 15 forced fumbles. They've recovered a dozen of those fumbles, which is an exceptional number. The Bucs have also defended 54 passes and made 45 TFL. CB Brent Grimes (19 PD, 3 INTs, 1 FF) is tops in the secondary while DT Gerald McCoy (7.0 Sacks, 2 TFL, 4 PD, 2 FF) leads the team in sacks. LB Kwon Alexander (3 Sacks, 9 TFL, 4 PD, 1 INT, 1 FF) leads the team in solo tackles (97), assists (28) and total tackles (125).
Tampa Bay Buccaneers Play New Orleans Saints Free Pick
In our Tampa Bay Buccaneers play New Orleans Saints free pick, we're going to forget about how well Brees does in domed stadiums and especially at home. The fact is the Saints' QB is facing a tough defense that has recently gotten tougher. The other facts are his center is still ailing and New Orleans has precious little to offer in defense.
We like the Bucs at +3.0. Kickoff is at 4:30 p.m. ET.
Tampa Bay Buccaneers Play New Orleans Saints Free Pick: Tampa Bay at +3.0