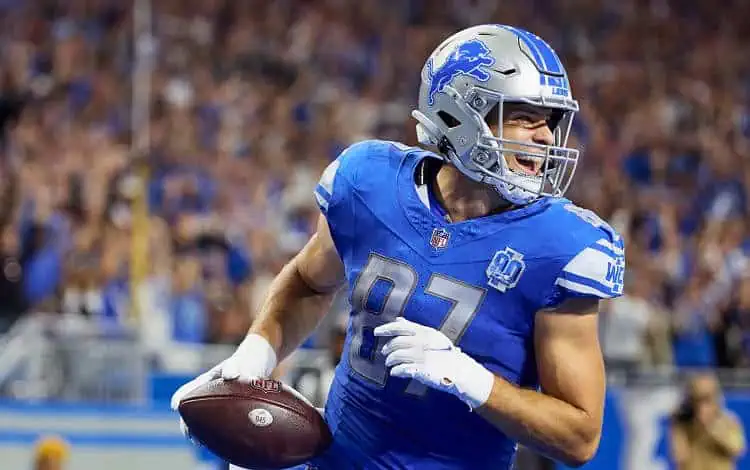 Detroit being 4-1 heading into the week 6 Lions at Bucs betting matchup isn't a huge surprise as they are supposed to be the cream of the crop in the NFC North this year – not like that is saying a whole lot. The fact that Tampa Bay also comes into this game with one loss (3-1) makes this matchup one of the surprisingly exciting contests of the entire Sunday slate.
It's no surprise the Lions are a -3 point road favorite at Raymond James Stadium as many people still believe the Bucs are a fluke. To that point this spread actually almost seems kind of low, and 61% of the betting public are riding the visitors to pick up the big win in Florida.
Why the Lions Have Value at -3
Detroit is a 37-31 OT loss in week 2 at home against Seattle from coming into Sunday's game undefeated. The Lions have momentum that is almost unprecedented with this franchise and they're coming into Tampa Bay off was what essentially a bye week – last Sunday's 42-24 victory over lowly Carolina.
The Lions have now won three straight games and all by at least 14 points. Maybe the quality of opponents hasn't been the greatest in Atlanta (20-6), Green Bay (34-20), and the Panthers, but the Bucs' 3-1 record includes victories over Minnesota (20-17) and Chicago (27-17) who are both 1-4.
Tampa Bay has some quality skill position players, but it's hard to see the Bucs offense going blow for blow if this game turns into a shootout (O/U 42.5). Detroit ranks 6th in the NFL in total yards (384.4) and scores the 4th most points in the NFL at 29.6 ppg. Jared Goff is completing just under 70% of his passes while RB David Montgomery has 100+ yards and 4 combined rushing TDs the last two games.
Why the Bucs Have Value at +3
Does this line seem a bit low to anybody else? Detroit has become the darlings off the NFL this year after their 4-1 start while at the same time everybody is waiting for the bottom to fall out for the Buccaneers yet the Lions are only giving a field goal – doable for this offense on the road or not.
The stars could be aligning for Tampa Bay in this one. First off they are coming off a bye following an impressive 26-9 win in New Orleans in week 4, while Detroit could start to get complacent since they already have a two game lead in the North and had a relatively easy time of things last week against the Panthers.
This isn't a bad matchup for the Bucs either. Sure Detroit's offense is solid, but Tampa Bay's strength is their defense that ranks 11th in total yards allowed and are also only allowing 17.0 ppg. Not to mention, the Lions offense is a bit banged up with TE Sam LaPorta (calf), RB Jahmir Gibbs (hamstring), and WR Amon-Ra St. Brown (abdominal) either out or not 100% for this matchup.
Free Week 6 Lions at Bucs Betting Pick
Can Baker Mayfield and Tampa Bay pull off the upset win here? Things are aligning nicely with the Lions a bit banged up on offense and Tampa Bay coming off their bye week. The public thinks Detroit is an easy play – show them that it's not.
Free Pick: Bucs +3