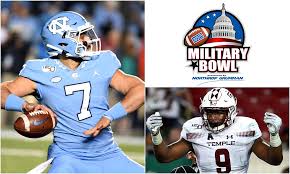 Our 2019 Military Bowl pick is the first of five we're offering for Friday, December 27. This Military Bowl prediction offers the North Carolina Tar Heels vs. the Temple Owls. This game kicks off at 12 pm ET at the Navy-Marine Corps Memorial Stadium in Annapolis, Maryland. UNC is favored in this contest as they come in at -5.0. The over/under on the Military Bowl is 53.5
The North Carolina Tar Heels (6-6) tied two other teams for third in the ACC Coastal with a 4-4 conference record. Those teams were the Pittsburgh Panthers and the Miami Hurricanes. The #24 Virginia Cavaliers took the Coastal Division posting a 6-2 record. The Temple Owls (8-4) ended the season with an American Athletic Conference record of 5-3. That was good enough for third in the East. The Cincinnati Bearcats finished first with a 7-1 conference mark.
2019 Military Bowl Pick – Regular Season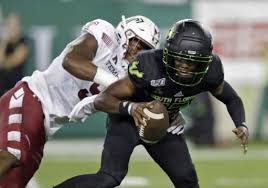 After starting the season with two wins against South Carolina and Miami, UNC lost four of their next five. Included was a 21-20 loss to the #1 Clemson Tigers. The Tar Heels then went on the win three of their last five contests, including their final two. Our 2019 Military Bowl pick notes that the Temple Owls played four nationally-ranked teams going 2-2. The Owls beat #21 Maryland 20-17 and #23 Memphis 30-28. They lost to two different 19th-ranked teams, SMU (45-21_and Cincinnati (15-13). Temple ended the season with a 49-17 win over UConn.
North Carolina Tar Heels vs. Temple Owls – Stats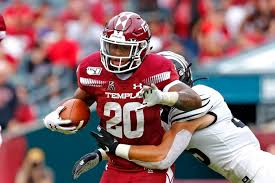 Statistically, these two teams are fairly close. North Carolina is averaging 31.3 PPG. They're posting 285 passing YPG and 184 rushing YPG. Total yards come to 469. The Temple Owls are putting up 27.4 PPG. Offensive yards total 402 PG with 259.2 PG passing. The Owls are posting 142.2 rushing YPG.
Defensively, the Tar Heels are allowing 24.6 PPG, while the Owls are giving up 23.5.
Total defensive yards attributed to UNC come to 381.6 PG. Temple is credited with allowing 364.8 PG. North Carolina passing yard at at 232.6 and rushing come to 149.0. For Temple, the D is allowing 212.5 air yards and 152.3 ground yards.
North Carolina at Charlotte – Players
North Carolina has a sound offense and good defense. But Temple's defense, especially their pass rush, could give UNC trouble. If the Owls can put pressure on the Tar Heel offense, they'll have a shot at taking this game.
North Carolina Tar Heels
North Carolina QB Sam Howell has 37 TD passes and seven INTs. He's been sacked 36 times. Howell is completing 60.3% of his passes and has thrown for 3,347 yards. His two top receivers are Dyami Brown and Dazz Newsome. Brown has 48 receptions and 11 TD catches, while Newsome has 64 receptions and eight TD receptions. Michael Carter leads the rushing unit. He's averaging 5.8 YPA and has 919 yards and three TDs.
The Tar Heels have recorded 28 sacks, 12 INTs, and 39 PD. LB Chazz Surratt tops the team with 62 solo tackles, 110 total tackles, six sacks, and one interception. DB Myles Dorn comes to the game with four PD and two INTs.
Temple Owls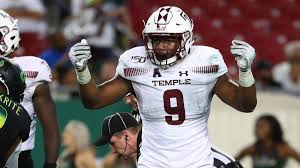 Our 2019 Military Bowl pick notes that QB Anthony Russo, who completed 58.6% of his passes for 21 TDs, has a deep receiving unit. Four players have combined for 21 TD catches. WR Braden Mack comes to this game with 886 receiving yards, four TD catches, and 56 receptions. Wideout Jaden Blue tops the team with 975 yards and 87 catches. He's caught four TD passes. The rushing unit includes Re'Mahn Davis who's averaging 5.1 YPA. He has 900 yards and seven TDs.
The Owl D has a sound pass rush. During the season, they recorded 39 sacks. They've also defended 43 passes, made eight picks, running one back for a score, and forced a dozen fumbles. Also, they've recovered 11 fumbles. CB Harrison Hand is sound in the secondary, grabbing three picks and defending five passes. DE Quincy Roche topes the team with 13 sacks. LB Shaun Bradley top the team in solo tackles with 59 and total tackles with 79.
Five Keys to the Game
In creating our 2019 Military Bowl pick, we see the following keys to this game:
Temple QB Russo has good chops and a deep receiving unit
UNC QB Howell is an awesome slinger
Owls pass rush is lethal
Tar Heels are a bit thin defensively
Temple is the more tested team
Our 2019 Military Bowl Pick
One thing is sure, the Temple Owls saw more top 25 action than the North Carolina Tar Heels, and they also weathered it better than UNC. We're going with the Owls at +6.5. We think that Temple's defense will hamper UNC's offense. With that in mind, we're taking the under. That's our 2019 Military Bowl pick.
The final bowl played on December 27 is the Cheez-It Bowl featuring Air Force vs. Washington State. Kickoff for that game is 10:15 pm ET. See our bowl schedule page for links to all of our picks during this very busy college football bowl season.
Military Bowl Presented by Northrop Grumman Pick – Summary
Temple Owls at +6.5 and under 52.0