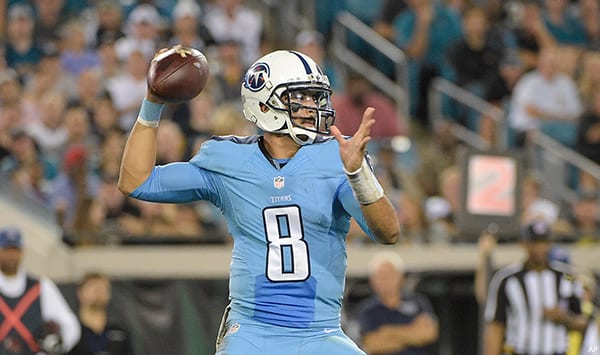 As stated earlier, NFL Week 3 preseason betting can be hit or miss. You've got to evaluate first and foremost the depth chart since starters only play a portion of the game. Beyond that you see if coaches truly value wins in the preseason or if it resembles a little league game where we "don't keep score" and just use the time to educate and evaluate.
If anything, week 3 preseason betting is the closest glimpse we get to the regular season. It's the best preseason week to wager on because starters play usually into the third quarter. It's the last tuneup before the real thing starts in two weeks because next week's preseason games are nothing more than dress rehearsal.
4 things to watch: Bears-Titans https://t.co/RdpQadE2uI

— Cherteapet (@Cherteapet) August 27, 2017
Chicago Bears at Tennessee Titans NFL Week 3 Preseason Betting
The biggest storyline in today's Bears – Titans matchup is Chicago's QB situation. The Bears brought in Mike Glennon over the offseason and gave him $16 million guaranteed to be their stopgap signal caller. Then draft day rolled around and the Bears jumped up with a mortgage deal that would have made the puppet from the Lending Tree commercials jealous to grab North Carolina's Mitch Trubisky at #2.
By all accounts 2017 was supposed to be an internship for Trubisky as he learned the NFL game. Then Mike Glennon played like Mike Glennon (first pass was a TD, albeit to the wrong team) and Trubisky shined. Instead of booing, the fickle Chicago fans actually got behind Trubisky and the Bears found themselves in a full-fledged QB controversy. In today's game against the Titans the Stingy Fox, Chicago's John Fox is actually going to give Trubisky first team reps to start the second half.
.@Mtrubisky10's really feelin' da love. pic.twitter.com/nv07SBwSsK

— Chicago Bears (@ChicagoBears) April 29, 2017
So where does Tennessee fall into today's equation? The Titans will give third year QB Marcus Mariota up to three quarters of work Sunday. Last week against Carolina he was sharp in limited action, directing the offense to a FG and a TD in his only two series' of the game. The Titans will load up on their running game as they have done thus far this preseason, relying heavily on Derrick Henry specifically. The former Alabama RB tallied a pair of TD runs a week ago.
Chicago Bears at Tennessee Titans Betting Matchup
The worm has already turned on Bears QB Mike Glennon and he's actually lucky the team is not playing in boo-friendly Soldier Field. It's hard to say that a guy getting $16 million this year is playing for his job but that's exactly the situation Glennon finds himself in today. The former Tampa QB gets the whole first half to prove his worth – a final audition if you will. Trubisky will come in with the starters in the second half – but will it be too late?
What you're betting on – or against – in this game is Chicago coach John Fox. He's stingy and reluctant to give the rookie QB a chance. Glennon will be mediocre, the Chicago defense will struggle against Mariotta, and Trubisky's effort will be underwhelming mostly for the fact that Fox will refuse to loosen the reigns in this NFL Week 3 preseason betting matchup.
Pick Titans -3