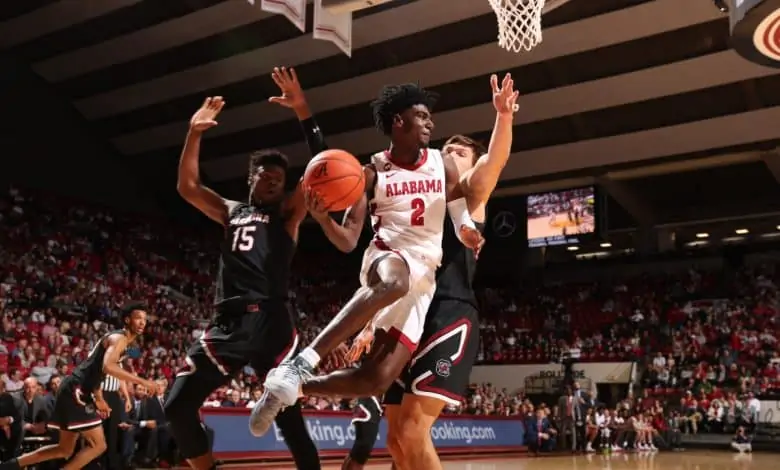 The #11 Alabama Crimson Tide (15-5, 10-1 SEC) is on the road to take on the South Carolina Gamecocks (5-7, 3-5 SEC) in Southeastern Conference play Tuesday evening. Tuesday's matchup marks the first matchup between the two conference foes. Tipoff is set for 6:30 p.m. EST inside Colonial Life Arena in Columbia, S.C. Alabama is a 6.5-point road favorite in the conference showdown against the Gamecocks, according to oddsmakers.
What to Know – Alabama Crimson Tide
Over a month of play, the Crimson Tide won ten consecutive games, nine of the conference contests. Alabama has lost two of their last three games, including their first conference loss to Missouri on Saturday. The Crimson Tide have a comfortable three-game lead in the SEC standings as the season winds down over the final month of play.
Alabama's offense scores 79.1 points per game behind 43.1% shooting from the field. The defense holds opponents to 69.2 points per game on 39.9% shooting. Alabama ranks second in the KenPom rankings in defensive efficiency.
Sophomore guard Jaden Shackelford leads the Crimson Tide, scoring 13.9 points per game as one of the top shooters in the conference. Fellow guard John Petty Jr. is right behind Shackelford, averaging 13.1 points per game as the team's second-leading scorer.
Alabama is 12-7-1 against the spread this year, with an 8-2-1 mark against SEC opponents. The Crimson Tide are 4-1 ATS against the Gamecocks in their last five matches.
What to Know – South Carolina Gamecocks
This season has been a down year for the Gamecocks, who rank near the bottom of the conference standings and are 2-5 over their last seven games. Last week, South Carolina upset the Florida Gators (72-66) on the road before falling to Mississippi State (75-59) at home over the weekend.
The Gamecocks' offense averages 73.8 points per game while shooting 42.5% from the field. Defensively, South Carolina contains opponents to 75.5 points per game on a 44.7% shooting.
Junior guard AJ Lawson leads the Gamecocks in scoring, averaging 17.3 points per game. Lawson, a Preseason All-SEC First Team selection, scored his 1,000th career point in the loss to Bulldogs.
Classmate Keyshawn Bryant is second on the team in scoring, pouring in 14.4 points per game. Lawson and Bryant combined to average 35.9 points per game in conference games, ranking third as a tandem in league play.
SC comes into the game with a 5-7 record ATS and 4-4 in conference play this year. The Gamecocks are 2-4 ATS over their last six games and 2-3 on their home floor.
The Pick is In
Alabama has been one of the hottest teams in college basketball season, even after stumbling in recent weeks. The Crimson Tide have beaten up on conference foes, with an average margin of victory of 16.3 over their ten SEC wins. South Carolina has struggled this season, with a majority of their preseason postponed or canceled. This could be a close game, but the Crimson Tide will use their talent to pull away late and notch their sixth straight win over the Gamecocks.
The Pick: Alabama -6.5