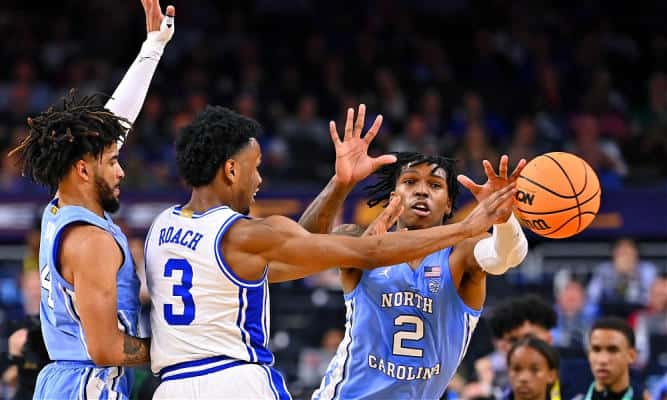 The Tar Heels will try to emulate what they did last season, using a 94-81 win at Cameron Indoor Stadium in Coach Mike Krzyzewski's final home game to propel them for a run to the National Championship Game. The Duke at North Carolina betting matchup once again closes out the regular season for both teams, but this time in Chapel Hill.
The Blue Devils (22-8) got the best of North Carolina (19-11) in the first meeting this season, taking home a 63-57 win on February 4th at home as -2.5 favorites. Oddsmakers expect UNC to even up the series on their own court, listing the Tar Heels as -3.5 favorites with 65% of the betting public liking North Carolina.
Why Duke Can Cover +3.5 Points
The Blue Devils are 22-8 this season, impressive considering it's Jon Scheyer's first season as head coach replacing the legendary Krzyzewski and the team is heavily reliant on young players. There were a couple of rocky spots as expected but this squad really seems to have come together with a five game win streak and an 8-2 record over their last 10.
Duke has been much hotter down the stretch than North Carolina, who has gone 4-5 over their last 9. One of those defeats for the Tar Heels was a 63-57 loss at Cameron Indoor Stadium, with Jeremy Roach leading the way with 20 points and Kyle Filipowski adding 14.
Filipowski's play down the stretch is one reason to really like the visitors in Duke at North Carolina betting. The lock for ACC Rookie of the Year is coming off a 14 rebound performance against NC State on Tuesday while Roach has averaged 19.5 ppg his last two.
Why North Carolina Can Cover -3.5 Points
Duke finished the year a perfect 16-0 at home – which is impressive – but it also means they were just 3-6 on the road this season. Aside from a 77-55 win at Syracuse on February 18th, the Blue Devils had lost four of their previous five away from home and UNC happens to be 12-2 at the Dean Dome this season.
While Filipowski and Roach have nice upside for Duke, they are the only two players that average in double figures for the ACC's #9 scoring offense. It doesn't seem like the Blue Devils can survive a bad game by either of those players on the road, while North Carolina has four players that average in double figures for the conference's #4 ranked scoring offense led by Caleb Love (16.9 ppg) and Armando Bacot (16.5 ppg).
Despite the 63-57 loss at Duke last month, Bacot still had a 14/10 double-double while Leaky Black added 13 points and 10 rebounds. If one wanted to play conspiracy theorist, UNC going just 2-3 from the free throw line compared to 11-15 for the Blue Devils seemed a little fishy – plus the Tar Heels should shoot better than 7-27 from three point range back at home.
Free Duke at North Carolina Betting Pick
The Blue Devils got the better of North Carolina at home last month, but they may be seeing a reversal of fortune on Saturday night on the road. UNC limped a bit with a 1-5 start to February, but they've come back for a current three game win streak and should make it four in a row heading into ACC Tournament play.
Free Pick: North Carolina -3.5