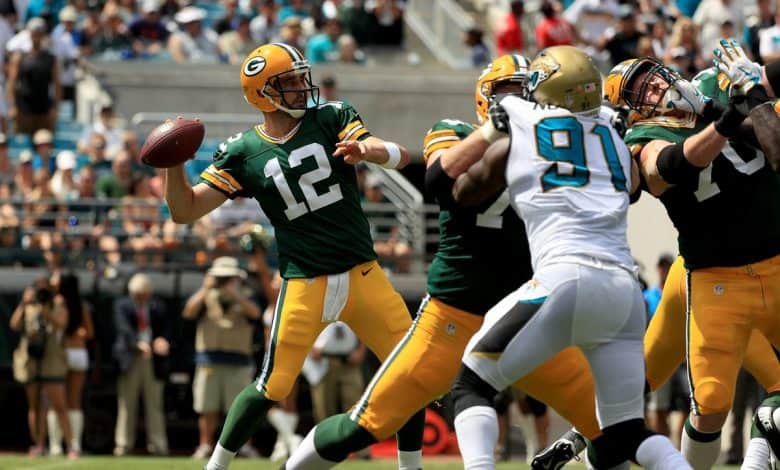 Green Bay is a hefty -14 point favorite heading into the week 10 Jaguars at Packers pick. Few people would argue that the Packers are going to win this meeting, but does a forecast of 36° with light rain and wind help or hurt Aaron Rodgers and company on Sunday?
Jaguars players probably aren't keen on leaving 80° temps for the nearly frozen tundra of Lambeau Field, but how much does the wind and ran alter Green Bay's #8 passing attack? Jacksonville is mired in a 7-game losing streak though, and losses are actually wins towards next year's draft status. Is that leading to a big win for the Pack?
Jacksonville Breaking In Moving Parts
The Jaguars depth chart is very fluid right now, especially at QB where Jake Luton makes his second NFL appearance. The 6th round rookie wasn't bad last week, going 26/38 for 304 yards with 1 TD and 1 INT against Houston. The Jaguars also got 99 yards from James Robinson in the 27-25 loss as +7 point underdogs – but that was at home.
The Jaguars are 0-4 on the road this season, and we're reaching the point of the calendar where there is a definite home field advantage weather wise. Jacksonville has allowed at least 30 points in each of their away losses to Tennessee, Cincinnati, Houston, and the Chargers, but in that regard does a poor weather day hinder Green Bay's offense? The movement of the total would suggest so, dropping to 47.5 from a 54 open.
In normal conditions, the Jacksonville defense would be in trouble against Green Bay. The Jaguars have the 2nd worst total defense in the league, allowing 418.1 yards per game, and rank 28th vs. the pass, 27th against the run, and are 31st in points allowed. Once again though, a windy day could alter Rodgers' effectiveness.
Green Bay Set to Take Care of Business?
The Packers do have an advantage with a couple extra days of rest after the 34-17 whitewashing of San Francisco in the Thursday night game for week 9. That win was another solid day for the Green Bay passing game as Rodgers was 25/31 for 305 yards and 4 TD while Davante Adams caught 10 balls for 173 yards.
The two TD spread seems like a lot for Green Bay on Sunday, but this one could easily be a blowout as well. Four of the Packers' six wins have been by double digits this year, but Green Bay didn't look great in their last home game which was a 28-22 loss to the Vikings. Minnesota's Dalvin Cook ran for 163 yards and 3 TD in that game, and also added a 50-yard TD catch.
Green Bay's defense was a liability in the loss to the Vikings, but bounced back nicely in holding San Francisco to 55 yards rushing on 17 carries. the 49ers' Nick Mullens did throw for 291 yards, but the Packers got a little lax after building up a 34-3 lead in the 4th before two late San Fran TDs.
Free Jaguars at Packers Pick
In normal weather conditions, Green Bay -17 to -20 points would still have value for a traveling Jacksonville squad. The big question is whether wind and rain hurt the Packers on Sunday – or help them. The Jaguars played well behind Luton last week, but it's conceivable that they really don't want to be at Lambeau on Sunday. Jacksonville putting up more than 13 points would be a surprise.
Green Bay 33 – Jacksonville 13
Free Pick: Under 47.5