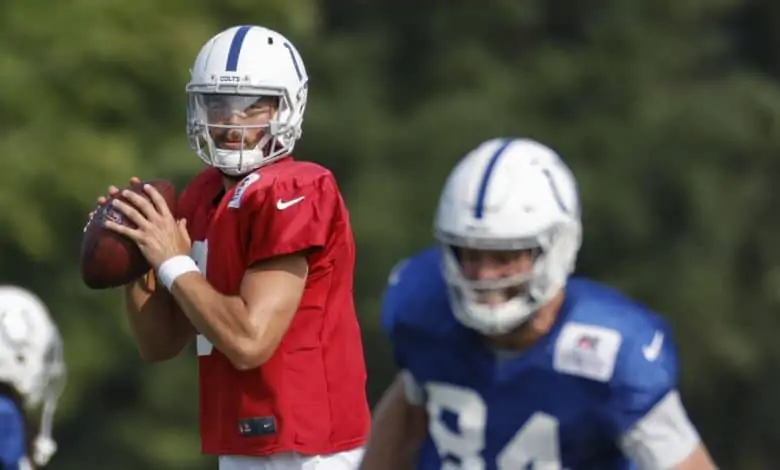 Will the preseason week 1 Panthers at Colts matchup be another low scoring affair? That's been the trend so far this weekend, with 13 of 15 games going 'under' the total. Carolina and Indianapolis aren't necessarily known for high profile offenses, so the O/U of 34 could indeed be set a bit too high.
The Colts are -1.5 favorites at home in this game. As with all preseason games, this one comes down to who will or won't play. Carolina is not going to debut Sam Darnold in this contest, and the Carson Wentz injury means the Colts turn to their young guns under center.
Rhule Gets First Preseason
We don't really know how Carolina Panthers head coach Matt Rhule attacks a preseason game because the 2020 exhibition schedule was scrapped last year due to COVID. That means Rhule was thrown right into the fire in his NFL debut, which ended up being a 34-30 loss to the Raiders as +3 point underdogs.
What we do know for the preseason week 1 Panthers at Colts meeting is that Sam Darnold will not make his Carolina debut. It goes without saying that Christian McCaffrey will also be out, but the reigns at QB get handed over to P.J. Walker and then Will Grier. Walker did see some time with Carolina last year, appearing in three games and throwing for 258 yards with 1 TD and 2 INT in a 20-0 win over Detroit.
Grier is a 2019 3rd round pick out of West Virginia who did not see the field in 2020. Grier made two starts in 2019, throwing 0 TD and 4 INT while also losing a fumble. Walker and Grier will have a potent WR in 2nd round pick Terrace Marshall, Jr. out of LSU, who should see plenty of snaps with Robbie Anderson and D.J. Moore likely limited.
Colts Taking to Air Sunday?
The main goal for Indianapolis in the preseason week 1 Panthers at Colts contest is seeing what they have at QB if Wentz indeed has injury issues that extend into the regular season. Jacob Eason gets the first nod under center, a 2020 4th rounder that did not take a snap his rookie year after serving as a 3rd stringer behind Phillip Rivers and Jacoby Brissett.
Since there was no preseason a year ago, Sunday's snaps will be the first in the NFL for Eason. His backup Sam Ehlinger has also never been under center for an NFL game. Ehlinger is a rookie 6th rounder out of Texas that threw for 26 TDs to just 5 INT a year ago for the Longhorns. Brett Hundley is the Colts' 3rd stringer, even though he's the most experienced as a 6-year NFL vet.
Hundley started 9 games in 2017 for the Packers, and has been mentored by Aaron Rodgers and Russell Wilson during his NFL tenure. The former UCLA QB still has a lot to prove in the NFL, and him coming in facing 3rd stringers late in the game could be the key for the Colts in this one.
Preseason Week 1 Panthers at Colts Pick
Frank Reich was 3-1 during the preseason in 2018, but followed that up with a 1-3 record in 2019. That being said, the Colts get the edge in this one simply because they'll be opening up the playbook more (you'd think), trying to situate what they have at QB. Hundley should be able to lead a couple TD drives if he gets the 4th quarter as well.
Colts 24 – Panthers 13
Free Pick: Colts -1.5