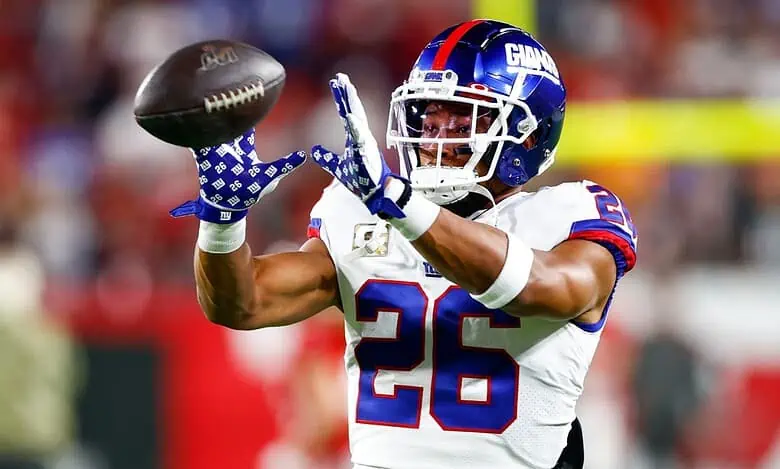 Week 6 of the NFL season is full of some big games on Sunday, but that's not the case when looking at the Sunday Night Football matchup. The New York Giants will visit the Buffalo Bills, and there is a big spread in this matchup.
New York comes into this game with a 1-4 record through five games, and they are in danger of falling out of the race completely. The Giants already have some bad losses on the season, and this could potentially be another one.
Buffalo is looking to get back on track after suffering a loss in London, and they are playing on their home turf. The Bills have gone just 3-2 this season, and they were expected to be one of the best teams in the league.
Buffalo comes into this game as a 14.5-point betting favorite over the New York Giants.
Giants Dealing With Injuries
It has been a rough season for the New York Giants, and they are now dealing with some serious injuries. Running back Saquon Barkley has been out of the lineup, and quarterback Mac Jones is going to miss this game.
New York is averaging less than 200 passing yards per game, and they are going to have to find a way to move the ball through the air. The Giants will do all that they can to slow down the pace in this one, but at some point, they have to score as well.
The defense for the Giants has been a major issue, as well, as this team is allowing nearly 390 total yards per game. It's going to take a total team effort for the Giants to get back on track.
Bills Want to Play Fast
The Buffalo Bills come into this game averaging nearly 400 yards per game on offense, and they want to play fast in this game. Quarterback Josh Allen continues to lead the way, and wide receiver Stefon Diggs is having a huge season as well.
Allen has thrown for 1,407 yards and 11 touchdowns on the year, and Diggs has been on the receiving end of five of those strikes. The Bills will need to mix in some rushing attempts if they are going to be successful in this game.
The defense for the Bills is catching a huge break in this game, and they are going to be aggressive in this matchup. Buffalo can make things happen on the defensive side of the football.
Bills Pound the Giants
It's very rare to see a betting spread this large in the NFL, but there is a reason for it in this matchup. New York has had a rough start to the season, and now they are dealing with injuries at key positions.
You can't expect the Giants to do much of anything on offense in this game, and the Bills are going to be in great positions all night long. New York just won't be able to get the stops when needed, and this game is going to get out of hand.
Bet the Buffalo Bills to win this game in a big way as they cover the 14.5-point spread.