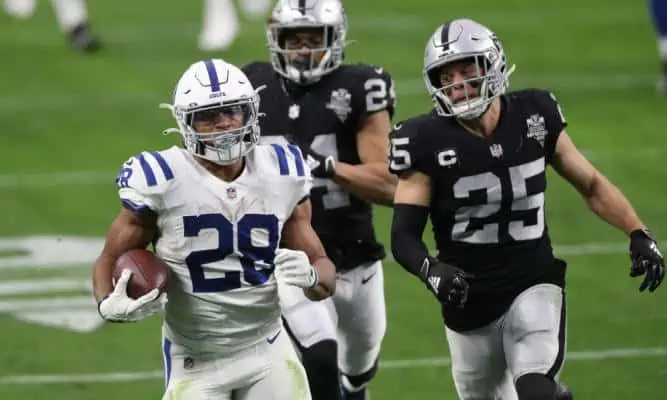 It's pretty telling that Indianapolis is having one of their worst seasons in recent memory, have already benched their $18 million QB for a second-year player with zero prior starts, and fired their head coach for a former center with no coaching experience – and at 3-5 they are still better than 2-6 Las Vegas.
The Colts at Raiders betting matchup in week 11 could be interesting, but not necessarily because it's going to be precision football. The Raiders are back home after an ugly 2-game road trip and we don't know what to expect from Indianapolis in the head coaching debut of Jeff Saturday, so it looks like the oddsmakers just threw out a Las Vegas -4.5 line and said, "have fun."
Colts Come Out Refreshed?
Frank Reich had an interesting tenure in Indianapolis. He came in and went 10-6 in his first year with the team but then had to deal with the abrupt retirement of Andrew Luck prior to a 7-9 record in 2019. The Colts then paid Philip Rivers $25 million for an 11-5 regular season before a loss to the Bills in the wild card round and then couldn't beat Jacksonville in the 2021 finale and missed out on the playoffs at 9-8.
The Colts had Carson Wentz at QB last season and their rotation under center continued this year by acquiring Matt Ryan from the Falcons. He had just 9 TDs to 9 INTs and was benched for the remainder of the season for Sam Ehlinger. Ehlinger doesn't have a TD pass in two starts, a 17-16 loss to Washington and 26-3 defeat to New England last Sunday.
The Colts revolving door at virtually every position has extended to the sidelines, as Jeff Saturday takes over for Reich. There are many – many – people who criticized the move as the former pro bowl center only has high school coaching experience. Bill Cowher called the hiring a "disgrace to the coaching profession" and Joe Thomas said owner Jim Irsay was just bringing in a "drinking buddy" so yeah, things are going well in Indy.
Raiders Had Been Playing Decent Despite Losses
If the Colts are the most dysfunctional team in the NFL, an honorary 1A (with some consideration to the Packers) would have to be the 2-6 Raiders. The team had suffered some early season losses that could have gone both ways like 24-19 to the Chargers, 29-23 to the Cardinals, 24-22 against Tennessee, and 30-29 to the Chiefs but those losses have taken their toll and it looks like Las Vegas has waved the white flag the past two weeks.
In week 8 the Raiders were shut out 24-0 by the Saints, not quite the offensive performance they envisioned when trading for Davante Adams in the offseason to pair with his college teammate Derek Carr while also bring in 'offensive guru' Josh McDaniels from New England. The Raiders followed that up with a 27-20 loss at Jacksonville in which they were outscored 17-0 in the 2nd half.
Free Colts at Raiders Betting Pick
Reich might not be the only coach on the unemployment line if McDaniels can't lead Las Vegas to a win in the Colts at Raiders betting matchup. That being said although Saturday may be a 'newb' he also has Gus Bradley as his OC and John Fox as his special defensive assistant and both of them have head coaching experience. Couple that with RB Jonathan Taylor getting back from his ankle injury and the Colts are going to provide a lot of talking points for Monday.
Free Pick: Colts +4.5