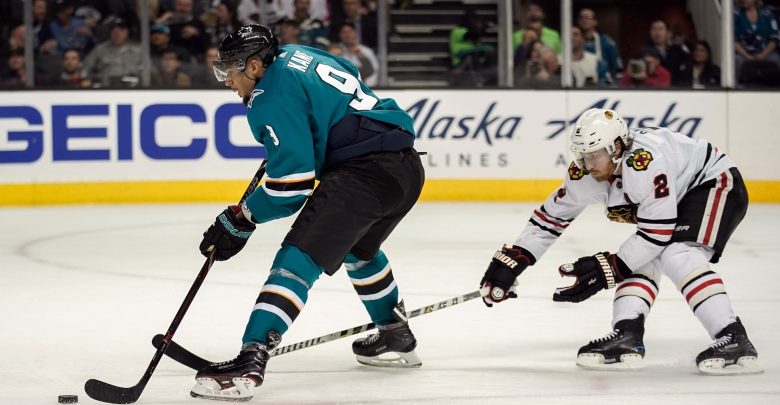 There's only about a half a dozen games left on the NHL regular season slate and although it can be hard finding meaningful games this time of year, there's also plenty of great opportunities for bettors. One such game of value is the 3/26 NHL free pick. On paper, San Jose would be an easy play as they sit in 4th place in the Western Conference, just two points up on the Minnesota Wild for home ice in a potential first round series. The line does seem a bit low at SJ -130 against a Blackhawks team that is 3rd worst in the West and en route to missing the postseason for the first time in a decade. Do the prideful 3X Stanley Cup winners of the last 10 years finish this disappointing season strong?
Sharks on a Red Hot Streak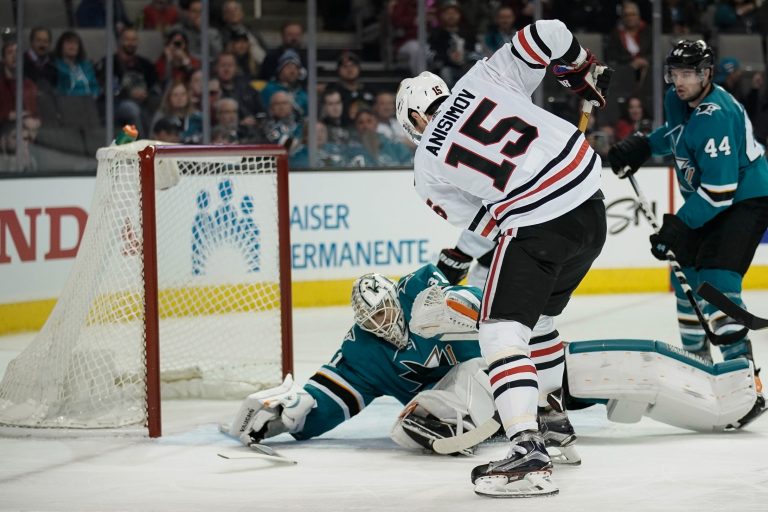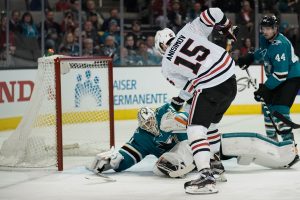 San Jose comes into the United Center riding a seven game winning streak. That remarkable run has put them in position to host their first round playoff series with the Wild.That might seem inconsequential, but Minnesota has only lost six games in regulation at home all year – the fewest in the league. The Sharks are on the road for the 3/25 NHL free pick, but they've won three straight road tilts. It should be noted, those three wins came against Edmonton, Vancouver, and Calgary, three of the bottom five teams in the Western Conference. Luckily for Sharks fans, Chicago is also in the conference basement.
Tonight's goaltending matchup is the rubber match between SJ's Martin Jones (28-18-6) and Chicago's Jean-Francis Berube (2-5-1). The Sharks got a very easy 7-2 win at home in the last meeting on March 1st, but fell 1-3 in Chicago on February 23rd. The youngster Berube could be in trouble against a Sharks offense that is clicking. San Jose has scored 4+ in six of their last seven games. Joe Pavelski, Evander Kane, Logan Couture and Co. are looking for a huge night – although Couture is a game-time decision which would be a huge benefit to the Hawks.
Chicago Playing for the Loss?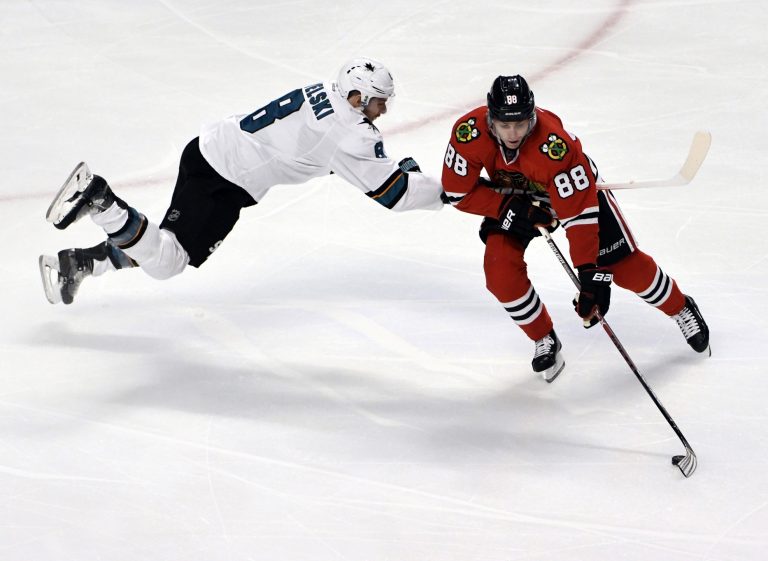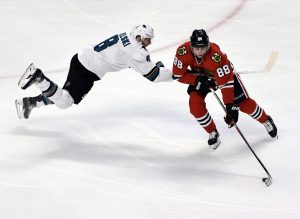 It's been a great 10-year run for the Blackhawks but the injury to Corey Crawford derailed their season and took them out of legitimate playoff contention. Crawford was 16-9-2 on the season, but since he was sidelined with vertigo symptoms right before Christmas Chicago is 14-23-4. Obviously goaltending has been a major factor since as the Blackhawks have slipped to the bottom 10 in goals allowed in the league. Berube gets the call in net for the 3/26 NHL free pick and he's allowed 4+ goals in five of the last six.
The 'Hawks have dropped five of their last six and currently sit in 7th in the league in terms of top draft lottery percentage (6.5%). Chicago doesn't look to be in a full tank mode though as they won a 3-1 decision against the Islanders on Saturday. The Blackhawks seem to get up for tough competition too as they've beaten Colorado and Boston in the past two weeks. Even so, the home team may be a bit short handed Monday as Jonathan Toews is questionable with an upper body injury.
3/26 NHL Free Pick Betting
Tonight's game has all the makings of your proverbial trap play. San Jose has won 7 in a row while Chicago has lost five of six. Despite this, the line is set relatively low at SJ -140 and hasn't moved despite the fact that nearly 98% of bets were coming in on the Sharks early. Chicago has had their goaltending issues, but they did beat San Jose at the United Center last month (although the 'Hawks were -127 favorites). This could be a high scoring affair as the Blackhawks can score too with Patrick Kane and Alex DeBrincat among others. With all the distractions surrounding Shark Week after 60 Minutes last night, maybe San Jose is due for an 'off' game.
Free Pick: Chicago Blackhawks +140