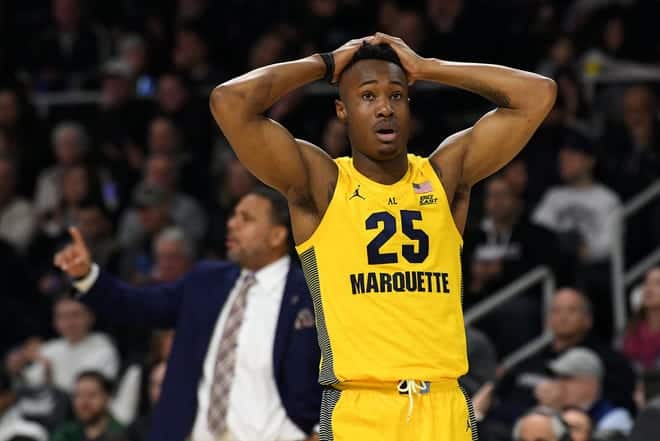 The Big Ten is absolutely loaded this season, with three teams currently in the top 5 in the AP polls. One of those squads is in action in the Wisconsin at Marquette pick Friday night, as the #4 Badgers face their first test of the season against Marquette (Iowa is also ranked #3 and Illinois #5).
UW was able to break a two year losing streak against Marquette last year, toppling the Golden Eagles 77-61 as just -2 favorites in Madison. The Badgers are off to a 3-0 start, but have been at least -20 point favorites in all three of those wins. Marquette will be playing their 4th straight home game on Friday night, and will look to bounce back after failing their first test of the year in a 70-62 loss to Oklahoma State at Fiserv Forum as -2.5 favorites. Was Marquette just the victim of the 'look ahead' in that tilt?
Wisconsin Good, But Not Yet Tested
The Badgers posting a 3-0 record and rising to #4 in the rankings is impressive, but Wisconsin has played nothing more than a glorified exhibition schedule to this point. Regardless of who they've played, Greg Gard's team is going to be good this year, especially while starting four seniors and a junior.
There's not a lot for Marquette to game plan against for Friday night's tilt considering Wisconsin has been up by 34 and 22 points the last two games. The Badgers did struggle a bit in a 77-67 win over Eastern Illinois as -21.5 favorites to begin the season, but have buckled down behind a balanced scoring attack the last two games that has seen six players score in double figures.
The Badgers did beat Marquette by 16 points in last season's matchup after falling 74-69 in Marquette in 2018 and an 82-63 home loss in 2017. This rivalry very much has a big brother – little brother feel, and UW would love to dish out some noogies in this spot.
Marquette Trying to Find Their Identity
It was supposed to be a rough start to the season for Marquette, not only dealing with all the uneasiness and lack of practices due to COVID, but also having to adjust without Markus Howard, a 4-year starter and two-time All-American who is now trying to make a name for himself with the Denver Nuggets. Another more underrated loss is Sacar Anim, a Senior who averaged 13.1 ppg last year.
Despite the losses, the Golden Eagles are 2-1 heading into the Wisconsin at Marquette pick. The wins were dominant, 99-57 against Arkansas Pine-Bluff and 75-50 vs. Eastern Illinois but as -31.5 and -14.5 favorites respectively. Marquette showed their lack of leadership in the 70-62 loss to Oklahoma State on Tuesday, getting outscored 38-27 in the 2nd half.
There are reasons to like Marquette in this Friday matchup, most notably Koby McEwen scoring 21 points Tuesday vs. Oklahoma State. There are also reasons to think that the best is yet to come for the Golden Eagles, as Ohio State transfer DJ Carton is only putting up 7.7 ppg so far, and 6'11" freshman Dawson Garcia had his first bad game last time out with just 4 points after posting 16 and 19 the first two.
Free Wisconsin at Marquette Pick
Few people would doubt that the Badgers will end up the season with a better record than their in-state rivals Marquette. This game just means more for the Golden Eagles though, and they were humbled a bit last week against Oklahoma State and up against a UW team that has posted three tomato can wins. This line seems very low, which gives Marquette the edge.
Marquette 66 – Wisconsin 61
Free Pick: Marquette +3.5