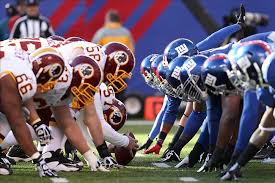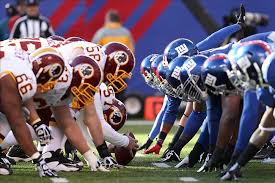 Our New York Giants plays Washington Redskins free pick features one team playoff bound, the Giants, and one team that that still has a shot at the postseason, the Redskins. New York is one of the NFC wild cards, while Washington has an opportunity to be the other. Washington will be in the playoffs as long as they win and Green Bay and the Lions don't tie.
The Giants (10-5) are 3-2 for their last five games. They started the string with a 27-13 win over the Browns on Nov. 27 and then lost the next week to the Steelers 24-14. That loss was followed by two wins with the first coming being 10-7 on Dec. 11 against Dallas and the second 17-6 on Dec. 18 against Detroit. Last week, the Eagles beat the Giants 24-19. One basic pattern in all of these games is the Giants proclivity for low offensive point production.
The Redskins (8-6-1) come to this final game of the season probably wishing they had done better during the last five weeks,31-23 as they were 2-3. On Dec. 24, Dallas beat the Skins 31-26 and that was followed by a 33-21 loss to Arizona. On Dec. 11, they beat the Eagles 27-22 and the following week they lost to Carolina 26-15. They came back last week with a big 41-21 win over the Bears.
NY Offense vs. Redskins Defense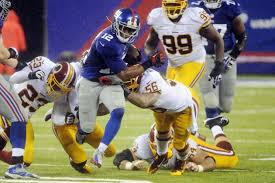 The Giants are scoring on average just 19.4 PPG. Most of their offense is generated through the air. QB Eli Manning ( 63.0 COMP%, 26 TDs, 16 INTs, 20 Sacks) usually has two primary receivers that he hits with his passes. The first is Odell Beckham Jr. (96 REC, 1,323 YDs, 13.8 AVG, 10 TDs) and the second is Sterling Shepard (62 REC, 653 YDs, 10.5 AVG, 8 TDs). The Giant running game has been less than effective and needs to gather some steam. The top rusher is Rashad Jennings (163 ATT, 541 YDs, 3.3 AVG, 2 TDs).
The Washington defense, which is allowing 24.3 PPG, can give up the lead. However, their stats show that they have the stuff to stick it to teams. The Skins have a healthy 37 sacks and 50 TFL. They have also grabbed 13 INTs, defended 71 passes, and forced 19 fumbles. LB Ryan Kerrigan (11 Sacks, 4 TFL, 2 PD, 2 FF), who is questionable, is essential to the Redskins' success. DE Trent Murphy (6 Sacks, 6 TFL, 3 FF), who is also questionable for today's game, brings a lot of power to the field. CBs Bashaud Breeland and Josh Norman each have three picks and a total of 29 PD.
Washington Offense vs. Giants Defense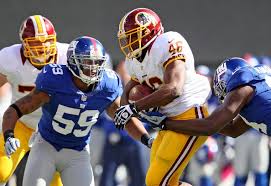 The Redskins possess and effective and dynamic pass attack and a solid ground game. They're averaging 25.7 PPG. QB Kirk Cousins (67.3 COMP%, 24 TDs, 1`0 INTs, 19 Sacks) has had a solid season. There are four receivers who have 19 total TDs. The leader in that area is WR Jamison Crowder (75 REC, 945 YDs, 12.8 AVG, 7 TDs), while WR Pierre Garcon (74 REC, 945 YDs, 12.6 AVG, 3 TDs) has the most pass catches. Two pass catchers, WR DeSean Jackson and TE Jordan Reed, are questionable and much needed. RB Robert Kelley (156 ATT, 671 YDs, 4.3 AVG, 6 TDs) anchors what is an overall effective running game. The O-line has done a good job this year protecting Cousins and setting up the run.
The Giant D, which is allowing just 18.3 PPG, can win games. They have been especially effective against the pass. They have 15 picks and 92 PD. Plus, they have generated 17 FF, recovering seven. The Giants have a respectable 31 sacks and solid 49 TFL. DE Olivier Vernon has been effective with 8.5 sacks and eight tackles for a loss. An important part of the Giants D, LB Jason Pierre-Paul (7 Sacks, 3 TFL, 8 PD, 3 FF), is out. Versatile safety Landon Collins (117 TCKLs, 3.0 Sacks, 4 TFL, 13 PD, 5 INTs) is ready to play.
New York Giants Plays Washington Redskins Free Pick
In our New York Giants plays Washington Redskins free pick, the Redskins are at -7.0. The Redskins beat New York in week three 29-27. The seven point spread looks huge here, but we are going to take it. Bet Washington at -7.0.
New York Giants Plays Washington Redskins Free Pick: Washington at -7.0