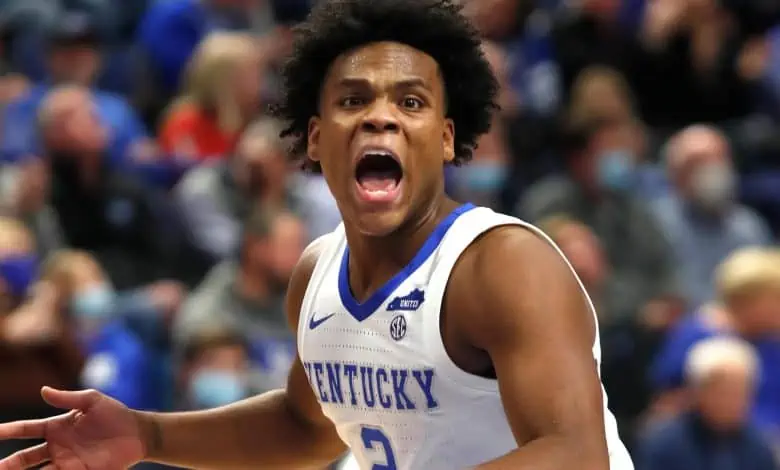 Give the Spartans athletic department some credit, they are not shying away from competition early in this 2022/23 season, facing top 5 teams in two of their first three games this season. MSU dropped a close 64-63 game against #2 Gonzaga on Friday, and next up is the #4 team in the nation in the Kentucky vs Michigan State betting matchup.
The Wildcats have rolled to a couple of easy 20+ point wins to start their season, rolling Howard 95-63 and Duquesne 77-52 covering the point spread in both contests. UK has gotten two big wins even playing without reigning player of the year Oscar Tschiebwe, who has yet to make his season debut following a knee procedure last month. Kentucky is a -6.5 favorite from this neutral site game in Indianapolis.
Who Goes for Kentucky?
This is not the Kentucky teams of the past that would start multiple true freshman and even a lot of their depth was one-and-doners that played a single season in Lexington. Heading into 2022/34 the Wildcats have a lot of experienced players, including Sahvir Wheeler who is the 2X SEC leading assist man, Antonio Reeves who is scoring 20.0 ppg through two games, and CJ Fredrick who is averaging 17.0 ppg so far.
Wheeler, Reeves, and Fredrick are all seniors who provide a nice emotional balance to a couple of true freshman with upside Cason Wallace (11.5 ppg) and Chris Livingston (7.0).
It would be remiss not to mention the centerpiece of Kentucky's national championship hopes in Tschiebwe, the 2022 Wooden Award Winner as the top player in the country. Tschiebwe is in fact expected to make his season debut in the Kentucky vs Michigan State matchup, getting 17.3 points and 15.3 rebounds back in the lineup for John Calipari.
Spartans Gaining Confidence
Even though a one-point loss to the #2 team in the country (as +12 point underdogs) is a good showing, Michigan State was up 7 at the half and had extended their lead to a dozen at one point in the second half before failing to close things out. Tom Izzo and company really felt they let one get away there.
The last people who want to hear about Tschiebwe returning on the post Tuesday night for Kentucky is the Michigan State staff, as they were dominated by Gonzaga's Drew Timme on Friday as he grabbed 13 rebounds and scored 22 points on a very efficient 9-14 shooting. Timme fouled out the two main Spartans players trying to guard him, Joey Hauser and Mady Sissoko.
It's hard to know how much to take away from Michigan State's near upset last Friday. On one hand they did a great job holding a Gonzaga team that led the country in scoring last season (88.3 ppg) to just 64 points, but some of that may have also been due to playing on the USS Abraham Lincoln Aircraft Carrier as well.
Free Kentucky vs Michigan State Betting Pick
MSU did keep things close with Gonzaga despite what is expected to be their leading scorer, Hauser, going 0-5 with just 2 points. In that regard the Spartans did do a nice job of getting their other four starters into double digits, something that is a concern early in this season after losing their top three scorers from a year ago.
Tschiebwe may be on a minutes restriction in his debut, but it's hard to see the Spartans having an answer for him just like they couldn't matchup up with Timme on Friday. This one looks like Wildcats by double digits.
Free Pick: Kentucky -6.5