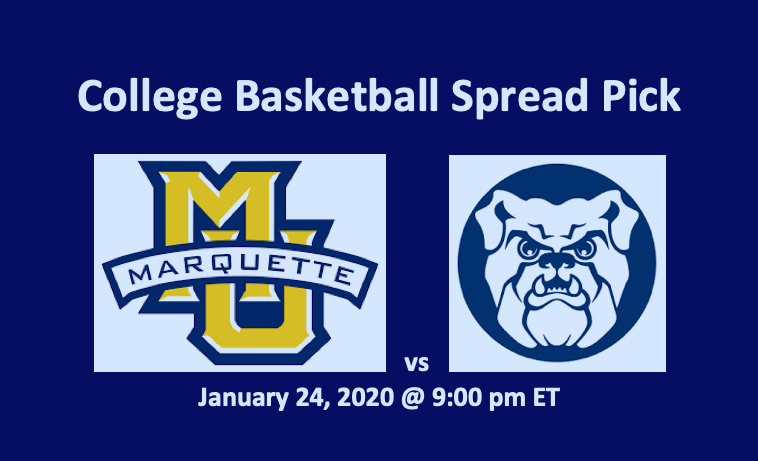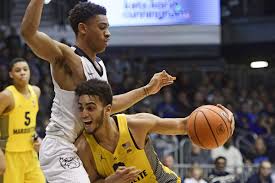 Our Marquette vs Butler pick offers the #13 Bulldogs at -6.0. This Marquette vs Butler prediction notes that the Marquette Golden Eagles (14-5 Overall, 4-3 Big East) are tied with two other teams for third in the Big East. Those teams are the Creighton Bluejays and Providence Friars. The Butler Bulldogs (15-4 Overall, 3-3 Big East) are just below the Golden Eagles and are in sixth place. game will be played Friday, January 24, 2020 at 9:00 pm ET. The game will be played at the Hinkle Fieldhouse in Indianapolis, IN.
Marquette vs Butler Pick – Recent Performance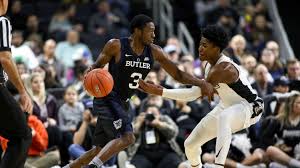 At the start of the season, the Golden Eagles won eight of their first 10 games. The losses were to Wisconsin 77-61 and #5 Maryland 84-63. During their last nine games. Marquette was 6-3. Wins included a 71-60 victory over #10 Villanova. Marquette's won their last three games, including an 82-68 win over St John's on January 21.
The Bulldogs stared the season with nine straight wins. Their first loss came on December 10. That's when the #11 Baylor Bears edged them in a tough defensive battle 53-52. The Bulldogs then reeled off five more wins. However, their last victory was on January 10 when they beat the Providence Friars 70-58. Since then, Butler has suffered three losses in a row. On January 15, the #18 Seton Hall Pirates took them down 78-70. Then on January 18, the DePaul Blue Demons beat them 79-66. Finally, on January 21, the #9 Villanova Wildcats were victorious against Butler 76-61.
Golden Eagles at Bulldogs – Stats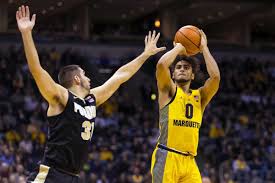 The Golden Eagles are averaging 77.8 PPG while the Bulldogs are good for 68.3 PPG. At the same time, Marquette is holding opponents to 68.6 PPG. Butler is allowing opponents 58.1 PPG. Our Marquette vs Butler pick notes that the Dogs are hitting 46.7% of their field goals while the Eagles are good for 43.2%. However, Marquette leads in three-pointers (39.6% to 35.0%) and free throws (73.1% to 71.1%). The Golden Eagles also lead in rebounds, 40.4 per game to 35.4 per game. They also top the Bulldogs in BPG (4.7 to 2.6) and SPG (5.3 to 4.8). Each team is dishing off just over 13 APG.
Player and Roster Assessment
For Marquette, guard Markus Howard leads the team with 28.4 PPG. Also, in the backcourt, Sacar Anim is averaging 12.5 PPG and Koby McEwen 9.6 PPG. McEwe is also averaging 4.8 RPG and 3.2 APG. In front, Brendan Baily is hitting for 7.4 PPG and Jamal Cain for 5.0 PPG. Baily is also good for 5.4 RPG and Cain for 4.3 RPG.
For the Bulldogs, guard Kamar Baldwin forward Sean McDermott lead the way. Baldwin is good for 15.4 PPG while McDermott is averaging 11.0 PPG and 5.7 RPG. Also in front, Jordan Tucker is averaging 9.5 PPG and 4.1 RPG and Bryce Nze is good for 9.4 PPG and 7.0 RPG. Nze is completing 62.3% of his shots from the field.
Our Marquette vs Butler Pick
Looking at these teams, we think that the Golden Eagles come to this game with a better and deeper arsenal. Butler has been struggling as of late, and we expect them to continue to do so. Plus, the Eagles are better from outside and the charity stripe. Our Marquette vs Butler pick is the Golden Eagles at +6.0.
Marquette Golden Eagles vs Butler Bulldogs Prediction – Summary
Marquette Golden Eagles at +6.0