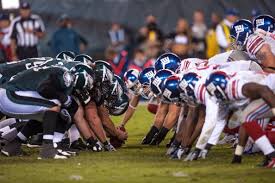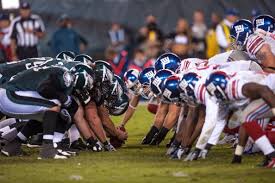 Our first week 16 game is our New York Giants play Philadelphia Eagles free pick. The Giants come into the game at -2.5. The New York Giants (10-4) are on a two-game winning streak and poised to secure a playoff wild card spot. On the other hand, the Philadelphia Eagles (5-9) occupy last place in the NFC East. They have lost five straight.
The Giants are the only team in the NFL to beat Dallas this year. And they have done it twice! NY is 8-2 for their last 10 games. That includes a 28-23 win against the Eagles in mid-season. Losses over that span were to the Packers and 23-26 and Steelers 24-14. Their last two wins were over the Cowboys 10-7 and Lions 17-6.
The Eagles would love to play spoiler. The club has not won a game since Nov. 13 when they beat Atlanta 24-15. Since that time, they have lost to Seattle (26-15), Green Bay (27-13), Cincinnati (32-14), Washington (27-22), and Baltimore (27-26). One thing can be said is they have kept the last two games close. Their loss to Baltimore occurred when, instead of going for the one-point conversion to tie, the Eagles went for the two-point try and failed with time running out.
New York Offense vs. Eagles Defense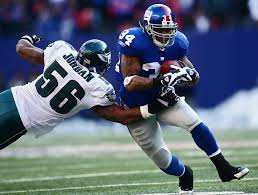 The Giants are only scoring an average of 19.4 PPG. Overall, they have been keeping scores low, and their defense has been ably controlling opponents limiting them to an average of 17.9 PPG. Of the 330.6 average yards of offense generated by the Giants, 249.4 is through the air.
Eli Manning (63.4 COMP%, 25 TDs, 13 INTs, 20 Sacks) has certainly posted some good numbers and engineered effective, game-winning drives. He's got one of the best wideouts to throw to in Odell Beckham Jr. (85 REC, 1173 YDs, 13.8 AVG, 10 TDs). WR Sterling Shepard (55 REC, 592 YDs, 10.8 AVG, 7 TDs) is also a major threat. The running game for NY has been ineffective this season. The last time these two teams met RB Rashad Jennings (154 ATT, 497 YDs, 3.2 AVG, 2 TDs) was held to 26 total yards.
The Eagles are holding teams to 21.4 PPG. They've been impressive accumulating 31 sacks, 15 FF, and 11 INTs. They also have posted 51 TFL and 62 PD. DE Brandon Graham (5.5 Sacks, 8 TFL, 1 PD, 2 FF) and DT Fletcher Cox (6.5 Sack, 5 TFL, 4 PD, 1 FF) offer a powerful one-two punch upfront, while LB Jordan Hicks (1 Sack, 4 TFL, 9 PD, 3 INTs) and safety Rodney McLeod (1.0 Sacks, 3 TFL, 6 PD, 3 INT, 1 FF) are tops in pass defense. The Eagles are holding teams to 21.4 PPG. However, over their last five losses, they have allowed opponents 27.8 PPG.
Philadelphia Offense vs. Giants Defense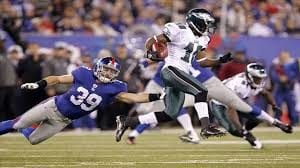 Rookie QB Carson Wentz (62,8 COMP%, 13 TDs, 13 INTs, 31 Sacks) is leading an offense that is averaging 22.6 PPG. Along with posting 241.8 YPG in the air, the Eagle offense is running for an average of 112.9 YPG. They'll use both the pass and rush against the Giants.
RB Ryan Matthews (137 ATT, 615 YDs, 4.5 AVG, 8 TDs) is having a solid season, while RB Darren Sproles (78 ATT, 366 YDs, 4.7 AVG, 1 TD), who is expected to play as long as he's cleared under concussion protocol, offers added punch as a runner and receiver. He's the team's second most productive runner and third most productive pass catcher. Top receiver Jordan Matthews (71 REC, 792 YDs, 11.2 AVG, 3 TDs) is questionable and will be a game time decision, while TE Zach Ertz (63 REC, 644 YDs, 10.2 AVG, 2 TDs) is ready to go.
The Giants possess one of the best defenses in the NFL. They have made 31 sacks, picked 14 passes, and cause 17 fumbles, recovering seven. Expect them to use their powerful rush and keen secondary to rattle and confuse Wentz. DE Jason Pierre-Paul, who has seven sacks, three TFL, eight passes defended, and three forced fumbles, is out. Sack-leader Olivier Vernon (8.5 Sacks, 7 TFL, 1 FF) will play, as will DT Jonathan Hankins (3 Sacks, 6 TFL, 1 FF). Safety Landon Collins (3 Sacks, 2 TFL, 13 PD, 5 INTs) is exceptionally versatile. He leads in tackles with 108. CB Janoris Jenkins (1 Sack, 4 TFL, 17 PD, 3 INTs, 1 FF) will be a game time decision. He's nursing a back problem. Since week seven the Giants are allowing just 14.9 PPG. Their average for the season, as noted earlier, is 17.4 PPG.
New York Giants play Philadelphia Eagles Free Pick
As noted earlier in this New York Giants play Philadelphia Eagles free pick, the Giants beat the Eagles 28-23 when they first met this season. The Eagles are motivated to win, at least as spoilers. But the Giants have a deeper motivation to win this game. In doing so, they clinch a playoff spot. They have a lot more on the line than Philadelphia.
If anything, the experience of Manning should reign over the talent of the rookie Wentz. Neither team is an offensive juggernaut, while both clubs have solid defenses. In our New York Giants play Philadelphia Eagles free pick, we are taking the New York Football Giants at -2.5. Kickoff for this Thursday Night Football game is 8:25 p.m. ET.
New York Giants play Philadelphia Eagles Free Pick: Giants at -2.5