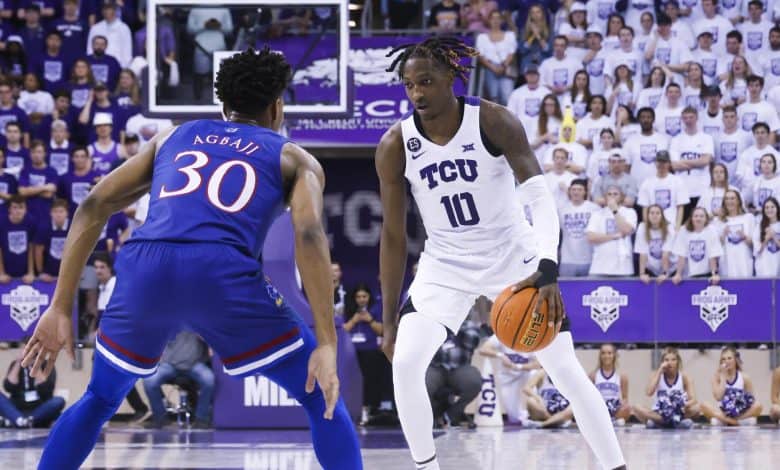 The Phog Allen Fieldhouse takes center stage for the TCU at Kansas betting matchup on Saturday (1:00 PM ET, CBS). KU just had a 10-game win streak snapped on Tuesday in an 83-82 OT loss to rival Kansas State in Manhattan. The win allowed KSU to pull into a tie for the conference lead at 5-1 with the Jayhawks and Iowa State.
TCU is 3-3 in the conference, so they'll need a win on Saturday to keep pace with a group that also features 4-2 Texas. The Horned Frogs had won 11 straight at one point, but have since dropped three of four including a 74-65 defeat at West Virginia on Wednesday. TCU goes on the road as a +7 point underdog here.
TCU Had Been Faring Well on the Road
TCU's 88-87 win over Baylor on January 4th as +6 point road favorites was impressive, but since then Jamie Dixon's club has lost to Iowa State 69-67 and Texas 79-75. Those were two close defeats against two of the top four teams in the Big 12, but what was going on in Wednesday's 74-65 loss at West Virginia who was previously 0-5 in conference play?
It should be noted that aside from their three losses in four games, TCU also handed Kansas State their first conference loss in an 82-68 win last weekend. That game was in Ft. Worth though, and KSU was obviously looking ahead to the big Kansas showdown.
KU is 10-0 at home this season, but we thought TCU was a good road hanger (2-2) with their win at Baylor and their close 4-point loss at Texas, but the 9-point defeat in Morgantown was a head scratcher especially with the Horned Frogs down by as many as 18 points in the 1st half.
Jayhawks Try to Rebound From a Rare Loss
Kansas lost the big showdown with Kansas State this week, a rarity considering the Jayhawks had won 7 in a row and 15 of the previous 16 in the head to head series. That was just the second loss of the season for KU though, and their first since a 64-50 loss to Tennessee in the Championship game of the Battle 4 Atlantis back on November 25th.
The Jayhawks need to watch themselves in the TCU at Kansas betting matchup, as they are 10-0 at home this season but their three conference wins at The Phog have come by a combined 8 points which includes a 69-67 win over Oklahoma State and topping Oklahoma 79-75 with KU a double digit favorite in both games. In their most recent home contest last Saturday, Kansas squeaked by Iowa State 62-60 while failing to cover the -7.5 number.
TCU at Texas Betting Pick
Texas Christian fared decent against Kansas during the regular season last year, beating them 74-64 in Ft. Worth as a +6.5 underdog and then making things close in a 72-68 loss at the Phog where the line was +11.5. The Jayhawks got the ultimate revenge with a 75-62 win in the Big 12 tournament, but TCU is back and ready to scrap here.
The battle with K-State was exhausting and demoralizing this week for Kansas, while TCU fell prey to looking ahead to this game in their loss at West Virginia. Have to take the points with the scrappy Horned Frogs squad.
Free Pick: TCU +7