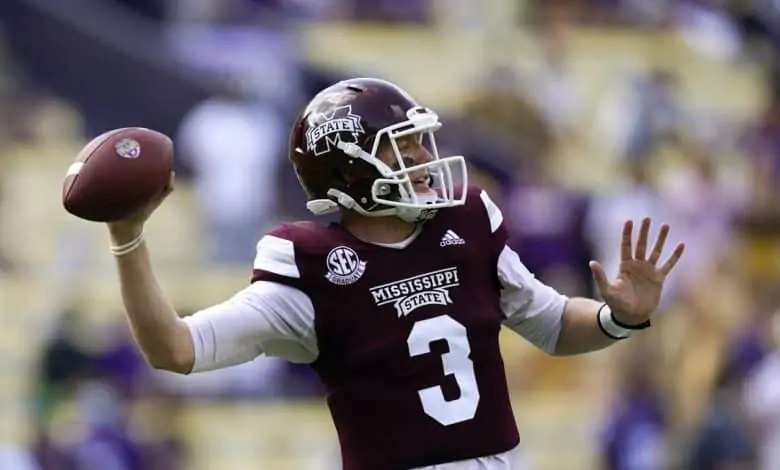 There's a lot of questions on both sides of the field heading into the Mississippi State at Kentucky betting matchup. We've got a Bulldogs team that shocked the college football world stunning defending national champion LSU, 44-34 as +14.5 road underdogs – only to lose 21-14 at home last week to Arkansas as -16.5 favorites.
Kentucky is all over the map through two games as well. Nobody expected the Wildcats to put up much of a fight in their opener, a 29-13 loss at Auburn as +6.5 underdogs. Last week UK dropped a 42-41 game in OT to Ole Miss as -6.5 favorites though. Kentucky is a -3 point favorite for Saturday night's meeting (7:30 PM ET, SEC Network), but can either team be trusted?
Mississippi State Needs an Identity
Mike Leach's "Air Raid" offense took the SEC by storm in his debut, a 10-point win at Tiger Stadium over LSU. K.J. Costello threw for a conference record 623 yards in the opener and added 5 TD and 2 INT. The Bulldogs were expected to take that momentum into their home opener against Arkansas and at the very least just get a straight-up win as -16.5 favorites.
Instead of keeping the offensive train rolling, MSU laid an absolute dud last week in a 14-21 home loss to the Razorbacks. Costello went 43/59 vs. Arkansas with a TD, but also had 3 INTs. Mississippi State lost despite the Razorbacks running the ball 37 times for just 63 yards. Arkansas QB Feleipe Franks was efficient, but didn't dazzle, in a 20/28 for 212 yard outing.
What's more concerning for the Bulldogs heading into Mississippi State at Arkansas betting is that the loss last week was a primetime game that was Leach's home opener. If the Bulldogs were ever going to put on a show, it should have been last week against an Arkansas team that had lost 20-straight SEC games. Maybe MSU was just fighting through an LSU win hangover?
Kentucky Defense Getting Set for a Challenge
Arkansas figured out Mississippi State last week by dropping pretty much everybody back into zone coverage. It's no secret that Leach is going to run the ball as MSU had 16 rushes for 9 yards in the opener and ran 24 times for 87 yards last week.
Knowing what the opponent is going to do is one thing, stopping it is another. Last week against Mississippi the Wildcats defense allowed 4 Ole Miss touchdowns in six possessions across the 2nd half and OT. Rebels QB Matt Corrall was laser-focused going 24-29 for 320 yards and 4 TDs to 0 INT. Corrall had 395 and 3 TDs in the opener against Florida so he is a good QB – but the MSU passing attack is relentless.
One way to help Kentucky's defense on Saturday night is for their running game to churn out yards and eat up the clock. UK ranks 4th in the country in rushing (276.5 yards/game) and was even able to churn out 145 on 40 carries vs. a tough Auburn defense in the opener. The Mississippi State run defense has actually been very good through two games though, limiting LSU to 80 yards on 38 carries and Arkansas to 63 on 37.
Mississippi State at Kentucky Betting Free Pick
Kentucky is a very one-dimensional offense as QB Terry Wilson has thrown for 239 and 151 yards in two games with just 1 TD and 1 INT. If UK can't get their running game going against the nation's #7 rush defense of MSU they are definitely in trouble.
At the same time, the Wildcats' defense was completely overwhelmed by the Ole Miss passing attack last week. They are very ill-prepared to face the Air Raid attack for the first time and to be honest the wrong team is favored in this one.
Mississippi State 38 – Kentucky 17
Free Pick: Mississippi State +3