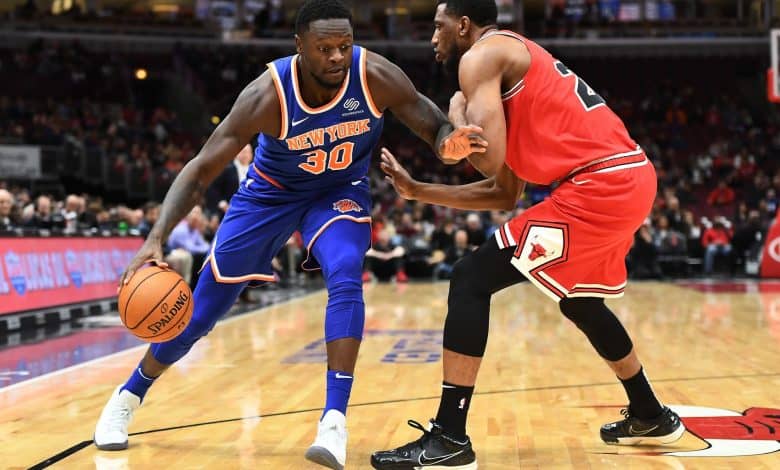 The October 28th Knicks at Bulls matchup looks like a good one with Chicago (4-0) being one of three unbeaten teams left in the NBA (Golden State, Utah). New York (3-1) is still just a +1.5 underdog on the road at the United Center however as oddsmakers are calling this one tight.
The Bulls have covered the number in all four of their wins this season and have had the last two nights off after a 111-108 win in Toronto on Monday night. The Knicks have benefited from playing three of their first games at Madison Square Garden this season, and now go on the road for the first time since an October 22nd win in Orlando.
Rose Returns to Chicago
It's another homecoming game for Derrick Rose, who attended nearby Simeon High School and spent his first 8 seasons with the Bulls. Rose (14.3 ppg) has had an up and down season through four games as the Knicks try to integrate offseason acquisitions Kemba Walker and Evan Fournier into what looks like a crowded New York backcourt.
The October 28th Knicks at Bulls matchup could be a big one for the New York backcourt after PG Fred VanVleet dished out 17 assists vs. Chicago on Monday. Walker is averaging 12.5 ppg and had a season high 19 in Tuesday's 112-99 win over the 76ers. Fournier has also scored 18+ points in three of four games this year.
Julius Randle will likely be the focal point of the New York offense in this matchup as he's averaging 25.5 ppg and 11.3 rpg through the first week-plus of the season. Randle has gone for 30+ in two of four games this season, and averaged 28/8 in three games vs. Chicago last year.
Can Bulls Push It to 5-0?
Chicago has a deep scoring team and rank 11th in the NBA in offensive efficiency through their four game win streak. Zach LaVine, DeMar DeRozan, or Nikola Vucevic could lead the Bulls in scoring on any given night, and it was DeRozan's turn on Monday with 26 points against his old team the Raptors.
LaVine has been great this season too with a couple of 30+ point games while also averaging 5.3 rpg and 4.8 apg. LaVine is going to play through a torn ligament in his thumb on his non-shooting hand so we will see how that goes against the Knicks' team that is #10 in defensive efficiency.
Lonzo Ball has an interesting matchup in he back court against Walker and Rose, and Chicago's offseason signing is going for 14.3/5.8/5 on the season. The Bulls defense has been a surprising success so far, ranking #2 in efficiency behind just Miami. Some would say a lot of that has to do with their opponents too though, as the Bulls have wins over Detroit (2), New Orleans, and Toronto who are a combined 3-10.
October 28th Knicks at Bulls Pick
It's a Rose homecoming but Tom Thibodeau also wants this one after being let go by Chicago in 2015. The Bulls are undefeated and have loads of talent but they also haven't played anybody yet. The Knicks have gone 1-1 vs. Orlando this season but also have notched wins over Boston and Philadelphia.
New York 108 – Chicago 105
Free Pick: New York +1.5