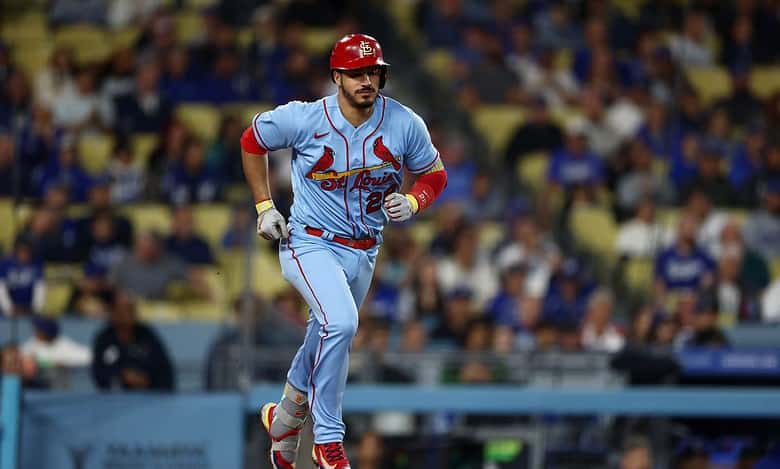 NL Central rivals meet up on Thursday night to begin a four-game weekend series as the St. Louis Cardinals host the Chicago Cubs. This is the final weekend before the MLB Trade Deadline, and there will be plenty of drama in St. Louis.
Chicago comes into this game having won five straight ball games, and they are playing themselves right back into the race. The Cubs are now just one game under the .500 mark, and they might end up being buyers at the deadline.
St. Louis comes into this series with a record of just 46-57, and it's been a long year for this year. The Cardinals did just win a series in Arizona against the Diamondbacks, and they enter play with some momentum.
The moneyline is set at EVEN for the series opener on Thursday night, as the pitching matchup feels to be pretty tight as well.
Cubs Red-Hot at the Plate
The Chicago Cubs are starting to show off their power at the plate, and they have scored 36 total runs during this winning streak. Cody Bellinger has been on fire throughout the month of July, and he belted a home run on Wednesday night.
Chicago is finally healthy again as well, and Dansby Swanson belted a pair of home runs in the win over the White Sox on Tuesday. If the Cubs are able to get to five runs in this game, then they will be tough to beat.
All-Star Justin Steele is on the mound to begin the series, and he has gone 10-3 with a 2.95 ERA this season. Steele just continues to pitch well, and he just beat the Cubs last weekend at Wrigley Field.
Pitching a Problem For Cardinals
The St. Louis Cardinals come into this series with a team ERA of 4.57, and pitching has been a major issue for this team all season long. St. Louis does have one of their best pitchers on the mound in this game in Miles Mikolas.
Mikolas has gone 6-5 with a 4.33 ERA this season, and he does appear to have what it takes to be one of the best pitchers in this division. St. Louis is likely going to sell some players at the Trade Deadline as they have to improve the bullpen.
Nolan Arenado leads the team with 22 home runs and 77 RBIS, and he continues to be one of the best pitchers in baseball. St. Louis is actually a better offensive team than Chicago, but the pitching has just let this team down.
Cubs Cruise to Another Win
The St. Louis Cardinals are always tough to deal with at Busch Stadium, but this team simply has some flaws this year. Even if the Cardinals get a good start from Miles Mikolas, there are some serious holes in that bullpen.
The Cubs come into this series with a ton of momentum, and they also have one of the best pitchers in the league on the mound. Chicago knows that it must continue winning games to avoid a sell-off, and the players appear to be feeding off of that.
Bet the Chicago Cubs moneyline as they head to St. Louis and pick up their sixth straight win overall by winning the series opener.