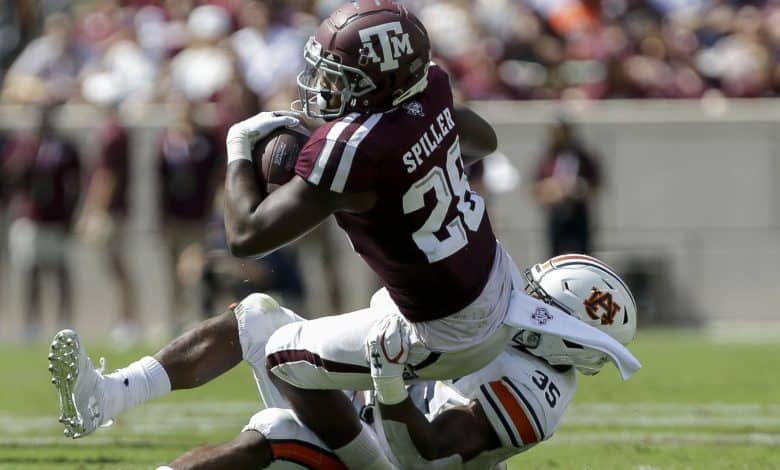 The Texas A&M at Auburn pick is another crucial one for the #5 Aggies as they search for another win while awaiting somebody in the top 4 to falter, opening up a potential spot in the playoffs. Auburn is no easy out though, especially at home where they are 4-0 on the season. The Tigers could be a bit ornery as well after a 42-13 loss to Alabama last week in the Iron Bowl.
The Aggies are -5.5 favorites on the road on Saturday (12 PM ET, ESPN) and their offense should look much better than it did on a rainy night in College Station last week en route to a 20-7 win over LSU. Texas A&M has now won five straight since a 52-24 loss to Alabama in week 5. 53% of the public like Texas A&M, but that's a slim margin.
Can Texas A&M Survive Again?
It wasn't a pretty 20-7 home win over LSU last week as -16 point favorites, but that was expected. Not only did it start raining an hour before kickoff and never let up, the Aggies were playing their first game in three weeks after two COVID cancellations.
Expect the Aggies to get back in rhythm in the Texas A&M at Auburn pick as they've knocked off the rust from the layoff and with the weather in the 50s and dry. It's not that Jimbo Fisher's team played that bad either, especially Isaiah Spiller who ran for 141 yards and a score. Kellen Mond was just 11/34 passing, but blame that on the weather as he had 12TD to just 1 INT in the four games prior.
Even if A&M's offense doesn't get back on track Saturday, the Aggies still have the top defense in the SEC. The rain helped last week, but Texas A&M still held LSU to just 36 yards rushing, while Tigers starting QB TJ Finley was 9/25 with 2 INT. Auburn is only 8th in the conference in total yards, and Texas A&M ranks 3rd in the SEC in sacks and 4th in INT. Bo Nix could be in trouble.
Must-Win for Auburn as Well
The Tigers close out the season with a very winnable game against Mississippi State next week, and a 7-3 record looks infinitely better than 6-4 in terms of Bowl prospects. That makes Saturday's home finale crucial for Auburn, who also wants to bounce back from their loss to rival Auburn last week.
Auburn could have really turned their fortunes around with a win over the Crimson Tide, but that's going to be a tough task for any team in the country. Instead of dwelling on being a +25.5 underdog or not scoring a TD until 4:39 in the 4th, the Tigers need to instead find the team that had won three straight prior to the Alabama loss including 35-28 against Mississippi, 48-11 at home against LSU, 30-17 at home against Tennessee.
Those are good numbers at Jordan-Hare Stadium for the Tigers, who have scored at least 29 points in all four home games this season while holding opponents to 17 points or less in 3 of 4. Auburn has a tough task against both sides of the A&M attack though, and Nix has just 1 TD to 3 INT the last three weeks.
Free Texas A&M at Auburn Pick
The Tigers have won three straight in this series, including 28-20 in College Station last year when the Aggies were -4 point favorites. That loss has to make A&M hungry on Saturday afternoon, especially with so much on the line. Auburn leading rusher Tank Bigsby is battling through a hip injury and D.J. Williams also left the Alabama game. That leaves the Tigers very thin in the backfield, putting a lot of pressure on Nix vs. a great A&M defense.
Texas A&M 31 – Auburn 20
Free Pick: Texas A&M -5.5