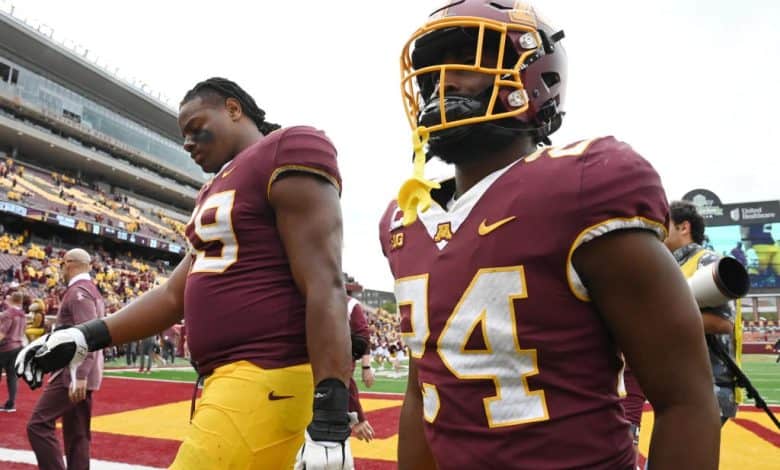 The 2022 Pinstripe Bowl is a tale of two approaches to the college football postseason. Golden Gophers RB Mohamed Ibrahim and Orange RB Sean Tucker are considered neck-and-neck as far as an NFL prospect goes, but Ibrahim is playing in the Syracuse vs Minnesota matchup while Tucker is calling it a wrap for his collegiate career and sitting this one out.
Of course more than RBs will determine Thursday afternoon's game, even if one is a 1,500+ yard runner and the other was a 2nd team All-American last season. Both teams played a very similar strength of schedule, but Minnesota (8-4) finished the season stronger with wins in four of their last five while Syracuse (7-5) really tailed off after their 6-0 start.
Will Orange Fan Base Travel – and Will It Be Enough?
The Pinstripe Bowl is played in Yankee Stadium in the Bronx, that's still a four hour trip from the Syracuse campus but it's also the week between Christmas and New Year's so why not spend it in the City? Although the Orange will likely have more fans in attendance on Thursday afternoon, that might be the extent of their advantages.
You can't blame Tucker for opting out, he's ranked in the top 10 in his position for the 2023 NFL draft and has done all he can for this program. Tucker was a 2nd team All-American last year breaking Syracuse's single season rushing record with 1,496 yards. Tucker had 1,080 yards on the ground in 2022, but this year was more about team success – at least at first.
One big question heading into the Syracuse vs Minnesota matchup is just what happened to the Orange? They had solid wins over Louisville, Purdue, Virginia, and NC State to get started 6-0 and up to #14 in the country, but limped home at just 1-5 after that.
Minnesota Gets Set to Say Good Bye
Ibrahim definitely left his mark on this program, and nobody would have blamed him for opting out for draft considerations especially since he tore his ACL in the season opener against Ohio State last year. Ibrahim came back with a vengeance though, running for 1,594 yards (4th in the country) and 19 TDs. Ibrahim ran for 263 in week 12 against a top 5 Iowa defense.
Ibrahim is not the only long-time Gopher suiting up for the last time in the Pinstripe Bowl, as QB Tanner Morgan is playing his last game of eligibility. Morgan, the 5th year senior, had a legendary 2019 where he threw for 3,253 yards and 30 TDs and although he hasn't been able to match those the last three seasons, he's still been a consistent performer.
Free Syracuse vs Minnesota Betting Pick
The Golden Gophers defense is especially dialed in, holding opponents to just 9.0 ppg over the last five contests of the regular season. With Syracuse not only missing Tucker, but also a top 5 NFL prospect offensive tackle and both their offensive and defensive coordinators. We are looking at around 28-12 here, which makes the best play the under 44.5.
Free Pick: Under 44.5