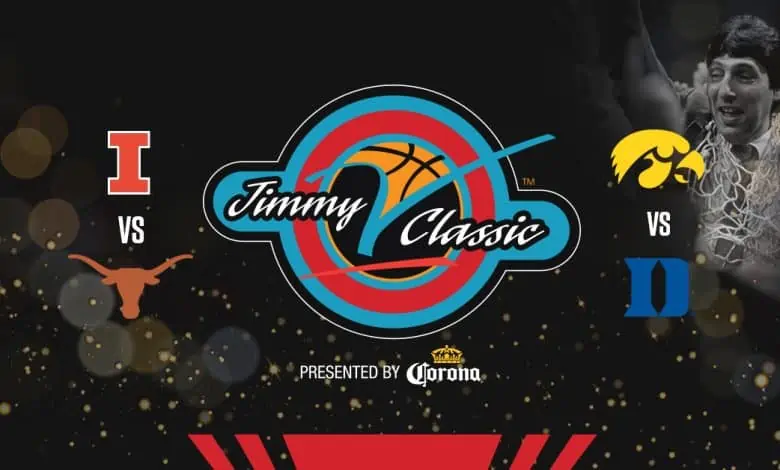 The Jimmy V Classic is the place to be on Tuesday night, with #17 Illinois vs #2 Texas setting the table for an Iowa vs Duke betting nightcap. The #24 ranked Hawkeyes (6-1) just trounced Georgia Tech 81-65 last week, and they hope to make it two-for-two against the ACC this season.
The Blue Devils know a little bit about matching up with the Big Ten, avenging a 75-56 throttling from Purdue in the Phil Knight Legacy Championship by beating Ohio State 81-72 last week at Cameron Indoor Stadium. Duke is a slight -2.5 favorite on Tuesday at Madison Square Garden with 65% of the public favoring the Blue Devils.
Murray Leading the Way for Iowa
Kris Murray is the focal point of the Iowa offense now that his brother Keegan Murray is off to the NBA as the #4 pick in the draft. Kris averaged just 10.3 ppg last season as Keegan was pumping in 23.3, but Kris has taken over the lead role nicely upping his average to 21.0 ppg in 2022/23.
Kris Murray just had 31 points and 20 rebounds to fuel an 81-65 win over Georgia Tech last week, his fourth double-double in the last five games and the third time he's scored 29+ in the last five. Iowa has some nice depth though too, with Patrick McCaffery and Tony Perkins both averaging over 12 ppg and Filip Rebraca adding 10.3.
Iowa is a top 10 scoring team (86.4 ppg) but there are some concerns with their defense. The Hawkeyes are rated 77th in adjusted defensive efficiency, and although Duke isn't scoring a ton this season (72.2) they've been incredibly efficient on offense.
Duke Continues to Gain Experience
If the Hawkeyes are going to get just their second win over Duke in program history, early in the 2022/23 season is the opportune time. The Blue Devils are not only breaking in a new coach for the first time since 1980 as Jon Scheyer takes over for Mike Krzyzewski, but this Duke team is incredibly young as players too.
Three of Duke's top five scorers are freshman, including what looks like their best player in 7-footer Kyle Filipowski. The former 5-star recruit is averaging 15.2 points and 9.2 rebounds per game and has been consistent with double figures in each game including five double-doubles. Junior Jeremy Roach has the only 20+ point game of the year for the Blue Devils and is the only other player besides Filipowski averaging in double figures.
Duke is young, but they've hung with Kansas in a 69-64 loss earlier in the season and looked good in the win over then #25 Ohio State last week. Four of Duke's five starters hit double digits in points vs. the Buckeyes.
Free Iowa vs Duke Betting Pick
Iowa has the experience edge here but is their defense going to be a liability? Duke has slowed the pace a bit this season which can limit the Hawkeyes exposure on that end of the court, but this still seems like a game where both teams are going to score in the mid 70s.
Free Pick: Over 146.5