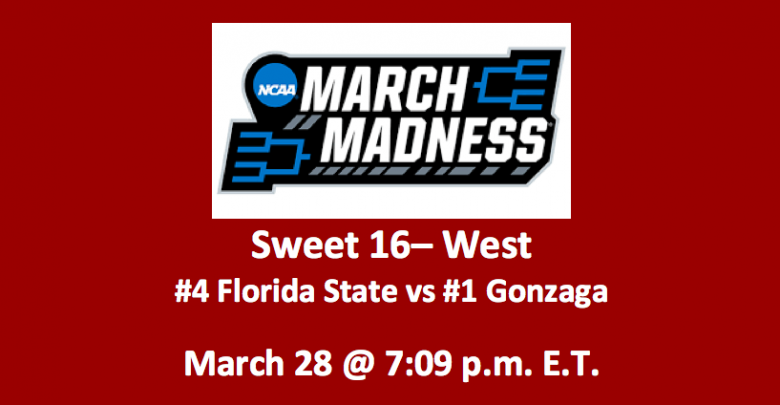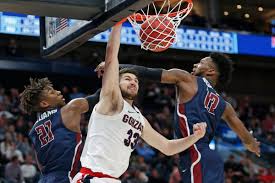 Our Florida State vs Gonzaga preview and pick has the Bulldogs at -8.0. This Florida State Seminoles vs Gonzaga Bulldogs 2019 NCAA Tournament Sweet 16 matchup will be played on Thursday, March 28 at 7:09 pm ET. The two teams will meet in this West Region game at the Honda Center in Anaheim, CA. In the first two rounds of March Madness fourth-seed FSU (29-7) beat the University of Vermont 78-69 and then took down Murray State 90-62. In Round One of the Big Dance, first-seed Gonzaga (32-3) made short work of Fairleigh Dickinson by beating them 87-49. In the second round, the Zags were a bit more challenged by the Baylor Bears. The final in that game was 83-71.
Florida State Seminoles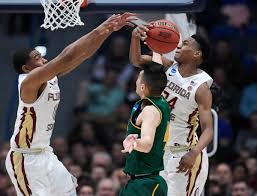 In the tournament, FSU is averaging 75.4 PPG while allowing opponents 65.5 PPG. They've been shooting 44.4% from the floor. In addition, this team has made 7.1 STPG and 4.3 APG, while dishing off 12.9 assists. In their last game against Murray State, the Seminoles posted a field goal success rate of 50.7%, while they hit 40.7% of their threes. That was a huge difference from their first contest against UVM where they shot 38% from the floor and 28% from beyond the arc. In the Murray State game, FSU was good on 77.8% of their free throws. The Seminoles have been taking in 42 RPG.
Guard Terance Mann has been dominant in each game, averaging 18.5 PPG, 8.0 RPG, and 3.5 APG. Also, our Florida State vs Gonzaga preview and pick notes that forward Mofiondu Kabengele has been lights out averaging 21.5 PPG, 6.6 RPG, and 2.0 BPG. In addition, forward Raiquan Gray and guard Trent Forrest have been important performers. Gray has put up 9.5 PPG while snagging three steals per contest. Forrest has been good for eight points in each game.
Gonzaga Bulldogs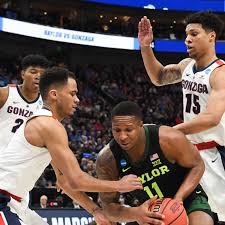 In the 2019 NCAA Tournament, the Bulldogs have been good for 85 PPG, while they have allowed opponents 60.0. Gonzaga has shot 53.6% from the floor and 39% from the arc and beyond. The team's free throw percentage has been lagging, and it stands at just 66.6%. Our Florida State vs Gonzaga preview notes that the Zags' assist rate had been phenomenal, standing at 21.5 per game. Also, they have averaged 7.5 steals and 6.5 blocks per game. Rebounding has been strong, as they've been good for 43 per contest. The team has also been fine concerning turnovers, averaging 11 per game, but their personal foul rate of 20.5 is worrisome.
In the frontcourt, Brandon Clarke and Rui Hachimura have been important contributors. Against Fairleigh Dickinson, Clarke posted 12 points and eight rebounds. He then had a massive game versus Baylor, as Clarke scored 36 points, made five blocks and two steals while bringing down eight rebounds. Against the FDU Knights, Hachimura put up 21 points, while he scored six in the second contest. Forward Corey Kispert had a big game versus the Bears. He ended up with 16 points and seven rebounds. In the backcourt, guards Zach Norvell Jr. and Josh Perkins have performed well. Norvell has been good for six assists and 11 points per game. Perkins, who underperformed versus the Knights, put up 11 points and made six assists versus the Bears. Plus, the Bulldogs have a bench that can contribute.
NCAAM Sweet 16 Florida State vs Gonzaga Preview – Our Pick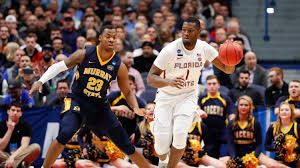 Our Florida State vs Gonzaga preview and pick notes that in many ways the Bulldogs look like the team to bet. They are much deeper than the Seminoles, and their field goal and three-point rates are both top-notch. But Gonzaga's personal fouls and poor foul shooting could result in a much closer score than anticipated. In the 2019 NCAA Tournament, FSU has committed 6.5 fewer personal fouls than the Zags, and the team's free throw rate is 80%. We think this game will be closer than most think. Our Florida State vs Gonzaga preview will pick FSU at +8.0.
Summary West Region, Sweet 16 – Florida State vs Gonzaga Preview: Pick is Florida State at +8.0