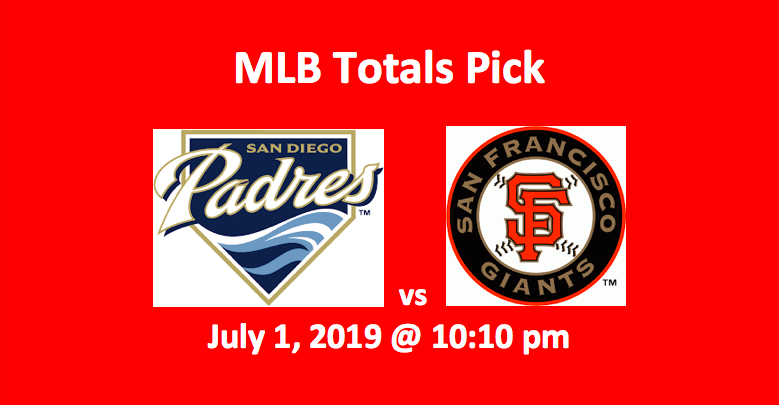 Our Padres vs Giants totals pick for July 7, 2019 has the over of 8.0 runs at -115. The Padres vs Giants totals odds for under 8.0 are at -105. As of late, the San Diego Padres (42-41 Overall, 21-20 Home), as we noted in our earlier moneyline pick for this game, have had hot bats. However, the San Francisco Giants (36-47 Overall, 18-22) have struggled all season to score runs. Our totals pick for San Diego and San Francisco considers recent performances of both starting pitchers, runs generated by both teams, and how the nine games played between these two teams have developed and ended up thus far. This Monday night game starts at 10:10 pm ET.
Padres vs Giants Totals Pick – Stats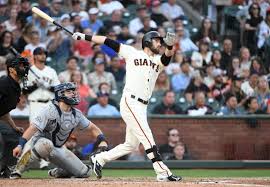 In their last 10 games, the Padres have averaged 6.5 runs per game (RPG). Over the same number of games, the San Francisco Giants have scored on average 4.7 RPG. This season, over the first nine meetings between these two teams, the totals have averaged 6.3 RPG.
As far as the starters are concerned, in the month of June over five starts the Giants' Jeff Samardzija has allowed a total of 18 runs or 4.5 RPG. In those four games, his ERA is 5.93. Thus far this season, Padres' starter Logan Allen has allowed two runs over two starts. His total innings pitched come in at 15, and Allen has posted an ERA of 1.38. Although we think that Allen will hold his own against the Giants tonight, we have to wonder what will happen with Samardzija?
In the three losses in June in which Samardzija started, the SF bullpen has allowed 2.0 additional RPG. Overall, in the five games that Samardzija pitched in June, the pen gave up 1.2 RPG. Both relief stats combined with both starting pitcher's ERAs moves us towards the over in this contest.
San Diego vs San Francisco – Past Performance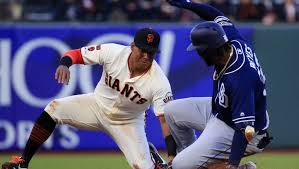 The last time these two teams met, which was from April 7 through April 9 in San Francisco, two-of-three games totaled over eight. The average number of runs scored over the three games was eight. In the first series between these two NL West teams, which was four games in San Diego over the first four days of the MLB season, all games came in under eight and the average total was 4.0 runs.
Will being in San Diego temper the bats of both teams? In their last six home games, the Padres have averaged 6.5 RPG. In their last seven road contests, the Giants have scored 4.6 RPG. Even if the Giants are shut down, might the Padres, who alone have scored more than eight runs in three of their last five games, get eight or more across the plate?
Our Padres vs Giants Totals Pick
In our totals pick for San Diego and San Francisco, we have to expect the Giants' starter, Samardzija, to struggle. Plus, we anticipate that the Padres batters will beat up on SF relievers. An over is possible. But for that to occur, we feel as if the Giants will have to contribute. We think they will get a run or two in this one. With all of those factors in mind, we're going with the over in this one.
Summary Over/Under – San Diego Padres vs San Francisco Giants
Take Over 8.0 at -115