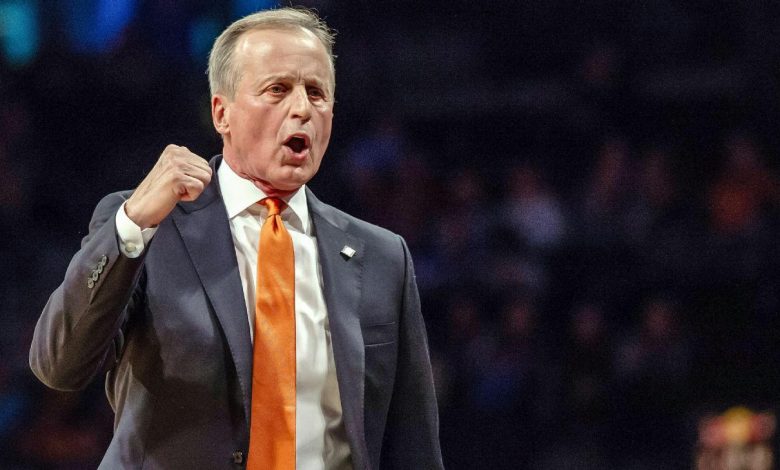 A familiar face returns to Austin when Rick Barnes brings the Volunteers into the January 29th Tennessee at Texas betting matchup as part of the SEC-Big 12 Challenge. Barnes spent 17 seasons at the head of the Longhorns basketball program (1998-2015) taking the team to the NCAA tournament in 16 of those.
Tennessee has won three straight coming into Saturday night's contest, while Texas is coming off one of their best performances of the year in a 73-50 win at TCU. The Longhorns have still fallen out of the top 25, but can inch closer to a return with a win over #18 Tennessee. Texas is a -4 point favorite in this spot.
Barnes Would Like This One
Barnes is on record as saying he has nothing but love for the city of Austin and the Longhorns fans, but you have to think that being fired after 17 years of service has to sting the former Longhorns coach just a little bit. Barnes has had a pretty good run since heading to Knoxville (including being named the 2018/19 coach of the year) but a win on Saturday would still be nice for the Volunteers coach.
So how do the Vols get the win in the January 29th Tennessee at Texas betting matchup? The Volunteers are just 2-3 on the road this season and are up against a Longhorns squad that is 12-1 at the Erwin Events Center this season. Tennessee is the #6 scoring team in the SEC (74.6 ppg) and are 5-3 in conference play. Texas is 5-3 in the Big 12, needing a win to stay on par with 6-1 Texas.
Saturday will be the first meeting between these schools since 2007, The Volunteers have some momentum with three straight wins but they've also been favorites in each of those – a victory at Vanderbilt and home wins against LSU and Florida. Prior to the Vanderbilt win Tennessee had suffered a 28-point loss at Kentucky and fell by 12 at LSU in their previous two road games.
Texas Inconsistent Recently
The Longhorns looked great in a 73-50 win over TCU on Tuesday easily covering the -2.5 point spread. That was the second win in a row for Texas who also beat Oklahoma State 56-51 at home but as -10 point favorites. While those were solid wins, Texas had also lost three of their previous four so they aren't out of the woods just yet.
Timmy Allen had 16 points vs. TCU for his highest scoring game over the last six. Minnesota transfer Marcus Carr has big game potential with 25 points in a 66-65 loss to Kansas State on January 18th and Andrew Jones has 12+ in three of his last five.
The only thing is, most of those players can also be very inconsistent. Jones had 5 total points against Kansas State and Oklahoma State while Allen has been held to 11 points or less in four of his last six.
Free January 29th Tennessee at Texas Betting Pick
Texas is a -4 point favorite in Saturday night's matchup and Tennessee has been less than stellar on the road. That, coupled with the Longhorns being very great at home this season would lend credence to Texas running away with this one. There are a lot of intangibles with the Barnes visit though, and taking the points sees to be the way to go here.
Tennessee 71 – Texas 66
Free Pick: Tennessee +4