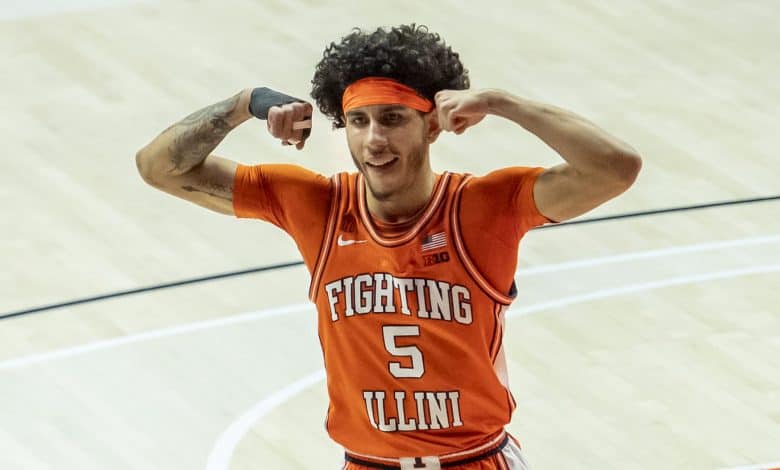 The Fighting Illini will go for the season sweep when they had to College Park for the January 21st Illinois at Maryland betting matchup. Illinois was able to get a 76-64 win on January 6th to cover the -11 point spread in Champaign. The Fighting Illini got 23 points and 18 rebounds from Kofi Cockburn, but in huge news the big man did not travel with the team after suffering a concussion on Monday.
Despite the 12-point loss Maryland did have their moments in the first meeting, leading at the half and still being up as late as just over 12 minutes left. The Terrapins face an Illini team coming off a hard fought 96-88 loss to Purdue in 2OT on Monday, and the Boilermakers lost their next game after that battle falling 68-65 in Indiana on Thursday night. Can the Terrapins pull off the same feat especially with Illinois missing their most dominant player?
Who Steps Up for Illinois?
One of the major reasons Maryland was able to make a 1st half run in the last meeting with Illinois was because Kofi Cockburn picked up a couple of quick fouls and had his minutes limited. The Illini were up 14 when Cockburn picked up his 2nd foul, and Maryland went on a +18 run. They couldn't hold on to the upset as the big an had 16 points and 15 rebounds in the 2nd half.
To their credit, Illinois hung with a top 5 team Purdue on Monday even with Cockburn scoring just 10 points and grabbing 5 rebounds in 22 minutes due to foul trouble. The Illini had a variety of players that can step up in the January 21st Illinois at Maryland betting contest, most notably  Andre Curbelo who returned for the first time since suffering a concussion in late November with 20 points and 6 rebounds.
Alfonso Plummer had 24 against Purdue while hitting 6-12 three pointers and Trent Frazier has now scored 16+ in four straight (including in the first game vs. Maryland). 6'10" Coleman Hawkins was great at the beginning of the year while Cockburn served a suspension, scoring 13+ points and grabbing 8+ rebounds the first three games. Together with 6'10", 240 pound Omar Payne Illinois still has some good interior size.
Maryland Gets a Break
There's no denying that Cockburn's absence is a huge advantage for Maryland, as the Illinois big man had posted a double-double in 11 of the 14 games he's played this season. The line has moved the Terrapins' way since the announcement that Cockburn would miss this game but Maryland still needs to take care of things on their end.
Maryland has dropped five of their last six, with the lone win over that span coming 94-87 in OT against Northwestern. Perhaps the Terrapins are better than that record shows though, as their conference play includes a 5-point loss at Iowa, having a halftime lead at Illinois, and losing by just one point at #8 Wisconsin.
Illinois still has a lot of firepower even without Cockburn, and Maryland has just the #12 defense in the Big Ten (69.6 ppg) to go along with the #10 offense (70.5 ppg). The Terrapins do have three players that average in double figures though led by Eric Ayala (16.3 ppg). Fatts Russell (12.3) had 23 in the win over Northwestern and Donta Scott (12.3) has 17+ in three of the last five.
January 21st Illinois at Maryland Betting
Will the diversity of Cockburn missing this trip because of a concussion make the other Illinois players rally? Had Curbelo not made his way back then the answer would probably be 'no', but he's a huge boost to go along with Plummer and Frazier as well as a very deep group of role players.
Illinois 72 – Maryland 65
Free Pick: Illinois -4.5