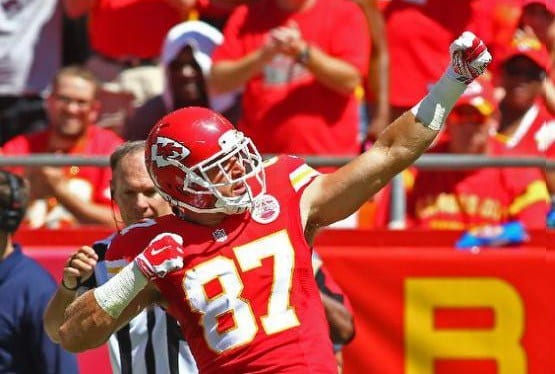 The Kansas City Chiefs (5-2) went from punching a guaranteed ticket to Minnesota for the Super Bowl to 'fire everybody' after two consecutive losses. The Chiefs had been darlings of the NFL after a five game win streak to start the year, but all of a sudden they are in disarray after dropping two straight. The NFL NFL Week 8 MNF Over Under Free Pick is a matchup of two teams trying to get off the snide in the suddenly close AFC West.
Denver (3-3) doesn't exactly come into tonight's game soaring as they've lost two straight games and three of four overall. Even so, with a win the Broncos can pull even in the loss column with first place KC. Still, who cares about winners and losers when there's a NFL Week 8 MNF Over Under Free Pick to break down?
Anybody mention the Dontari Poe needless trick play by K.C. after blowout win from last year? Denver wins 24 – 20

— Brad Byers (@Slochops) October 30, 2017
Denver's Offense Is An "Under" Machine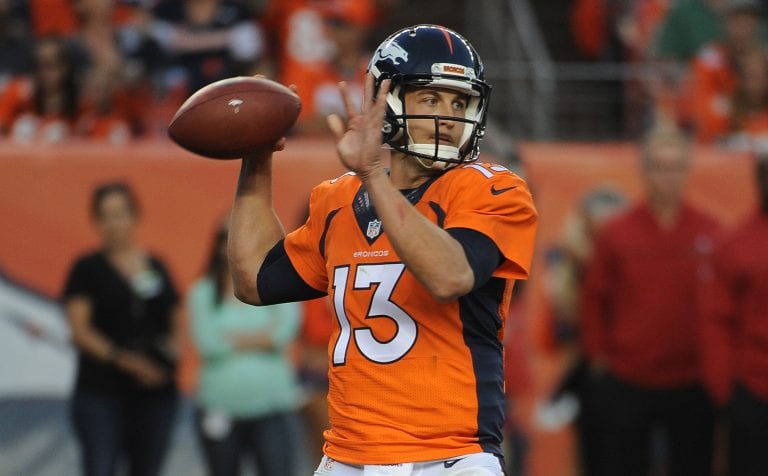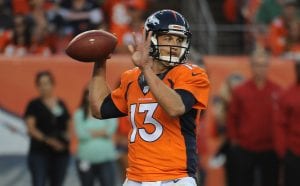 Tonight's total is 42.5 which seems like a mountain of points with the way Denver's offense has been playing. In the past two games they've put up a combined total of 10 whopping points and were shut out last week at San Diego. The Broncos 'no fly zone' defense is still great which is why it's hard to justify the 'over' in the NFL Week 8 MNF Over Under Free Pick. Denver has kept the last three opponents under 23 points total.
The Broncos are #1 in the NFL in total defense giving up just 258.5 YPG. They allow under 190 through the air and less than 75 YPG on the ground. Another benefit to the points total going 'under' is the fact that Kansas City has a top 6 rushing attack with 129 YPG. Denver's running game is a bit down this year – but they're still in the top half of the NFL at 114.5 YPG.
The Chiefs have won the last three games against the Broncos. Can the Broncos defense stifle Smith, Hunt, Hill and Kelce at Arrowhead?

— Bill Condron (@Condronomy) October 30, 2017
Not Your Typical Conference Grind-It-Out Battle – "Over" Imminent?
There's no doubt that these two teams are familiar with each other, but the past results do not indicate a smash mouth football style of play. Consider the last four years:
2013 – KC 17 Den 27, KC 28 Den 35
2014 – KC 17 Den 24, KC 16 Den 29
2015 – KC 24 Den 31, KC 29 Den 13
2016 – KC 30 Den 27, KC 33 Den 10
Six of eight games have gone 'over' tonight's 42.5.  For the NFL Week 8 MNF Over Under Free Pick the Chiefs have the #2 offense in the league at nearly 400 YPG and are 6th in passing with over 263.4 yards per. Even with the Broncos offensive woes this year they have put up some decent stats. Denver throws for 223.5 YPG and is up against a KC pass defense allowing 271.7 yards in the air (29th in the NFL). The KC defense as a whole is third worst in the NFL in total yards allowed per game.
When was last time Chiefs were described as "loaded with weapons on offense."? Honestly. Anyone? https://t.co/oGWyd22iB1

— Justis (@JustisMichael) October 30, 2017
NFL Week 8 MNF Over Under Free Pick – Betting
When KC's offense is clicking, they can score as they've topped 29 points in three of the last four. Unfortunately, Denver has only put up 10 points total the last two weeks against an LA Chargers defense that is 19th in the NFL in total yards and the Giants who are 27th. KC gave up over 500 yards of total offense last week against Oakland and 439 the week prior to Pittsburgh.
Kansas City has the offense to put up points tonight, but also the defense to allow them.
Pick: Denver Broncos / Kansas City Chiefs *Over 42.5