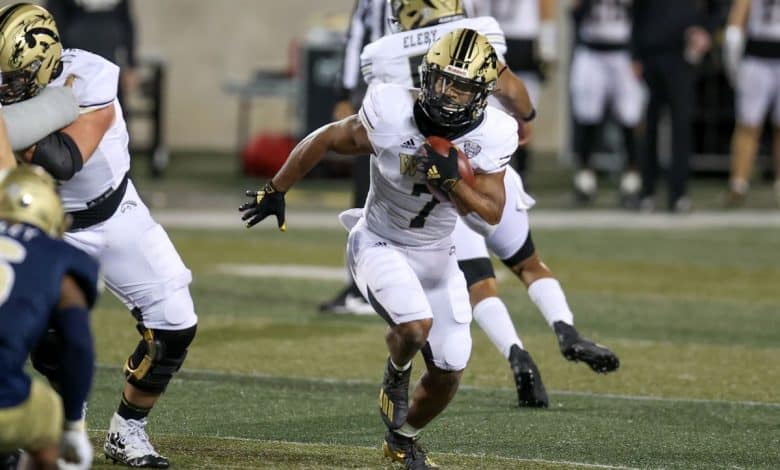 Oddsmakers are predicting a close one in Wednesday's Toledo at Western Michigan pick. WMU is just a -2.5 favorite, despite being in 2nd place in the MAC West in 2019 while Toledo was 2nd to last. The Rockets have won three straight in this series, including 51-24 in their last visit to Kalamazoo in 2018. All three of those wins came with Toledo favored though.
Both teams were impressive in their respective season openers a week ago. Toledo gave Bowling Green a 38-3 beatdown, but as -24 point home favorites. Western Michigan hung a 58-13 tally at Akron as -19.5 favorite. Both teams face their first real challenge on Wednesday.
Rockets Had Run Game Going Last Week
On paper the Toledo rushing attack was dominant last week, gaining 310 yards on 52 carries. The Rockets actually showed a lot of offensive diversity in their opener however, with Eli Peters throwing 3 TD in the 1st quarter en route to a 20/32, 4 TD season debut.
Of course the question heading into the Toledo at Western Michigan pick was whether the Rockets were that good, or Bowling Green is that bad? BGSU was dominated 48-17 by Kent State in their second game of the season, and had the league's 3rd worst defense a season ago. Bowling Green also had the MAC's second worst rushing defense.
On the bright side Toledo did hold Bowling Green to 3 points last week, which is a great start to the year for the much maligned Rockets defense. Toledo actually had the MAC's worst defense in total yards allowed / game, and pass yards allowed / game. Western Michigan had the 4th best passing offense in the MAC a year ago.
Broncos Poised For Another Big Year?
One of the reasons Western Michigan isn't favored by more on Wednesday night is because they are largely still an unknown. The 58-13 win last week was impressive, but the Broncos are still in the process of replacing 3,000+ yard passer Jon Wassink, and 1,400+ yard rusher LeVante Bellamy from last year's squad.
Obviously the returns are so far, so good in putting up nearly 60 points on Akron in the season opener – and on the road. Kaleb Eleby was able to go an efficient 12/16 passing, but with 3 TDs. Nobody in the backfield had more than 10 carries, but Darius Jefferson and Sean Tyler combined for 138 yards on just 18 carries.
Akron was 0-8 in the MAC last season however, but their overall defense was decent ranking 6th. The Zips did run for 130 yards on WMU last week, but threw for only 126. Once again Akron had the worst offense in the MAC in 2019 though.
Free Toledo at Western Michigan Pick
There are a lot of unknowns about both of these teams after they started the season 1-0 against a couple tomato cans. Western Michigan was 6-0 at home in 2019, which has to go for something even though there are no fans in attendance this year. Both teams are versatile on offense, but we still don't know how much Toledo's last-ranked defense from a year ago has improved.
Western Michigan 38 – Toledo 31
Free Pick: Western Michigan -2.5