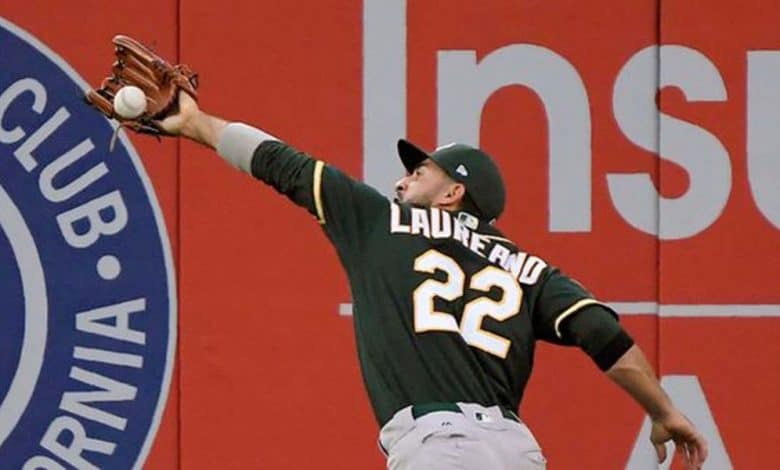 It's been a good weekend so far for the visitors heading into the May 23rd A's at Angels matchup. Oakland has taken the first two games of this series 8-4 and 6-2, their 5th win in the last six meetings between the two teams. The Athletics shoot for the sweep on Sunday, trying to build on their 1.5 game lead over the Astros in the AL West.
The A's are just -120 favorites on Sunday up against an Angels (+100) squad that has dropped three in a row. LAA is also sending Dylan Bundy (0-5, 6.02 ERA) to the mound possibly not fully healthy after missing his last start with a foot injury. Oakland counters with Sean Manaea (3-2, 4.41 ERA) and have been victorious in 7 of his last 8 starts.
A's Bats Clicking This Weekend
Oakland dropped two of three at home to the Astros this past week, briefly losing a grasp on 1st place in the division. Houston has dropped their last two to the Rangers, and Oakland has taken advantage with an 8 and a 6 run outing in Anaheim.
Ramon Laureano had a HR to fuel Friday's win and followed that up with a 3-5 game on Saturday. Matt Olson was one of three players to go yard for the A's in game two, something that has been a strength for a team that is 2nd in the Majors with 66 HR. Laureano has 3 HR in the last five games. The A's hit just .198 as a team against Bundy though (21-106).
Oakland will also have a relatively fresh bullpen for the May 23rd A's at Angels matchup. Chris Bassitt tossed 7.2 innings on Saturday, allowing just 2 ER. That may be important, as Manaea has had his share of struggles over the last two, giving up 20 hits over 8.0 IP.
Angels Fading Fast
LAA has dropped three in a row and 7 of their last 10. They dwell in the basement of the AL West, falling to 8.5 GB of the A's in the division. Los Angeles is just 2-5 on their recent home stand, and have gone 1-5 since losing Mike Trout to a calf injury.
The Angels have managed just 12 hits so far in the series with Oakland, although Shohei Ohtani did have a 2B and 3B in Saturday's loss. Ohtani is the only full-time Angels player hitting over .227 the past week (.318). That could change as Manaea is allowing a ton of baserunners over his last two starts, plus the Angels hit .306 as a team vs. the left-hander (11-36, 3 HR).
The big issue for the Angels on Sunday is Bundy, who is trying to pitch through a foot ailment. So far, it's not working as the right-hander has allowed 13 ER in his last two starts over just 7.1 IP. Bundy gave up 2 HR to Boston in his last start – not good against an Oakland team that has been bombs away this season.
Free May 23rd A's at Angels Pick
Oakland definitely looks like a trap here at just -120. Three quarters of the betting public are on the A's, and the Angels are definitely in a rut right now. Oddsmakers never make it that easy, which makes LAA the contrarian play here.
Angels 5 – A's 3
Free Pick: Angels +100