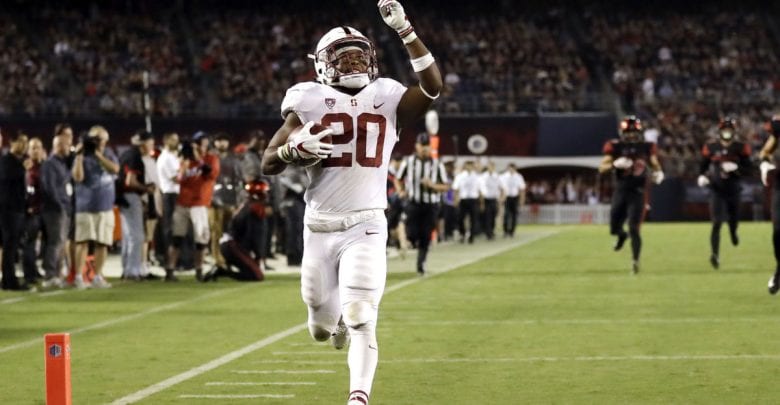 Tonight's matchup with the Oregon Ducks at Stanford Stadium feels like it's about to be a statement game for the Cardinal RB Bryce Love. The Ducks have struggled on offense since losing their starting QB Justin Herbert to a broken collarbone in a win over California. Oregon has a pretty good running back of their own in Royce Freeman and maybe tonight is when he puts the team on his shoulders and makes a case for some end of the year awards on his own. Stay up late East Coast, because the Week 7 College Football Saturday Night Prediction is going to be a good one.
"It's not necessarily about you wanting 2b the best for yourself. It's about you wanting 2b the best for everybody around you." – Bryce Love pic.twitter.com/nLHS5arINq

— Collins Hill Hoops (@C_Hill_Bball) October 14, 2017
Ducks Offense is "Or-E-Gone"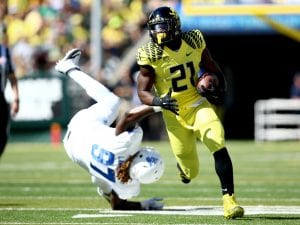 Oregon was making noise at the start of the season, rolling out to a 4-1 record and boasting the #1 offense in the nation behind the air and ground attack of Justin Herbert (1254 yards, 9TD, 68% completion percentage) and Royce Freeman (654 yards, 10TD). Even the Oregon defense was vastly improved after finishing dead last a year ago. When Herbert went down two weeks ago against Cal however, it seems like the Ducks have been grounded.
Oregon still boasts a strong rush defense allowing just 93.7 YPG – but they'll need to be nearly perfect to stop Stanford's Bryce Love, the nation's leading rusher with a simply amazing 1240 yards in six games. The Oregon offense was noticeably worse without Herbert last week too. His backup Braxton Burmeister threw for under 150 yards last week (with 2 INT) and Freeman was grounded too with just 62 yards rushing. Granted those numbers came against the top 15 defense of Washington State, and things should look more optimistic for the Week 7 College Football Saturday Night Prediction against the uncharacteristically poor Stanford D (103rd in total yards, 101st in passing, 92nd in rushing).
Fans' guide to game day: Oregon Ducks look to pull off upset against Stanford https://t.co/nrm0SXMS72

— Duck Sports Now (@DuckSportsNow) October 14, 2017
Stanford on the Uptick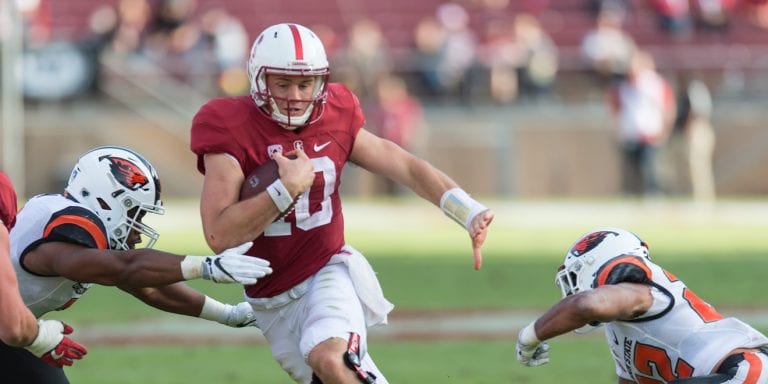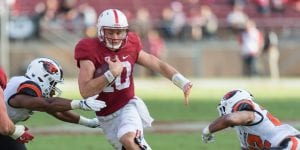 The mission operative for Stanford tonight is going to be run the ball – although QB Keller Chryst showed last year that Oregon needs to respect the pass too. Last November the Cardinal went into Eugene and dominated in a 52-27 win that was only that close because of two fourth quarter OU TD's. Bryce Love got a few touches in that game – 5 to be exact – but still managed 82 yards rushing. Chryst threw for 258 and 3TD with 0 INT as both teams were able to rack up 500+ yards on offense.
Stanford has won three in a row since their devastating 17-20 loss to the surprisingly good San Diego State Aztecs. They struggled last week in a 23-20 win over Utah but Love was still able to tally 152 on 20 carries. For as good as the Stanford running game has been, their passing game leaves a bit to be desired at just 188.3 YPG.
Stanford has two mediocre quarterbacks. Receiving mediocre. Defense, you guessed it. And they struggled to score 23 points last week. GMB.???????? pic.twitter.com/pLPtT7ajUi

— ???? Gordon ???? (@badgordie1) October 14, 2017
Week 7 College Football Saturday Night Prediction – Betting
We've seen some line movement in this game as Stanford is down to a -10 favorite after opening at -10. Bettors are surprisingly somewhat split on this game as only 57% favor the Cardinal. The combination of last year's big win by Stanford coupled with the inefficiencies of Oregon at QB (Freeman has battled shoulder injuries too), and the ability of the Cardinal to just sit back and hand the ball off to Love makes the home team the play. When the line shifts your way in the Week 7 college football Saturday night prediction it can make you nervous, but it's the right pick.
Pick: Stanford Cardinal -10