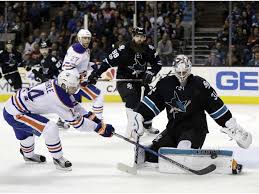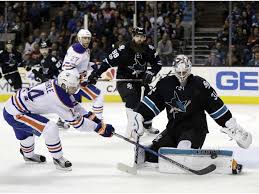 In this Pacific Division first round series, the San Jose Sharks (46-29-7) who were third in the division with 99 points meet the Edmonton Oilers (47-26-9) who earned second spot in the division with 103 points. The teams played one another five times in the regular season with the Oiler taking the series 3-1-1. One thing to remember is that two of Edmonton's wins against the Sharks came in the final two weeks of the season. Here's our San Jose plays Edmonton 2017 Stanley Cup free pick for the series.
San Jose Sharks Keys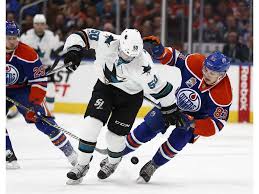 The Sharks are 19th in scoring, averaging 2.7 goals per game. The best news for this team is their goals against average, which is 2.4 per game. Their penalty kill is 18th in the league, as teams are scoring 80.7% of the time. The worst part of all of this for the Sharks is the team's power play, which is 25th in the NHL at 16.7%. That's anemic.
Defenseman Bret Burns does it all. He leads the team in points with 76, assists with 47, and plus/minus at +19 and is tied for goals with 29. Burns also has 8 power play goals and 17 assists. He's a very dangerous player. This team is rich with centers. Although Joe Thornton is dealing with an injury, he's expected to play. Joe Pavelvski tops all Shark centers with 29 goals, 39 assists, and 68 points. Also at center, Logan Couture has collected 52 points and has 11 power play goals. Thornton has 18 assists in the PP.
Edmonton Oilers Keys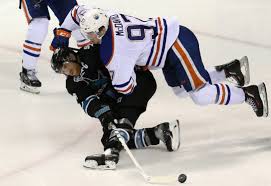 The Oilers are eighth in average goals scored with 3.0 per game and eighth in goals allowed with 2.5 per game. They're scoring on the power play 22.5% of the time, ranking them fifth in that area. Their penalty kill is weak at 80.7% (17th).
Center Connor McDavid has 100 points, including 70 massive assists. His plus/minus is at +27. He has 24 power play assists. Leon Draisaitl comes to the ice with 77 points, including 10 goals on power plays 17 assists. LW Milan Lucic has 50 points. He has 12 power play goals and 13 assists.
Goaltending Edge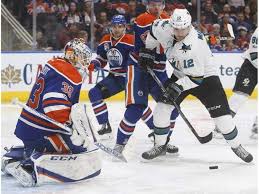 Both goalies have had good seasons and both are in precarious but different situations. Sharks' goalie Martin Jones (35-23-6) was having a fine season until this path month where he has struggled. The question for him is can he and the team find their way back to playing solid hockey. The Oilers' Cam Talbot (42-22-8), who started 73 games this season, has certainly had a tremendous year. But might he be entering a burnout phase with having sat out only eight games in the regular season? Jones is a GAA of 2.40 and save percentage of .912. Talbot is allowing 2.39 goals per game and has a save percentage of .919.
San Jose Plays Edmonton 2017 Stanley Cup Free Pick
We like the Oilers a lot. They're on a roll and playing well. But if Jones can get it together and Thornton can play through the injury effectively, the Shakes will be competitive. Our San Jose plays Edmonton 2017 Stanley Cup free pick is the Oilers in six games.
San Jose Plays Edmonton 2017 Stanley Cup Free Pick: Edmonton in six