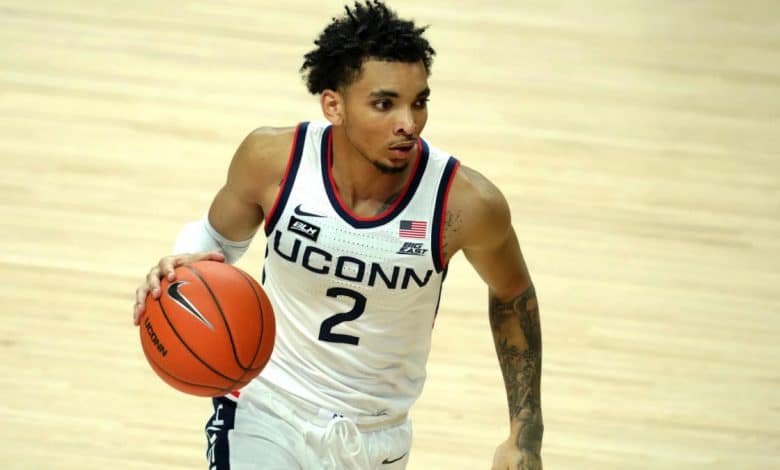 The NCAA tournament Maryland vs Connecticut matchup is supposed to be a defensive oriented affair (O/U 130), but the Huskies have one of the most dynamic scorers in the country. Then again, Maryland is no stranger to offensive talent though, having matched up with the likes of Luka Garza and Ayo Dosunmu during the Big Ten regular season.
Connecticut is a -3.5 favorite in this one, but the Terps are familiar with the Mackey Arena venue, having lost 70-73 to Purdue on Christmas as +6 point underdogs. The Huskies are hot though too, having won 7 of their last 9 games.
Maryland's Defense Too Good Here?
The Big Ten was absolutely jacked this year, with 9 of the 14 teams in the conference making the tournament. It's saying something then that Maryland (65.0 ppg) was behind only Wisconsin (64.2) in scoring defense this season. Purdue (78-69 loss to North Texas) and Ohio State (75-72 loss to Oral Roberts) didn't do the conference any favors, but both Rutgers and Wisconsin won their tournament games as underdogs on Friday.
What that says is that teams that may look mediocre in Big Ten play are highly underrated. The Badgers and Scarlet Knights upset North Carolina and Clemson, respectively – two ACC representatives much like UCONN coming out of the Big East.
The Terrapins were playing good enough down the stretch to have value in the NCAA tournament Maryland vs Connecticut pick, winning 6 of their last 9. The Terrapins also have a win at Wisconsin on the year as well as a victory over #1 seed Illinois in Champaign as a +10.5 point underdog.
Can Boutknight Get Hot?
The Huskies also turned things on when things mattered most, winning 6 of their last 7 during the regular season and going 1-1 in the Big East tournament. That regular season stretch includes two wins over Georgetown, the eventual conference tourney champs
UCONN has great balance on both ends of the court, ranking 27th in adjusted offensive efficiency and 24th defensively. They run one of the slowest tempos in the country, but have still managed to score 94+ points in two of the last three.
Maryland's #1 objective in Saturday's contest is to stop Connecticut's James Bouknight, who averaged 20.2 ppg during the regular season. Less than 25 players averaged 20+ ppg during the regular season, and Bouknight's numbers are respectable considering he missed 8 games with an elbow injury. Bouknight had 40 earlier this year vs. Creighton.
Free NCAA Tournament Maryland vs Connecticut Pick
Connecticut is very top heavy in their scoring, especially since R.J. Cole (12.6 ppg) is cleared to play, but also recovering from a concussion. Maryland has two very consistent offensive players as Eric Ayala and Aaron Wiggins both averaged over 14 ppg on the year.
This game really could go either way, and is just projected to be one of those great tournament games between two teams from tough conferences, possibly even heading towards OT. That's going to lead to some points.
Maryland 77 – Connecticut 75
Pick: Over 129.5