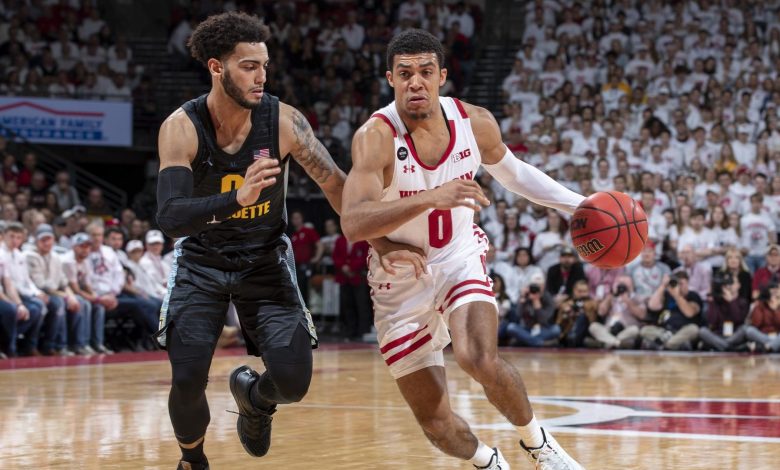 Big Ten play continues on Friday night with a marquee matchup between the No. 5 Ohio State Buckeyes and the Wisconsin Badgers in Columbus, Ohio. At home, the Buckeyes are listed as nine-point favorites, with an over/under of 124 points.
Despite looking like one of the best teams in the country during the early part of the season, the Buckeyes are hoping to bounce back from a loss to West Virginia in their last game. Prior to that, Ohio State had scored impressive wins over the likes of Villanova, North Carolina, and Kentucky. However, they came up short against West Virginia and Minnesota, so they are far from unbeatable.
The Badgers seem to have found their stride after a stretch of four losses in five games last month. Wisconsin went on the road last weekend and thumped Tennessee by 20 points. The Badgers followed up that win with a lopsided win over Rider earlier this week, giving the Badgers some confidence heading into their showdown with a top-five team.
The Deep Ball
The perimeter shot has been the key to Wisconsin's season, at least its recent turnaround. The Badgers are averaging eight three-pointers per game, but they often fell short of that number when they were struggling to win games in December. However, they seem to have found their magic touch from the perimeter in recent games, which is a big reason why they were able to run away against Tennessee.
The key to Wisconsin's perimeter game in junior D'Mitrik Trice, who is averaging just over 20 points per game during the team's current winning streak. When Trice is hitting shots, it takes some of the pressure off of leading scorer Nate Reuvers. The Badgers also have capable sharpshooters in Berlin Pritzl, Brad Davison, and Aleem Ford. However, Wisconsin can struggle offensively when it can't get clean looks, and the shots aren't falling.
Inside and Outside
Ohio State brings a more balanced offensive attack than Wisconsin. It starts with junior forward Kaleb Wesson, who averages 14 points and nine rebounds. Kyle Young also gives the Buckeyes another capable inside scorer and a strong rebounder. Those two players help make Ohio State one of the best defensive teams in the country and one of the better rebounding teams in the Big Ten.
At the same time, the Buckeyes are also great on the perimeter. Ohio State has five players in its rotation who shoot better than 40 percent from three-point range, including Wesson, who's second on the team in made perimeter shots.
Sophomore Duane Washington Jr. and freshman D.J. Carton are also consistent backcourt scorers, as both average in double figures despite coming off the bench.
A Little Too Much
Granted, if Wisconsin can keep the shots falling from the outside, it can make this a game. However, Ohio State is strong enough defensively to keep that from happening. The Buckeyes also have too much balance offensively for the Badgers to handle. Bet on Ohio State to win and cover the nine-point spread on Friday night.