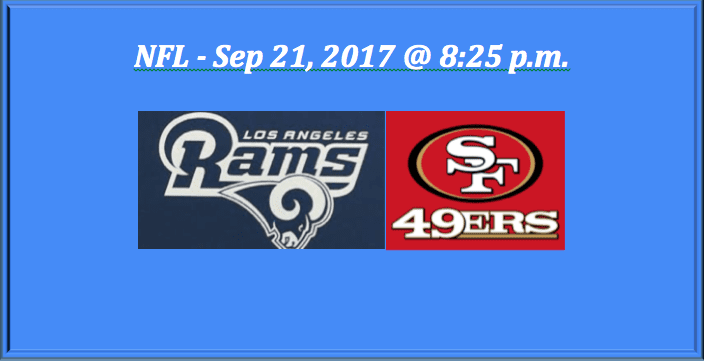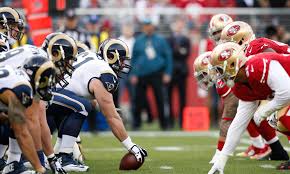 At 8:35 p.m. E.T. tonight, Thursday, Sep 21, 2017, the Los Angeles Rams (1-1) will play the San Francisco 49ers (0-2) in a NFC West matchup. The Rams won their first game of the season, beating the Colts easily 46- 9. They then had a tough 27-20 loss to the Redskins in the final two minutes of that game. The 49ers lost 23-3 to the Panthers and 12- 9 to the Seahawks. They have yet to score a touchdown or to put double-digits on the scoreboard. Our 2017 NFL Rams play 49ers free pick offers Los Angeles at -2.5 and the over/under at 39.5.
Los Angeles Offense vs. 49ers D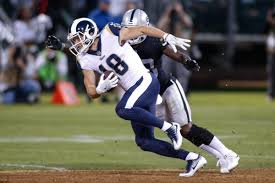 The Ram offense has done well thus far, as second-year NFL QB Jared Goff has performed well. Goff is completing 66 percent of his passes and has tossed two TDs and one INT. He's been sacked three times. Two rookie receivers, Cooper Kupp and Gerald Everett have become major assets quickly. Kupp has seven receptions and is averaging 15.6 YPC, while Everett has been good for 33.5 YPC, making four catches. RB Todd Gurley, in his third season, is a dual threat. He's rushed the ball 35 times for 128 yards and two TDs and also made eight catches for 104 yards and one TD.
The 49er defense has played well overall, giving up an average of 17.5 PPG and 308 YPG. LB NaVorro Bowman leads the team in tackles with 16 and has one TFL, while counterpart Ray-Ray Armstrong has made 14 tackles. Safety Jaquiski Tartt will be missed if he cannot play due to a neck injury. Tartt, who has two PD and one INT, is questionable.
San Francisco Offense vs. Rams Defense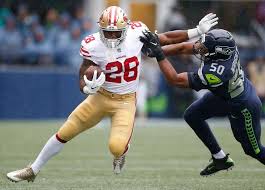 Despite the fact that the SF defense has been the solid, the offense has struggled mightily, averaging just 6.0 PPG. They are going up against a very good D, which has allowed 18.0 PPG. The big question is can veteran QB Brian Hoyer move this offense forward. Thus far he's completing passes at the rate of 62.9 percent. He has no TD passes, and Hoyer has thrown two picks. He has some quality pass catchers to toss to including Pierre Garcon. Garcon is averaging 11.5 YPC and has made nine catches for 107 yards. Dual threat Carlos Hyde has made nine catches, averaging 5.7 YPC, and has run the ball 24 times for 169 yards and a 7.0 average.
Two stats stand out for the LA defense, number of sacks, which stands at six, and passes defended, which is at nine. In addition, the team has made two interceptions and eight TFL. The Ram D has scored twice. LB Alec Ogletree leads the team with 15 tackles, and corner Lamarcus Joyner has made 13 tackles, defended two passes and grabbed one interception while scoring a TD. LB Mark Barron is proving to be an able run-stopper. He has two TFL.
2017 NFL Rams Play 49ers Free Pick
Here's something to consider, special teams. The Rams have solid special teams, which include PK Greg Zuerlein. Zuerlein is perfect this season having nailed all five field goals and seven extra points. We're looking for the Rams to score a few times and for the 49ers to be stymied once again. Our 2017 NFL Rams play 49ers free pick is Los Angeles at -2.5 and under 39.5.
2017 NFL Rams Play 49ers Free Pick: Rams at -2.5 and under 39.5