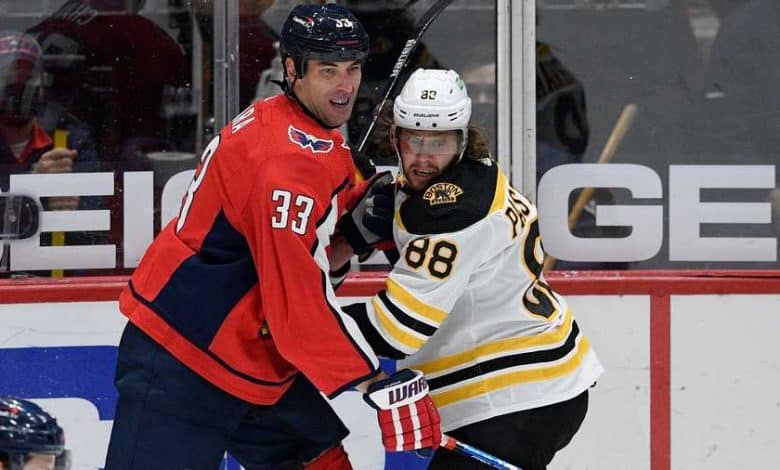 Boston tries to even up their 1st round series heading into the Bruins at Capitals game 2 matchup. Bruce Cassidy's team fought valiantly on Saturday, but ultimately fell 3-2 in OT as -122 favorites. Oddsmakers haven't lost the faith in Boston, pricing them at -130 for Monday night's tilt.
The Caps' seem like they may be in a tough spot to go up 2-0, even though they cashed in at +110 over the weekend. Washington lost Vitek Vanecek in the 1st period in game one, and although Craig Anderson played well he's still a 3rd stringer. Are the Bruins the play to even things up based on that fact alone?
Boston Set to Attack?
Boston ranked 3rd in the NHL during the regular season in SOG, a trend they can use to exploit Anderson in the Bruins at Capitals game 2 matchup. The Bruins managed just 26 shots on Saturday, but you have to think they have a bit more success on Monday against a 39-year-old goaltender that has played just five games this year.
The Bruins are now just 2-5 in their last 7 road games, and are 3-10 in their last 13 playoff games as a favorite. Saturday's defeat was also the second straight in Washington, as the two teams closed out the regular season with a 2-1 Capitals win last Tuesday. Boston is now 3-12 in their last 15 at Capital One Arena.
One thing about the regular season loss to Washington is that Tuukka Rask wasn't in net for the Bruins. The veteran did start on Saturday, but had just a .906 save percentage after stopping only 29 of 32 shots. Rask has allowed 10 goals in his three starts this month, and on just 73 shots for an .863 save percentage.
Can Caps' Do It Again?
The Vanecek injury wasn't ideal, especially as Washington is dealing with Ilya Samsonov still in COVID protocols. Credit where credit is due, Anderson was solid stopping 21 of 22 shots on Saturday, but that was also just his 2nd game since April 15th. Anderson turns 40 on Friday, and spent most of this season on the taxi squad.
It was really the Capitals offense that saved the day in game 1, scoring first in periods one and two before a Nic Dowd goal in OT clinched the 1-0 series lead. Washington came into Saturday's tilt a little banged up as well, as John Carlson and TJ Oshie's status was up in the air. Both played, and Oshie had an assist on the OT game winner.
Alex Ovechkin also missed some time towards the end of the season, but played in the finale and had an assist in game 1. The Caps are still without Evgeny Kuznetsov who is close to returning from COVID protocols, but will be rusty after sitting the last two weeks.
Free Bruins at Capitals Game 2 Pick
Boston should even things up in this one due mostly to the Capitals uncertainty in net. Even with the Bruins struggles at Capital One Arena, it's playoff hockey and you just can't rely on 39-year-old 3rd stringers. Brad Marchand, Patrice Bergeron, and Company are just too good to get shut down again.
Bruins 4 – Capitals 2
Free Pick: Bruins -130