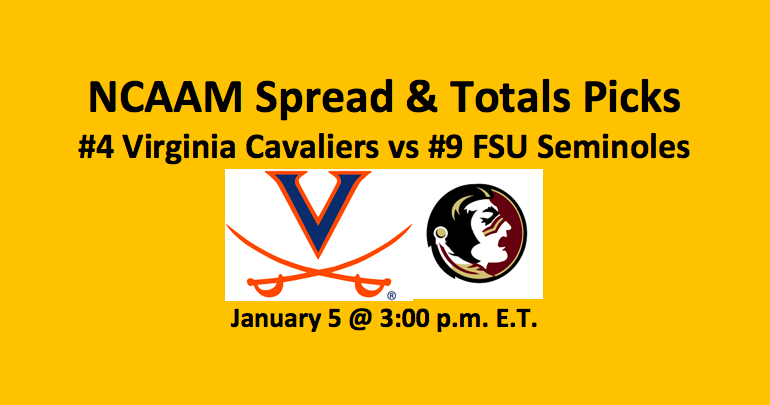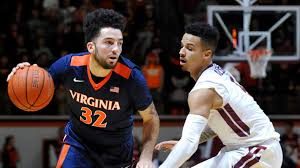 The ACC kicks off league play this weekend and one of the biggest games is scheduled to tip off at 3 pm ET on Saturday, Jan. 5. The game features the #9 Florida State Seminoles (12-1 Overall, 0-0 ACC) at the #4 Virginia Cavaliers (12-0 Overall, 0-0 ACC). Our NCAAM Virginia vs Florida State pick offers the Cavaliers at -8.0 or -8.5. The totals on this game come in at 126.0.
This should be a duel between a team that loves to shoot, the Seminoles, and a club focused on playing tight defense, the Cavs. Here's how we see this college basketball game developing.
Pre-Conference Play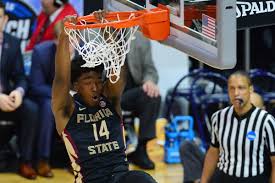 Florida State's one loss was on Nov. 25 to unranked Villanova. The score was 66-60. Bookending that loss were two wins. On Nov. 23, the Seminoles took down #19 LSU 79-76 in OT. Then, on Nov. 28, Florida State beat #19 Purdue 73-72. Since that win, they've had six more victories. They last played on Jan. 1 when they bet Winthrop 87-76.
The dozen wins the Cavaliers have accumulated include a Nov. 23 victory over the #25 Wisconsin Badgers. The score in that game was 53-46. Virginia's next game, which was on Nov. 28, was a 76-71 win over #24 Maryland. Their last game was on Dec. 31 when they beat Marshall easily 100-64.
Virginia D vs Florida D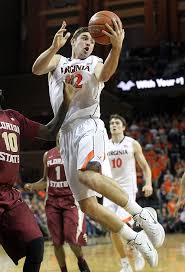 The Cavaliers come to this game allowing 51.4 PPG. The Seminoles are averaging 81.3 PPG in offense. FSU is holding opponents to 68.4 PPG. UV is scoring on average 74.7 PPG. In PF/PA, Virginia is +23.3, while Florida State is +12.9. That makes the Cavaliers +10.2 in total combined point differential (TCPD). That's a telling statistic.
Note, Virginia beat Wisconsin, a team averaging 75 PPG, but holding them to 46 points. At the same time, the Terrapins, who are averaging 77 PPG, scored 71 points in their loss to the Cavs. In terms of other defensive stats, after 12 games, UV has made 81 steals and 34 blocks. After 13 games, Florida State has amassed 113 steals and 47 blocks. But there's a huge statistic that State would prefer to not be the leader in, turnovers. The Seminoles have made 199 TOs, while the Cavaliers have only 103. To put those turnover stats in perspective, FSU is averaging 15.3 TOPG, while UV is averaging 8.6 TOPG. In the other two statistical areas, steals and blocks, PSU is +1.9 and +0.8 respectively. Those are not huge differences. In TOs, the Cav's +6.7 is big.
In our NCAAM Virginia vs Florida State pick, we give the Cavaliers a solid advantage when it comes to defense.
Edge: Virginia
In the Paint
FSU leads in rebounding, 37.1 RPG to 34.6 RPG. In the paint, the Seminoles have two tough contenders, senior center Christ Koumadje and sophomore forward Mfiondu Kabengele. Koumadje is averaging 5.8 RPG and 7.4 PPG. More importantly, our NCAAM Virginia vs Florida State pick notes that he leads the team in blocks with 21 and has also manufactured three steals. Kabengele comes to this game with 11 blocks and eight steals, while also scoring 11.8 PPG and grabbing 4.6 RPG.
Around the hoop for Virginia you'll find junior forward Mamadi Diakite and senior center Jack Salt. Diakite has 10 blocks and six steals. He's grabbing 3.1 RPG and scoring 6.5 PPG. Over 11 games, Salt has six blocks and eight steals while averaging 4.6 RPG and 4.2 PPG. Sophomore forward Jay Huff, who's played in nine games, has made eight blocks. Although we're taken by FSU's talent upfront, we think there's a bit more depth for the Cavaliers. This may help them down the stretch.
Edge: Virginia
Hot Shots
For the Cavs, Huff and Diakite offer solid shooting chops. Of the guys who are the top point-makers, De'Andre Hunter, who's averaging 14.5 PPG, is shooting 53.6% from the floor and 42.3% from downtown. Kyle Guy is hitting 45.5% of his threes and 47.0% of his shots while averaging 15.4 PPG. He's got the most three-point baskets on the team (36). Finally, Ty Jerome, who's been good for 14.2 PPG, is hitting 44.8% of his shots and 41.5% of his three-point attempts.
Our NCAAM Virginia vs Florida State pick finds that the Seminole's top shooters include Kabengele, who's second in points per game at 11.8 and is connecting on 49.5% of his field goals, and Koumadje, a 59.2% shooter averaging 7.4 PPG. Terance Mann leads FSU in points per game with 13.1. He's connecting on 43.5% of his threes and 55.8% of his field goals. Trent Forrest, averaging 10.4 PPG, is good on 50.5% of his field goals.
The Cavaliers win this comparison die to, once again, their depth. Our NCAAM Virginia vs Florida State pick notes that the Seminoles are relying on fewer guys to shoot accurately and produce more points.
Edge: Cavaliers
Our NCAAM Virginia vs Florida State Pick
Our NCAAM Virginia vs Florida State pick is the Cavaliers at -8.0. We think that their combined defense, solid frontcourt, and array of shooters will eventually overwhelm FSU. We're also taking the over at 126. We think Virginia will hit for about 70 points and FSU for around 60. A reminder, game time is 3:00 pm ET. Make sure you check out our Kansas vs Iowa State Big 12 pick. That game tips off at 5:00 pm ET.
Summary NCAAM Virginia vs Florida State Pick: Virginia at -8.0 and over 126