NBA Picks
NBA Pick: Washington Wizards at Atlanta Hawks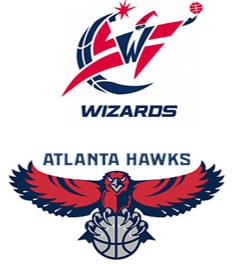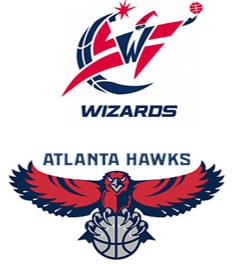 A year ago the Washington Wizards and Atlanta Hawks were two of the better teams in the Eastern Conference. The Hawks held the best record in the conference and the Wizards were a rising playoff team with title aspirations. Just a few games into the new 2015-16 NBA season, not a whole lot has changed. Both teams enter Saturday's matchup on the second of a back-to-back set, but are both above .500 and look like legit contenders, yet again. The Hawks might be the more impressive of the two, of course, as they stand in at 6-1 and haven't lost since their season opener.
Matchup History
This is definitely a series Atlanta has owned for some time. Washington had the upper hand in a 3-1 run two years ago, but the Hawks took three of four more recently this past season and between 2008-2012 Atlanta dominated their division rivals to the tune of a 17-2 record. Overall, since 2008, the Hawks own a hefty 21-6 mark against the Wiz. Washington has specifically had a difficult time finding success in Atlanta (where Saturday's game is), where they've won just one time since the 2007-8 season. That's just the regular season, too. These two clashed in the playoffs last year and had a Paul Pierce jumper been released in time, it could have been the Wiz moving on to the Eastern Conference Finals. It didn't happen that way, though, and now Pierce is gone. Whether or not the Wiz can take down the Hawks without Pierce's veteran presence becomes a fairly valid question.
We'll have quite the point guard matchup tonight during #WizHawks: https://t.co/DecOZDKhWF pic.twitter.com/iIjWneDsin

— Washington Wizards (@WashWizards) November 7, 2015
Wizards Preview (+4)
We know two things for sure about this year's rendition of the Wizards: John Wall is still a blur and Bradley Beal is ready for his spotlight. The two guards are playing at an elite level and the only thing holding this Wizards team back seems to be an increasingly competitive Eastern Conference and their own shaky defense. Kris Humphries hasn't exactly worked out as a stretch four early on this year, while Nene Hilario hasn't been all that effective off the bench. None of that has anything to do with the ridiculous 106 points per game Washington is giving up, though. As troubling as that is, the Wizards have still looked strong to start the year and even own a clutch win over the Spurs. Going on the road and flexing their muscle against an Atlanta team that has owned them in recent memory, of course, could prove to be difficult.
On the NBA Moneyline odds at BetOnline the Atlanta Hawks are at -210 and with the point spread the Wizards are getting 5.


Hawks Preview (-4)
Atlanta surprisingly was downed by the upstart Pistons on opening night (on their home floor, no less), but after Detroit kept winning en route to a 3-0 start, the loss looked less shocking. It didn't hurt that the Hawks immediately rebounded from it, either, as they've won six games in a row and once again have their conference's best record. Atlanta has a lot to prove after missing out on a chance to reach the NBA Finals last year, while their only loss has been perimeter defender, DeMarre Carroll. It's very much open for debate as to whether or not that's a loss the team can overcome, but the play of Jeff Teague, Paul Millsap and Al Horford thus far suggests it's a real possibility. The touch and go health of sharpshooter Kyle Korver (ankle surgery) could be the real piece to the puzzle. Korver had been taking rest days to make sure he would be good for the long-term, but whispers suggest he's finally ready to play in every game. If he suits up on Saturday, the Hawks will be at full strength at home against a team they've had a ton of recent success against.
The Pick
It's hard not to favor the Hawks. Not only are they the more dynamic team and riding a six-game winning streak, but they're also at home, a spot where they rarely lose. Both teams could be a little worn down from playing last night, but the Wizards are the ones who just got slapped around by the Celtics and Atlanta has for the most part dominated this series.
Washington actually has been quite strong ATS in their last 10 games (7-3) but have lost their past four road tries ATS against a team with a winning record. The underdog has randomly dominated this series with 11 wins ATS in their last 19 contests, but the Wizards haven't been as good overall ATS when taking on the Hawks (3-7-1 in last 11 games).
The reality here is that both teams can fill it up right now offensively, but only one team plays solid defense. Al Horford is still a problem down low and the Wizards don't really have anyone who can consistently beat him offensively or stop him defensively. John Wall and Bradley Beal are a lot to handle, but they'll be busy themselves trying to slow down Teague and Korver. The key could be versatile forward Paul Millsap, as Washington doesn't have anyone that can cover him.
Atlanta is too tough at home and they know the Wizards too well. I think they win and they'll narrowly cover, as well.