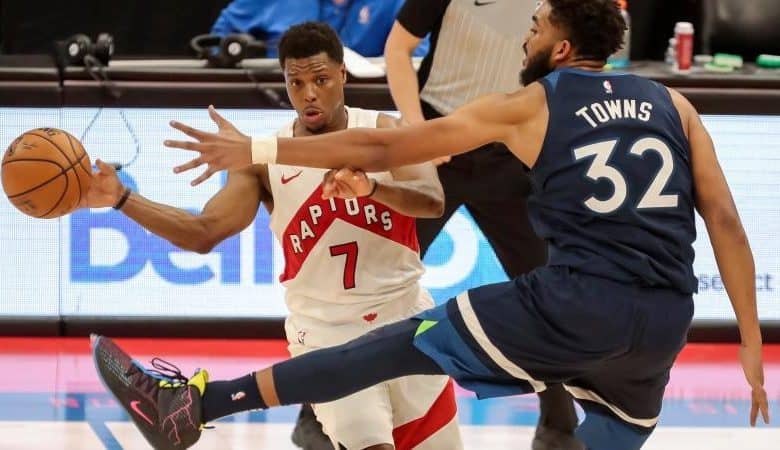 It's easy to account for a letdown game heading into the February 19th Raptors at Timberwolves pick considering Toronto is coming off consecutive wins over the Bucks Minnesota may seem like a drop in talent, but the T'Wolves also handed Nick Nurse's team a 116-112 defeat on Sunday.
Toronto is on a roll, but Minnesota isn't playing bad either. The Wolves have beaten the Raptors, hung tight with the Lakers (112-104) and let the Pacers come back before a 128-134 OT loss. With Toronto being on the back-to-back and possibly missing Kyle Lowry (ankle) anything looks possible with the Wolves as +3.5 home dogs.
Raptors Starting to Get Real?
Toronto is on a 7-3 run over their last 10, and one reason this team should be respected is because they've had to play the beginning of the year in a temporary home in Tampa Bay. The Raps' are starting to find their grooves, especially evident in 124-113 and 110-96 wins over the Bucks the last two games.
The big question heading into the February 19th Raptors at Timberwolves play is if Nurse continues to go small ball. Toronto dropped things down a few inches the last two games vs. Milwaukee, having Pascal Siakam score 23 and grab 13 rebounds in Tuesday's win over the Bucks.
It was no Kyle Lowry, no problem on Thursday night as Siakam had 27 points to go with 6 boards and 5 assists in a quick two game sweep over the Bucks. It was much more than a one man show though, as Norman Powell was on fire going 4-7 from three en route to 29 points. Fred Van Vleet only added 17 points, but he also logged 40+ minutes heading into a back to back.
Wolves Ready For the Upset?
Minnesota hasn't played bad lately. The T'Wolves beat these Raptors 116-112 as +7.5 road underdogs on Sunday and had the Pacers on the ropes most of the game before a 134-128 OT loss (as +5.5 dogs) even on the back to back.
It's obvious that the return of Karl-Anthony Towns makes this Minnesota team more of a force to be reckoned with heading into Friday night's tilt. KAT had 30 and 10 playing on the back to back to keep things close with the Pacers on Wednesday and has posted a double-double in 3 of 5 games since returning from the COVID list.
The big problem heading into Friday night's tilt is that we really don't know how good or bad Minnesota is. The Wolves rank 27th defensively, but a lot of those games were without Towns. Minnesota runs the 6th fastest pace, which will make things tough for Toronto on the b2b, but they also don't have D'Angelo Russell (leg) skipping to the beat.
Free February 19th Raptors at Timberwolves Pick
Nobody would blame you for taking Toronto and even laying the -3.5 on Friday night after the way the Raptors laid into Milwaukee the last two games. That's what "they" want you to think though. Toronto's playing in a back to back against a Minnesota team that has been playing tougher than expected lately.
Minnesota 117 – Toronto 109
Free Pick: Timberwolves -3.5