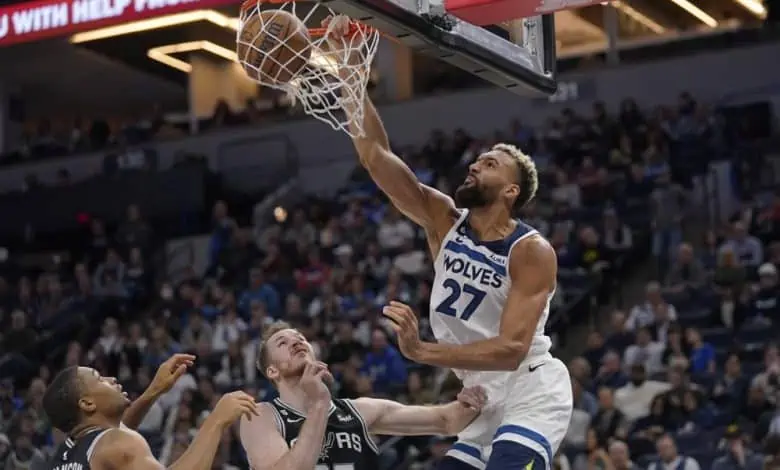 San Antonio has rattled off three straight road wins since their 129-102 loss to Charlotte at home as +1 point underdogs in the series opener. That stretch includes a 114-105 win in Philadelphia at +13.5 and beating Minnesota 115-106 on Monday as +8.5 underdogs. Despite all of that, Gregg Popovich's team is still a +9 point underdog in the October 26th Spurs at Timberwolves matchup.
The +9 point line would seem like a trap especially on the heels of San Antonio's outright win in the first of this two game set. 58% of the betting public still likes the T'Wolves to cover this number.
Spurs Have Solid Balance
With the Dejounte Murray trade to Atlanta in the offseason, many people thought the Spurs were going to be in tank mode. While it's still early in the year, what San Antonio has done in Murray's absence is find some decent balance. In Monday's game with the Timberwolves for example Devin Vassell led the way with 23 points, while Keldon Johnson added 18, while four other players scored in double figures.
Vassell is off to what looks like a breakout season in his third year in the NBA. He had 28 in the win over Indiana and 26 points vs. the Sixers but is also doubtful for game two with the Timberwolves with knee soreness.
Does San Antonio have the firepower to cover the +9 point spread in the October 26th Spurs at Timberwolves matchup without Vassell? The Spurs were up 35 at one point on Monday and had a 60-46 advantage in the paint, proving that Minnesota continues to be one of the worst defenses against opposing interior players.
Minnesota Trying to Find Their Groove
The Timberwolves are 2-2 on the season, with both of those wins coming against the Thunder. Minnesota's other loss was a 132-126 OT defeat to the Jazz at home as -8 point favorites so this is a team trying to find their identity this season.
Karl-Anthony Towns and Rudy Gobert are still trying to find their way a bit as the Twin Towers down low, and that's evidenced by San Antonio outscoring them by 14 points in the paint on Monday. Towns put up a solid 27/11/5 line but Gobert had just 7 rebounds after posting 16, 23, and 15 the first two games.
Minnesota would seem to have a huge talent advantage here, as aside from their two big men D'Angelo Russell had a 25-point night on Monday. Anthony Edwards added 9 points and 10 rebounds and Minnesota was still down 30+ points at one span so it's hard to see them get a blowout win on Wednesday.
Free October 26th Spurs at Timberwolves Betting Pick
Even with the Vassell injury, Minnesota being a -9 point favorite seems like a number just a bit too high. Minnesota has only beaten Oklahoma City this season, and by just 10 points and 7 points. The Vassell absence hurts San Antonio, but Josh Richardson steps into the starting role and he had 27 in the win against the Pacers. Have to take the points here.
Free Pick: Spurs +9