NBA Picks
NBA Pick: Atlanta Hawks at Cleveland Cavaliers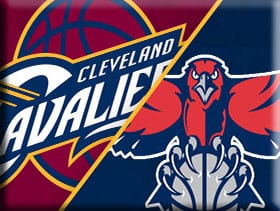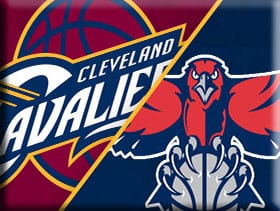 NBA fans get a rematch of last year's Eastern Conference Finals series, when the Atlanta Hawks go up against LeBron James and the Cleveland Cavaliers on Saturday night. Despite Atlanta having the better record in last year's playoff showdown, they got swept in that series and could be out for a little revenge. To get it, of course, they'll have to enter Quicken Loans arena and take down a Cavs squad that has won 9 of their last 11 games.
Matchup History
Atlanta oddly has the historic edge in this series, with a lifetime lead over the Cavs, 117-96 during the NBA regular season. They're very familiar foes, having met an additional two times (8 total games) in the playoffs (Cavs swept both series). Some may have viewed Cleveland's Eastern Conference Finals win last year as a mild surprise, as they did that without Kevin Love and with the Hawks having home court advantage. They also pulled off the unlikely sweep despite Atlanta dominating the Cavs (3-1) during the regular season. Overall, with or without LeBron James to help out, the Cavs have succumbed to the Hawks in 15 of their last 21 meetings.
Hawks Preview (+5)
Atlanta has picked up right where they left off last year, as they're once again one of the better teams in the Eastern Conference and sit comfortably atop the Southeast division at 9-5. They might even be better if they didn't have Jeff Teague and Kyle Korver in and out of the lineup. The loss of DeMarre Carroll has had a negative impact on their once suffocating defense and it also robs them of an extra shooter, but the Hawks have still done well to put up 101 points per game and keep opponents under the 100-point threshold. Doing that on the road against the Cavs is a taller order, but they've been solid away from home so far (4-2) and do seem to have Cleveland's number during regular season play.
Cavaliers Preview (-5)
Cavs say center Timofey Mozgov has a strained right deltoid and is out 10-14 days.

— Marc J. Spears (@SpearsNBAYahoo) November 20, 2015
Cleveland got off to a slow start last year and obviously ran into a Hawks team that was a little more put together during the regular season a year ago. Cleveland obviously morphed into the better team come crunch time, and to start off the 2015-16 season, they're once again looking fairly strong. That's even without Kyrie Irving and Iman Shumpert. The Cavs will also be missing big man Timofey Mozgov for this one (and for a couple of weeks), but they still have Tristan Thompson and Anderson Varejao to lean on. Putting up points and defending at a high level, the Cavs are fully equipped to take down Atlanta on their home floor.
The Pick
I'm going Cavs straight up all the way. They could get Mo Williams back tonight, but even if they don't they still have two studs, are at home and have the mental edge over the Hawks. They've been the hotter team, as well. Atlanta could also be down point guard Jeff Teague and no longer has DeMarre Carroll to sick on James. I expect a close, hard fought game, but Cleveland should get the win.
All that being said, we need to factor in that the Hawks are no scrubs, they tend to beat the Cavs in the regular season and this line might be a tad high. Cleveland is also 1-8 ATS over their last nine and while Atlanta's defense hasn't been amazing lately (allowed 97+ points over last 8), they know Cleveland and I can't see them getting handled easily.
I still expect Cleveland to get the win at home, but the Hawks won't go away without a fight.

Look for Atlanta to beat the spread

.